Alright, straight into it. No preamble, no disclaimers. I'll go through the picks line by line, selection principles and alternative moves after. Here's my team: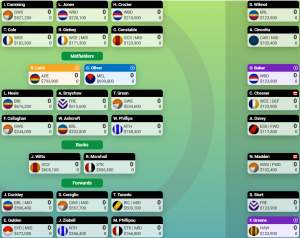 ITB: 13.9k/1-5-2-5
DEFENDERS
Yep, that's right: none of the 600k DEFs. Have had 1-2 in all my drafts but ultimately concluded that 600k is sucking out way too much cash that could be better spent on MID premos and is required for depth. I've gone for Cumming as my only premium defender. Could easily be Ridley or Daicos but they've got their own issues. Kingsley looks to really understand where the lists optimal positions are and with Himmelberg slated for the forward line, Cumming can return to his consistent best. The only two rookies that are fieldable are Ginbey and Constable and I'm actually excited to see them both play. I've then gone a triple barrel of Jones, Crozier and Cole. Their utility is simple: preserves my non-commitment to the 600k guys and makes up for the lack of serviceable rookies. Cole hasn't left my side since SC opened and it's nice to see more on him, he'll do 60-70. I was also on Jones in the first RMT and having seen him playing, he's back in, and then Crozier is a known quality who, provided he's in that back six, can score the best out of the 3 and make some coin. There's only 2x viable on field rookies and it's not feasible to fill out those D1-4 spots with all premos, so think this triple barrel can get the job done. Many will say Yeo can do the job better than those three and score as a keeper but I really didn't like his presentation the other day and think he and the rest of the side will struggle without Nic Nat heading into Round 1.
MIDFIELDERS
More so a matter of structure than selection in the midfield. There's literally only a single digit amount of MID rookies who will line up Round 1, so I felt I couldn't go light in the midfield despite the flexibility it would have afforded. Could easily go for less big premos and plug midpricers in but I'll get to why I'm not a fan of that later.
Laird and Satan are must haves on talent and fixture. I understand 700k is a lot and does hamstring team building but their early fixtures are insane and I'd rather just have them and not have to scramble to burn boosts and cull cows before their peak to get them early. Neale super under the radar for mine, going to benefit a lot from Dunks arrival. I've then grabbed Brayshaw on trajectory and the obscenely soft fixture he has after the Saints. Decided to back in Green due to a full time OB rule in a revamped GWS side, trajectory, his CP profile and, most importantly, the fact that GWS play the four of the literal softest SC midfields in their first six. The value he presents at 530k is also nutty: compared to a 600k DEF he'll score +5 PPW and save me 70-90k. You'll notice I've mentioned fixture a lot. That's really the key criteria for MID selection early when you can take your pick of the lot. If you missed it, I broke down all the numbers on tags and fixtures for premo MIDs here.
Hopper is a notable omission and a big bet against to make but I can see him having a lot of awkward games given his lack of attributes outside of contests and CBs. Given I'm off him as well as the other MID midpricers, that's why I've gone 5x deep MIDs and paid up rookies.
RUCKS
The rucks was the line I swore I wasn't going to waste money on and for the longest time I had Lycett and Pittonet lol. RoMo, who the Saints had spoken of second fiddling due to King's absence, put in an emphatic enough performance to show the Saints coaching staff he can handle things solo – he gets a gig. Witts then looked still super honed in over the pre-season, will bat to one of the competition's most ascendant midfields and opens the season against a Hickey-less Swans – which is a huge boon given Hickey's the most restrictive opposition ruck. I toyed with taking maximum cash gen and running no loop with Ratugolea but seriously question him as a defender and ultimately didn't have the cash.
FORWARDS
Then pretty intuitive to cap things off. Dunks, Cogs and Taranto are must haves as FWDs playing pure OB, Gulden a value, ceiling and ownership flyer who can get a rookie off field and then Ziebell, despite being a bum, is a palatable enough proposition at 350k for 90s minimum in that cushy role. Not kidding myself that he'll return to his 2021 107 average however. My mostly filled out forward line very much a product of that single premo backline. F6 has been tricky. I think Phillipou can be serviceable but did have Allen there for the longest time but worried a Nic Nat-less Eagles side will struggle and not give him enough service. Our draw is also quite tough for a key forward after North in Round 1. Rozee the obvious FWD premo I don't have and actually don't mind Cunnington. Have considered getting Ziebell up to him but Ziebell still feels like free real estate. I was able to get Flanders in at F6 in previous structures but feels like a reactionary pick off the practice match and in a thankless HF/wing role you need to bet on him to have BOG effort performances each week to get from contest to contest amongst Miller, Anderson, Rowell and the other HFs and wingers who would come up to the stoppage.
ALTERNATIVE MOVES
Witts -> Darcy to allow Phillipou -> Allen
Cumming -> Ridley if Cowan gets named ahead of Cincotta
MID premo -> Hopper, D2/F6 -> 500k premo

---
Leave a comment / Scroll to bottom