Targeting the boys coming off the byes this week – Suns, Cats, Giants, Power, Roos and Hawks. The pickings are a little on the slim side, and it definitely feels like you should be trading down right now to build the bank for future upgrades….OR you could steal a march on your opposition and grab some of these unfancied diamonds in the rough!  Did someone say "moneyball"?
Just kidding! Ladies and gentlemen, the Fallen Premiums.
DEFENDERS
Lachie WHITFIELD (GWS), $503 600 (-$58K), avg 93, BE 70 – The orange road runner is everyone's favourite upgrade option this week. Starting the season with a six week layoff with a bruised liver is not ideal, but since his return Lachie has gradually increased his output and now appears to be back near his best. Don't bother asking what role he plays, because he doesn't have one – he just runs everywhere from first siren to final. His scoring history is excellent (last 3 seasons of 100, 111 and 105 ppg) and the Giants' next three games include North, Carlton and Hawthorn. Minor flag: was sighted running laps away from the main group at training yesterday, but if selected, jump on.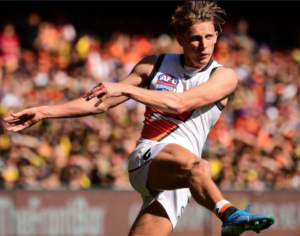 Jack LUKOSIUS (GCS), $384 000 (-$46.8K), avg 81, BE 3 – Sorry Wighty, the secret is out! With one of the sweetest right foot strikes in the game, Jack started this season with back to back tons and seemed primed for a breakout. A few injuries and some indifferent form then saw Lukosius struggle his way through the next few weeks, but in the past fortnight he has gone 98, 128 and suddenly all seems right with the world again. As confirmed by the kick-in stats in those games, Lukosius is back to his preferred backline distributor role and his scoring should reap the benefits.
Backing it up…
Christian Salem, $496K, BE 176
Sam Docherty, $506K, BE 140
Jordan Ridley, $462K, BE 131
MIDFIELDERS
Oliver WINES (PTA), $549 800 (-$10.8K), avg 105, BE 94 – The Quadzilla has promised so much since he posted a 100 ppg average in just his second season. A combination of miskicks and misadventure have held Ollie back since then, but in his ninth season maybe he's finally cracked the code. Averaging 31 possessions a game this season and 124 ppg in his last three games, Wines is the sort of contested ball beast that you should be looking for to fill out your midfield. Massive POD value at 2.8% ownership.
Just quickly….Travis BOAK ($533 800, avg 109, BE 125) and Josh KELLY ($562 300, avg 104, BE 111) are proven performers fresh off the bye. Each are in the middle of very good seasons and shape as nice pickups for your midfield this week. Tom MITCHELL ($542 000, avg 106, BE 93) has been a little more frustrating for owners, but is still going at a good pace.
Limbo land…
Clayton Oliver, $704K, BE 186
Hugh McCluggage, $553K, BE 169
Lachie Neale, $575K, BE 163
Jarryd Lyons, $614K, BE 156
Mitch Duncan, $581K, BE 152
Elliot Yeo, $483K, BE 152
RUCKS
Nothing to see here this week. In fact, if you're trading in the ruck department this week, then I strongly recommend you look at the other end of the price scale for suitable candidates…
Timberrrr….
Brodie Grundy, $628K, BE 160
Rowan Marshall, $497K, BE 146
FORWARDS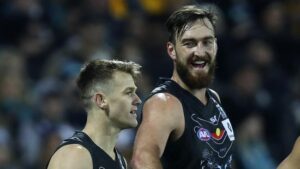 Robbie GRAY ($424 300, avg 83, BE 31) and Charlie DIXON ($462 400, avg 87, BE 55) have been running the Port forward line for a few years now, and throughout the pre-bye weeks they each showed that they have not lost their touch. Three tons in four games for Charlie, and back-to-back 100+ efforts from Robbie leading into the mid-season break for the Power's dynamic duo, who are both under-priced and interesting points of difference. In the dumpster fire that is the Supercoach forward line in 2021, you could do a lot worse than taking a punt on either of these proven stars.
Tom HAWKINS (GEE), $513 400 (-$55.2K), avg 95, BE 79 – Confession: I love the Tomahawk. You'll probably write him off and throw him in the "no key forwards" bin, but his record over the past two seasons suggests that he's more than that. Hawkins averages 8.2 score involvements per game this year, which is miles ahead of any key forward and is the cornerstone of his scoring. Currently the 8th ranked forward for SC scoring this year – do not dismiss!
---
Leave a comment / Scroll to bottom