It is taking every ounce of willpower to not turn this into a Stephen Coniglio appreciation write-up (because I totally didn't do that first before settling myself down…), with every position and player being scrapped in favor of a Cogs highlight from Sunday. The last bye-round is finally here! And the byes have once again proved our theory, that no matter how well-prepared you are, the SC Gods will find a way to shaft you! A disappointing Friday night for both Bomber fans, as a 150th year anniversary was soiled by a game with shades of a certain prelim in 1999. And of course, Parish, Walsh and Merrett (who were all popular trade-ins) failed to ton up, (I maintain all three are still solid picks). As we near the run-home, with hopefully completed teams, let's all hope some of these supposed premiums (looking at you Petracca) can lift their game! So, with all that said, in honour of Stephen Coniglio, let's get to Volume III, of the Fallen Premiums, Bye-Edition!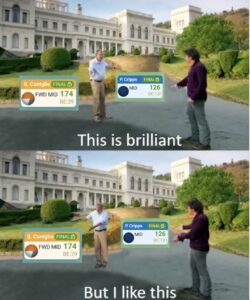 "Look, if you do it, i'll do it." – Cogboat Diplomacy
DEFENDERS

Stephen Conilgio goal assist (Jake Riccardi) Aaron Hall (NTH, 496.3k, (-$76.6k), 97.3 AVG, 122 BE) returning from injury, Hall played apart in Sunday's game, which was news to me as I had only noticed one man out on the track (a certain #3). Hall recieved a tag via Matty De Boer and still edged out a respectable 94 points. Sub-500k for someone like Aaron Hall who's shown a massive ceiling might seem criminal, but, he comes associated with significant risk! Two hamstring injuries this season and a volatile injury-history leaves an Aaron Hall pick for those in only one of two categories. Number one, those flush with trades and could afford to move Hall if he gets injured. And two, thrill-seekers and those needing to take a risk to gain ground. Hall's role is locked, his scoring stream will continue, win or loss. Can we however, look past his injury history?
Stephen Coniglio Goal #1 Jake Lloyd (SYD, 482.7k, (-$103.9k), 93.5 AVG, 89 BE) largely been underwhelming this season thus far. As it's been stated, Nick Blakey has stolen our favourite Seagull's kick-ins, and a change in style has nullified Lloyd's cheap possessions. With the likes of Himmelberg getting a role-change, Coniglio and Butters turning their form around, I don't mind the idea of skimping on a D6, grabbing Lloyd, and using him as part of a loop-hole with a player that has a high ceiling. Otherwise, if you're strapped for cash, need a D6 and  warm body for round 14. Lloyd does present as a relatively consistent scorer who fits the bill.
Backing it up….
Luke McDonald, 485k, 166 BE
Jeremy Mcgovern, 463k, 162 BE
Steven May, 436k, 148 BE
Harry Perryman, 501k, 144 BE *injured*
Tom Stewart, 605k, 137 BE

M

I

D

F

I

E

L

D

E

R

S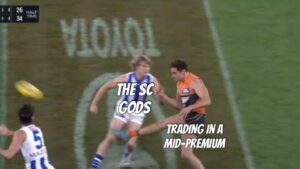 Round 13 was…. Rough: While we're here. Sources say, JHF will opt to challenge the MRO, in a bid to double his suspension to 4 weeks.
Stephen Conilgio goal #2 Ben Keays (ADE, 550.5k, (-$9.9k), 114.3 AVG, 87 BE) while many may be looking at spending the extra money for Rory Laird. Averaging 114.3 points, and only having dipped below the ton once, I believe for a heavy discount Ben Keays offers superb value! The Crows have a relatively soft fixture on the run home, North x2, Hawks, West Coast being the standout fixtures for Keays to run-riot. With Laird the main-man in the Crows midfield, it's also incredibly unlikely Keays receives any attention, making him the ultimate M8, or more realistically, a solid M7. Coaches, if you need a midfielder, and are strapped for cash, Ben Keays has to be your man.
Stephen Coniglio clearance/goal assist (Jake Riccardi) Cam Guthrie (GEE, 527.3k, (-$89.4k), 97.1 AVG, 78 BE) in some kind of form as of the last three weeks. Some may accredit his 3-round-average of 117 points, to the absence of Dangerfield. But even so, Danger is set to miss again this week, and Brandan Parfitt is set to miss at least the next month, which should further the importance of Guthrie. Guthrie is averaging 112.5 points at Kardinia this season, and wouldn't you know it. 5/10 of Guthrie's remaining games are @Kardinia Park, along with games against West Coast, Richmond and North in the next three weeks. A choice for those with balls of steel, but Guthrie has every chance to score well on the run home, and be a solid POD.
Stephen Coniglio goal #3 Touk Miller (GCS, 575.7k, (-$102.1k), 117.6 AVG, 57 BE) leading the Fallen-Premiums mentions it seems. It is impossible not to discuss Touk Miller at his current price, so I'll give him one more mention, before retiring him from any further discussion this season. Only found in 36% of teams, Touk Miller at his current price of 575k is practically a non-negotiable for those finishing their teams. Amidst a calf niggle, Touk put up 167 points against North prior to his bye. Fresh off the bye, against the Adelaide Crows, there isn't a better time to get this elite worker into your team. For those with an eye on SC Finals. Let it be of note, GC has incredibly soft fixture during SC finals. Simply put, bring Touk Miller into your team!
Limbo land….
Lachie Neale, 638k, 159 BE
Darcy Parish, 608k, 158 BE
Sam Walsh, 615k, 157 BE
Nat Fyfe, 547k, 133 BE
Callum Mills, 623k, 130 BE
Jack Macrae, 583k, 128 BE
R

U

C

K

S

Much like GWS without Cogs in the guts, there's nothing of note to see here.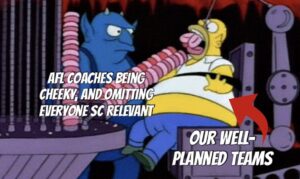 Don't these coaches know team-sheets are more important than the game itself?!?
Timberrr….
Sean Darcy, 558k, 173 BE
Brodie Grundy, 545k, 133 BE *injured*
Oscar McInerney, 482k, 128 BE
Nic Naitanui, 587k, 124 BE *injured*
Jarrod Witts, 618k, 121 BE
F

O

R

W

A

R

D

S

Stephen Coniglio effective tackle Tom Hawkins (GEE, 456k, (-$54.9k), 90.5 AVG, 80 BE) with the uncertainty around Bontempelli's AC-joint, Bailey Smith's holiday, Isaac Heeney's regression and some finding themselves lacking funds. We can now look at Tom Hawkins who suddenly looks both viable and appetizing. (I know that sounded weird, shuddup!). Hawkins has West Coast (x2), let it be of note Tex Walker just scored 150 points against them last round. Followed by, Richmond (Hawkins scored 112 points and 149 points last season), and then North Melbourne (Need I say anything?) over the next three weeks. Seriously alluring fixtures, and has already showcased that large ceiling in non-competitive games against Essendon (149 points), and North (119 points). A solid choice at F6, and even better choice for those that can grab and loop at F7!

Stephen Coniglio hard ball gets Mitch Duncan (GEE, 440.8k, (-$99.2k), 84.1 AVG, 61 BE) Tom Hawkins, Cam Guthrie, Mitch Duncan? Yeah I know, too many players from The Geelong Pensioners. I'll bypass the fixture aspect of Mitch Duncan, as I've covered that thoroughly between Guthrie and Tomahawk. My main knocks on Duncan come from the role-volatility, and the fact he's only gone above the ton on two occasions (the 117 points against the dogs in round 12, being accelerated by a concussion to Tom Stewart). For those looking at Duncan, my personal advice would be to look elsewhere, (teammate Tom Hawkins a good place to start), unless you're considering him as a M9/F7 swing.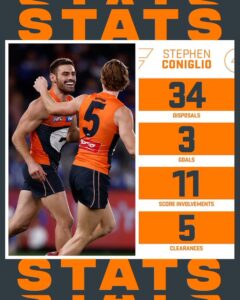 And that's a wrap for Stephen Coniglio appreciation round, what was your favourite aforementioned highlight?
Forward thinking….
Tom J. Lynch, 576k, 175 BE
Charlie Dixon, 485k, 159 BE
Bailey Smith, 554k, 136 BE *on holiday*
Marcus Bontempelli, 584k, 132 BE
Josh Dunkley, 581k, 127 BE
Dustin Martin, 466k, 120 BE *illness*
---
Leave a comment / Scroll to bottom