Some sub-par premium scores are in the mix this round for popular and enticing players, which means there won't be a shortage of upgrade targets over the coming weeks. If navigating COVID and a plethora of injuries hasn't been enough to mess with your head, the impending byes should definitely set you over the edge. You can either plan accordingly for the byes, ensuring a nice balance is had and that any premiums being brought in only continue to compliment your structure. Or do what feels right, which is not even bat an eye, until we're a week out and only fifteen players to be fielded are smiling back at you…
And with that grossly accurate tidbit, welcome to The Fallen-Premiums round 9!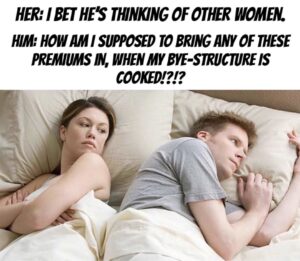 More often than not, it's rookie roulette that really gets me…
DEFENDERS
Jordan Dawson (ADE, 519.9k, (-$30.4k), 103.4 AVG, 75 BE) what can I say other than he's played himself into "Sack Kennett @SCT" this week. 30 possessions, only 9 contested, (which has been a concern for him and his scoring). However, @87% DE, with a large kick/HB ratio, 10 marks, 577 metres gained and a goal to top it off. A well-deserved 134 points as a result in a 48-point loss to the Blues. Scoring relatively consistently, with a season-low of 81 points against the Dogs, it was a positive sign to see Dawson score 94 points when the Giants annihilated them in round 7. Many coaches have their eye on Dawson this week, and for me, I think you can lock him in for a solid 105 avg. from here-on out.
Jack "The Iron Man" Crisp (COL, 563.1k, (-$7.9k), 106 AVG, 104 BE) Mr. Consistent, Mr. Reliable, Mr. Stalwart… Anyway, before I get carried away, Jack "Mr Dependable" Crisp should be on the radar for anyone that's seeking a defensive upgrade. The Iron Horse has played 171 consecutive games, yes 171. Iron Mike Tyson Jack Crisp is more durable than those old-school Nokia phones. With many opting to shift sub-par premiums such as Butters, Rowell etc. Crispy Steadfast makes for an ultra reliable selection. 121 points on the weekend against the Tigers and a 5-round average of 114.6. 563k presents unreal value for this Workhorse.
Backing it up….
Jack Sinclair, 540k, 147 BE
Steven May, 543k, 146 BE
Luke Ryan, 467k, 135 BE
Aaron Hall, 511k, 130 BE *injured*
MIDFIELDERS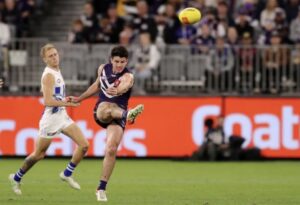 Nat Fyfe who?
Andrew Brayshaw (FRE, 570.7k, (-$13.6k), 119.3 AVG, 122 BE) just a lazy 134 points against North in what was a blockbuster Friday night clash! It's unbelievable to think Nat Fyfe is yet to return to this Fremantle team that's on the rise. 34 possessions, (20 K's, 14 HB's), only 12 contested @74% DE. 10 clearances and 6 marks rounded off Brayshaw's solid display. His 77 points last week may scare off potential buyers, but it should be noted, he had 5 FA's and butchered the ball. @570k you're getting Brayshaw in for superb value. However, with a 122 BE, coaches can opt to wait another week, but look at finding a spot for Brayshaw in your completed mids.
Christian Petracca (MEL, 559.2k, (-$47k), 114.4 AVG, 89 BE) The Dees are flying, and quite frankly, any and all Melbourne premiums present a solid selection in your side. 106 points for Tracca while going at 56% DE really sums up what owning The Norm Smith Medalist will be like. Those with Gawn and Oliver could still definitely fit him into their Midfield (assuming bye structure won't be compromised). Monster scores can come against both bottom of the ladder teams and teams fighting to dethrone the Dees, with a semblance of consistency coming from a low-score of 85 points against Port (a game in-which Clarry scored 68) and a huge 163 points to open the season against the Dogs.
Jack Macrae (WBD, 630.2k, (-$69.7k),  125.4 AVG, 135 BE) only found in 53% of teams. Yes, there's 47% of SC'ers that don't have this man. I'll re-iterate once more due to absurdity. Jack Macrae is barely in more teams than he's not. 144 points on Friday night, making those that went with the VC on Jack happy buggers. Ultra-consistent and priced @630k, non-owners bring him in before he goes bezerk against the Pies on Friday.
Limbo Land….
Callum Mills, 686k, 201 BE
Tom Mitchell, 527k, 189 BE
Jack Steele, 637k, 175 BE
Zach Merrett, 600k, 143 BE
Ben Keays, 574k, 138 BE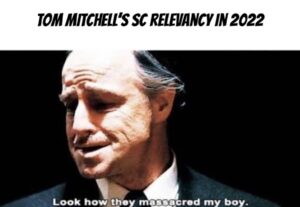 I'm finally packing my picnic basket up off of the "Titch is still relevant" hill…
RUCKS
Sean Darcy (FRE, 595.6k, (-$47k),  107.2 AVG, 75 BE) with all the other ruckman going the way of the dodo bird, I'm thinking about starting a petition to rename the Ruck section to "Sean Darcy and others." Firstly, I just want to mention, Fremantle games are a lot more fun to watch, when this behemoth is found sitting at R1 in your Supercoach team. 178 points! Darcy is well and truly SC relevant and a VC/C option, when he's fit enough to play (notice my choice of words there). Missing the week prior vs The Cats with concussion protocols. Sean came right back in and reminded everyone what this colossal of a man can do.
Timberrrr….
Reilly O'Brien, 518k, 159 BE
Peter Ladhams, 514k, 150 BE
Tom Hickey, 536k, 137 BE *injured*
Brodie Grundy, 545k, 134 BE *injured*
Nic Naianui, 587k, 126 BE *injured*
FORWARDS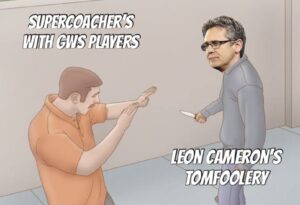 The only way to beat Leon Cameron and his magnet moves, is to not play.
Tim Taranto (GWS, 479.7k, (-$50k),  97 AVG, 99 BE) for those that have these GWS boys on your "never-again lists." Just skip right ahead. On paper, Timmy is a great pick, (albeit suited more for fantasy). However, with Taranto and the GWS crew comes a serious risk of Leon Cameron and his shenanigans. Started the season off strong, averaging 106.4 points over the first 5 rounds. Round 6, we found Taranto parked forward against the Saints, and has bounced back with two semi-decent scores over the last two weeks with 97 points in the shellacking against the Crows and 84 points in the reverse-shellacking against the Cats. Ranked 7th for total-points in the FWD line. Taranto presents great value for a player that will push for top 6 total-points as a FWD.
Todd Goldstein (NTH, 456.5k, (-$92.3k), 87.5 AVG, -1 BE) I know what you're thinking. "Abs, WTF, it isn't 2019?" But, with Xerri going down with injury, Goldy has pumped out 125 points vs the Blues and 142 points vs Fremantle. Goldy could easily make 100k in the coming weeks prior to Xerri's return, and from what the eye-test tells me. Goldstein should remain #1 ruck even when Xerri is ready to go. For those looking for a calculated-risk, could do worse than taking a punt on Goldstein.
Forward thinking…
Zac Bailey, 473k, 141 BE
Jake Stringer, 434k, 140 BE *injured*
Josh Dunkley, 600k, 133 BE
Tom Hawkins, 465k, 132 BE
Jordan De Goey, 444k, 125 BE
Tom Liberatore, 543k, 123 BE
Isaac Heeney, 512k, 120 BE
Dustin Martin, 504k, 103 BE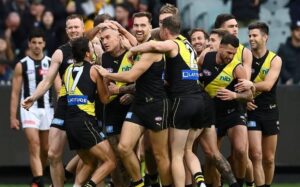 Welcome back to football Dusty!
---
Leave a comment / Scroll to bottom