It's my second year running the SCT Brownlow Comp and once again I conquered my dining room table to tabulate the results: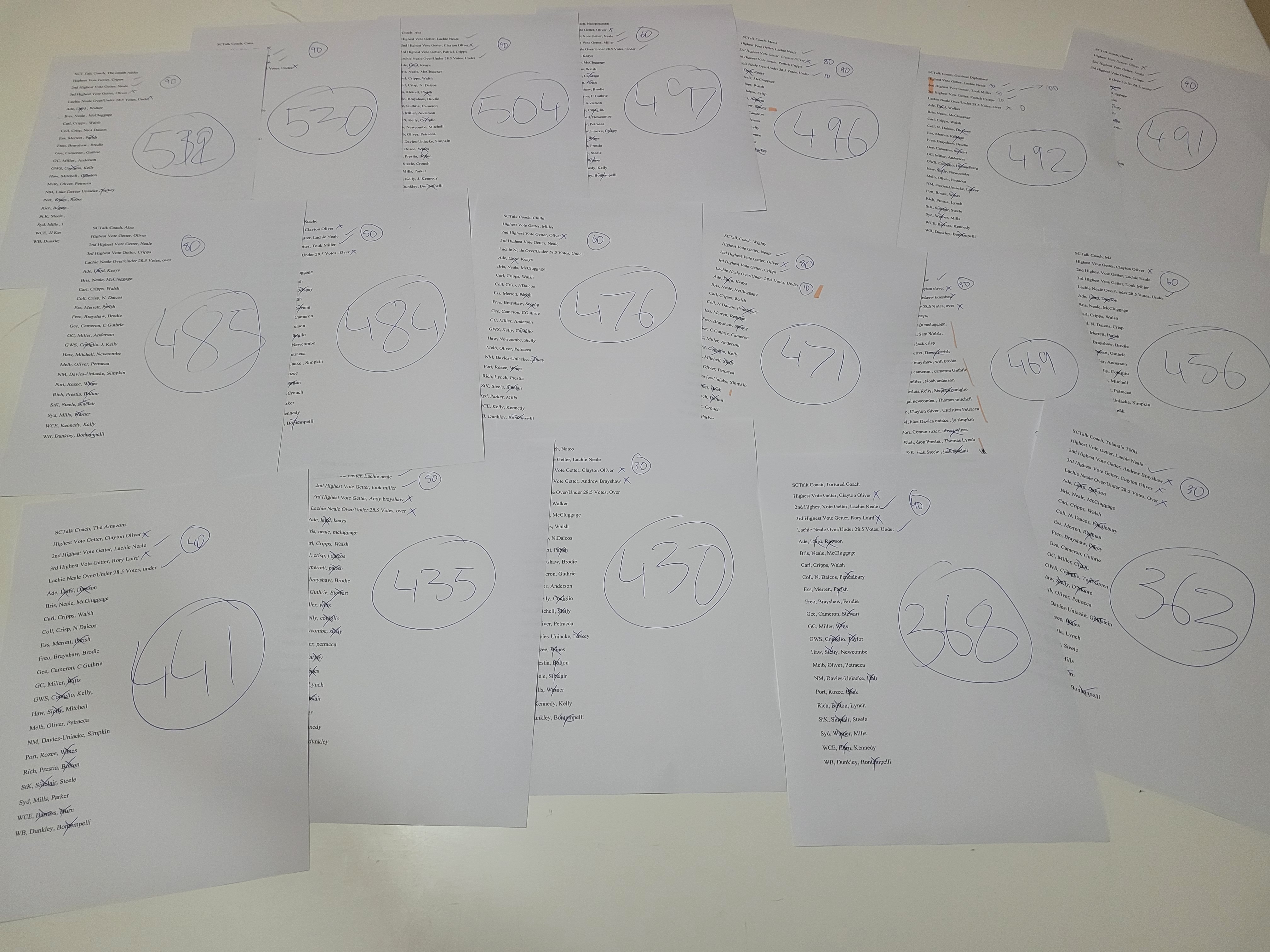 Now, historically TDA and Catta have dominated the SCT Brownlow Competition. Between them they've won it 6 times, 3 a piece, and on the rare occaisions either of them have lost they've still been right up there. Heading into this year's edition, Motts and I exchanged the following messages just as the count started at Round 1: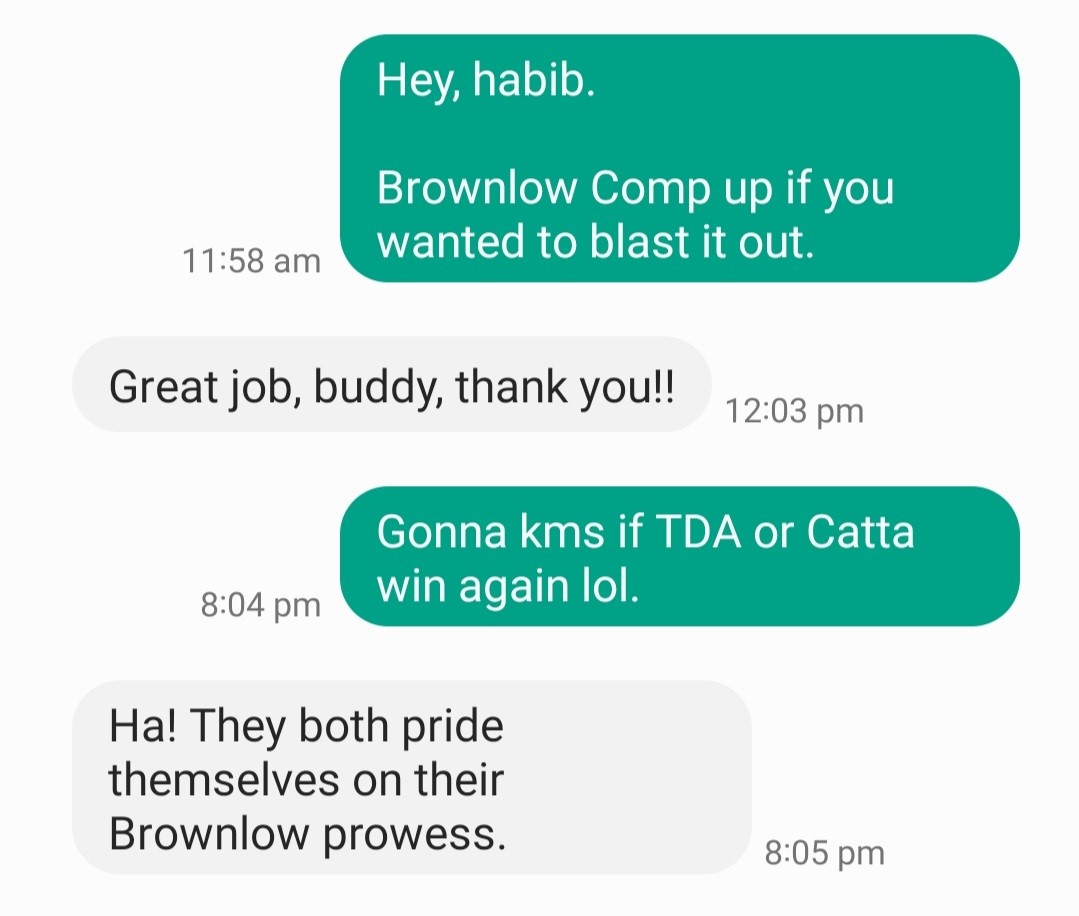 Well…you're not gonna believe it…they've not only put us on all blast again but they've finished within 2 points of each, with TDA taking out the 2022 SCT Brownlow Competition for the fourth time!
Here's the scoreboard:
Maximum: 632
1st: TDA – 532
2nd: Catta – 530
3rd: Abs – 504
4th: Natopotato88 – 497
5th: Motts – 496
6th: Gunboat Diplomacy – 492
7th: Bruce.p – 491
8th: Alza – 485
9th: The Stache – 484
10th: Chillo – 476
11th: Wighty – 471
12th: dukezz – 469
13th: MJ – 456
14th: Lisa – 441
15th: Kid81 – 435
16th: Nateo – 430
17th: TorturedCoach – 368
18th: T0lands T00ls – 363
It was always going to be down to TDA and Catta after they were among only 5 coaches to have Cripps in their Top 3, drilled the Over/Under and then swept the team Top 2s. TDA initially made a mistep with Gunston in his Hawks Top 2 instead of Newcombe and handed Catta, who made no mistakes with his boys, a lead. It then came down to the Saints. Both had Steele's 13 with no issues and then diverged on their second Saint: Catta went for the Saint's B&F winner Sinclair, who was hard done by, then TDA struck with Crouch and that was it!
Hats off to TDA for his fourth Brownlow win and props to Catta for another top tier performance.
Everyone drilled Brisbane, Carlton, Freo, Collingwood and North and then the #1 vote getters for Sydney, St Kilda, Geelong, West Coast and Essendon were easy enough with 50:50 coinflips for that #2 vote getter all within a few votes. Gotta mention the surprises from South Australia: Amon being Port's #1 vote getter outta nowhere with 15, slaying Boak and Wines and picked by no one, Laird's capital season bearing him no reward and just TDA, Nateo and myself picking the Crows top vote getter in Walker. GWS, as always, was troublesome, with no one picking up on Taranto as a Top 2 and Coniglio and Himmelberg nowhere to be sighted. Don't quite have the time rn for as a expansive recap as I'd like as I'm a little under the gun rn (apologies) but gotta shout out Bruce.p for being the only person to get Wright's 8 as a Dons Top 2!
Feel free to check back on your entry, review your picks and let us know in the comments how you went and any other takeaways you had from last night.
---
Leave a comment / Scroll to bottom