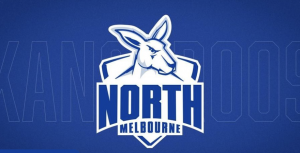 New coach, (dare I say Super Coach) in Alistair Clarkson and new optimism from the Arden Street faithful. Smashed the draft and nabbed experienced Hawks, Liam Shiels and Daniel Howe, and Dockers Griffin Logue and Darcy Tucker. They also get a virtual gun recruit in Ben Cunnington back for the full season after his much publicised successful health battle last year.
New skippers and a raft of new coaches and management from various Clarko back grounds to help the rebuild, and the reasons for that optimism appear, on the surface, to be founded. However they did give up the number one pick from 2021 after one tumultuous season, and surely will suffer some  disruption from the Tarryn Gate affair. As well, it's not easy sweeping away the wooden spoon mentality with the magic broom theory. Time only, will tell.
Defenders
Feeling Lucky
Aaron Hall ($538 600)
Coming off season averages of 98 and 105 in the past two seasons, will the running defender continue to score for his SuperCoaches? Certainly has the role and the ability as shown by a ceiling of 153 last year, but also has durability issues having missed half of last season's games. Big upside if he stays on the park, but a pass for me.
Luke McDonald ($487 300)
Tonned up seven times with a high of 140 against the Hawks in R1, but also failed to reach 70 on four other occasions. With others predicted to run through the backline more, expect to see a more defensive role.
Griffin Logue ($410 200, DEF/MID)
Too often forced to play as a lockdown defender, as well as going forward to help Freo out with their injury woes and lack of marking targets, his 74.5 average doesn't scream "pick me". However, a new role at the Roos might settle his SC scores. He's training in defence and has Big Ben McKay and Aiden Corr to play lock down roles. May just get to be an intercepting distributor and with DPP some of you might feel lucky. Not me though!
Money Maker
Josh Goater ($192 700, DEF/MID)
Spoilt for SC by Leigh Adams with a Round 23 debut severely inflating his price for this season. It did however, showcase his potential with a 21 disposal effort and a solid 70 points. His VFL average of 66 will be enough to push his price over $350k and firmly cement him as a money maker and a good on field option if he gets the nod round one. 25% of SC thinks so.
Midfielders
Lock and Load
Luke Davies-Uniacke ($557 400)
Coming into season six off a breakout last year where he averaged over 100 (101) for the first time, LDU is set to increase his average again if the final half of 2022 is any indicator. Post bye he averaged 110.8  with a high of 149 against the (nearly) all conquering Pies. Those figures indicate he would be priced around $50k more if that run continues, making him a very attractive POD at only 7.7% ownership. Don't be afraid.
Feeling Lucky
Jy Simpkin ($500 200)
Another Roo whose backend was significantly better than his first half, adding seven points after the byes. Remove the aberrant 26 against the Hawks and he averaged 106.8 post bye and finished the season with five tons, making him a particularly interesting purchase for those who are game. Has four scores over 130 to his name, a testament to his ceiling.
Money Maker
Will Phillips ($158 300)
In 50% of teams, so whichever way you look at it, he's a must have. Before missing last year he averaged 51.4 in non sub affected games which would have priced him at around $280k. 75% of coaches have him on the field for round one at this stage. If he's named, just get on!
Goerge Wardlaw ($193 800)
One to watch after return from injury. Expensive but with NAB League average of 132 will be able to justify his inclusion. Despite the expected late start to the season, 12% of coaches have him in their teams.
Rucks
Feeling Lucky
Todd Goldstein ($513 300)
In last year's ruck roundabout, Goldy found himself in a few teams.
A 93 average however, was Goldy's lowest and only sub ton since 2017.
Is the age factor playing more of a part and will Tristian Xerri take some
of his ruck work away to help ease him through the season? Anyone feeling lucky?
Tristian Xerri ($393 200)
Only in here as the ruck situation is tumultuous this year, and we are looking at different options. Showed he can score with 79 and 120 to start the season with Goldy in the side. If he takes on more ruck work you could expect his average to rise. A 91 average would see a price of $500k and create a nice stepping stone if needed. Did however miss the last seven games so you probably need to get out the four leaf clover.
Forwards
Lock and Load
Ben Cunnington ($419 000, MID/FWD)
A proven gun with MID/FWD status at that price has to be a tempter for most of us. Back from the health battles and two games under the belt with a full pre season and the North faithful are optimistic. He is primed to lead the midfield clearances again, sharing some time forward to compensate some lapsed game conditioning. However, with his three previous completed seasons all above 100, he could easily become a lock in our forward lines and all going well, also become that coveted midpriced keeper that we all dream of.
Feeling Lucky
Tarryn Thomas ($295 700, MID/FWD)
A popular choice for break out last season unfortunately did not eventuate. Tarryn could only muster a highest score of 76 in a disappointing and inconsistent season which for him, finished at round 15. Too good a player to ignore however and with Clarko deploying him off half back with apparent success, he should have been on everyone's radar as a mid price forward at the price and with DPP. Has shown an 85 plus average is possible.
When will he be back at the club, and when will his mind be on the game?
Money Makers
Blake Drury ($102 400, MID/FWD) and Harry Sheezel ($198 300)
Drury is getting plenty of wraps around Arden Street, with many predicting an early debut. That would be a bonus for a bottom priced best 23 player. Sheezel's junior numbers are insane with three double tons in four games in the NAB league, so obviously has the ability to overcome the high price tag if you and Clarko choose him. I think he gets early games.
---
Leave a comment / Scroll to bottom