So I'm at the Blues Lions game on Friday night last week with Chips Ahoy! and as we're sitting there waiting for the bounce, I glance to my left and the girl in the seat next to me had SuperCoach open on her phone and seemed to be dithering on whether to trade Alex Cincotta into her team.
I did what any of us would have done: I interrupted the conversation she was having with the guy on the other side of her and strongly advised her to do it. Thankfully she took my advice.
I then introduced myself as the owner of a website where we provide SC advice. When I told her it was supercoachtalk.com, she said "I've been on that website!". Let me tell you, coaches, it was a moment of pride for me.
Her name was Kayley and her story is that she's from the US and this is her first year playing. Her partner is an Aussie and she's in a league with him, his brother (who was the guy with her at the game), and a few of his mates. Obviously, she's desperate to beat them all.
I took a look at her team and told her to also bring in Simpson to generate some cash this week which she did as well but then I thought "why don't we harness the power of the SCT community to help propel her to the top of her league??"
I floated the idea with her and she loved it so this is the first in a series of posts where we sort out Kayley's team. Each week she'll send me her team on a Monday and I'll post it for you to make your suggestions on how you'd make it better.
Here's how it's looking after Round 8: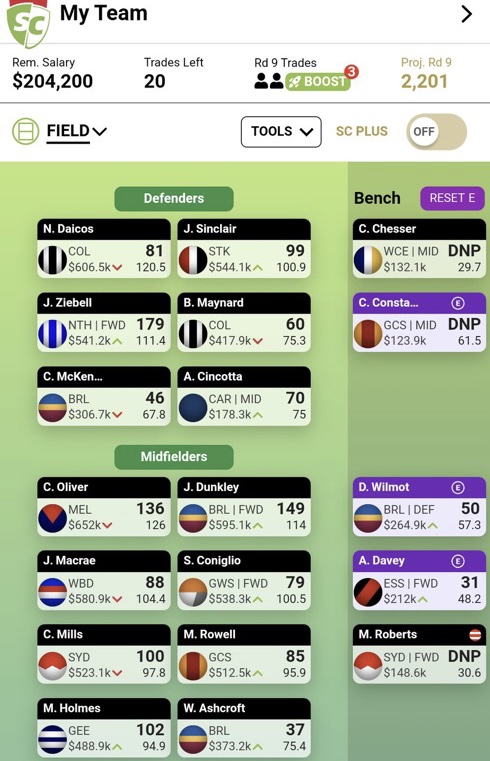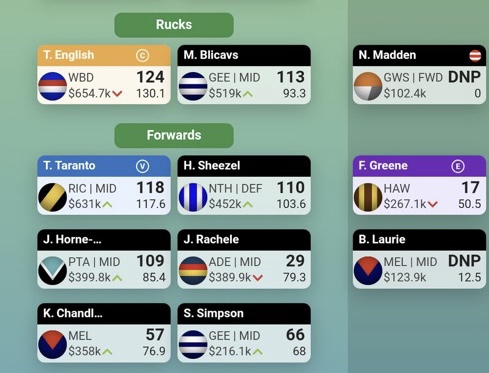 Look forward to seeing what y'all come up with and hearing how Kayley rises through the ranks throughout the season!
---
Leave a comment / Scroll to bottom