Historically, the ruck line has been the position with the highest concentration of ownership percentages with the least amount of diversity and experimentation. However this time around there is a total lack of a set and forget combo and, it could also be argued, no real must have option to build from at R1. The ruck landscape is totally open with, by this pieces count, nearly 20 feasible options – perhaps a little less if we're being serious but anything over a handful in recent SC history is galling. The present ruck scene offers combinations and structures well outside of SC orthodoxy, with scope to go for value and re-invest elsewhere, pay up and hope non-believers are punished, consider titans thought to be no longer or blend all the aforementioned. How coaches opt to navigate this uniquely open landscape will be determinative to how the early ranks fall.
You get the feeling that the OA rucks will wrap up in Round 24 with some names at the pointy end wouldn't have expected. My particular shout is that one of the old school established rucks who haven't really been relevant will somehow vie for a Top 2 finish just on consistency and the strength of their craft.
Let's begin!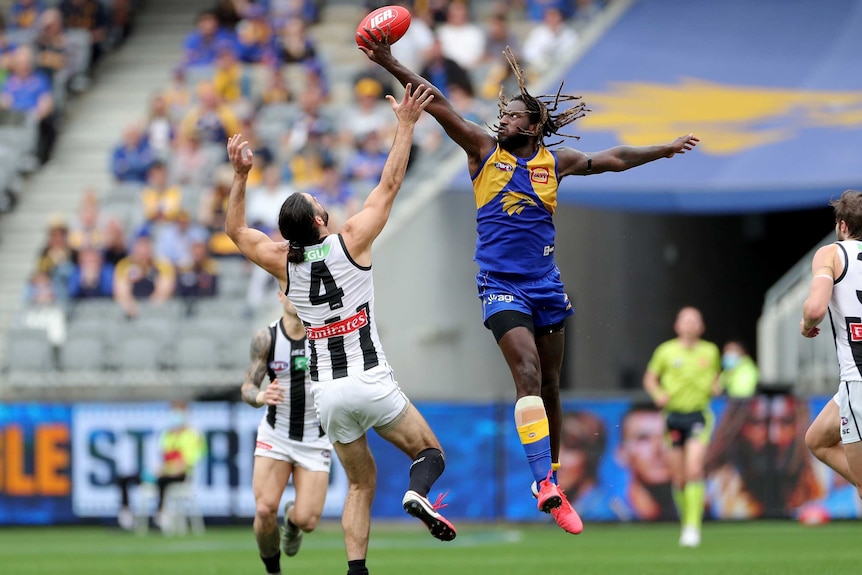 Max GAWN (MELB, $622.1k, 113.0, 4%)
Opening Fixture: WBD, BRIS, SYD, WCE, ESS, RICH
Paired up with Grundy and recently copped a hamstring injury. Don't see how you can rock him at R1 for 600k. We'll get to how the Dees will potentially line up when we discuss his more relevantly priced partner in crime.
Jarrod WITTS (GCS, $605.1k, 109.9, 11%)

Opening Fixture: SYD, ESS, GEEL, STK, FREO, NTH

Are we all looking at it wrong? Given how open the landscape is could the move be to just pay up for the most established, safe option in Witts instead of dicking around with all these flyer options? Witts is a known quality from 2022: out of nowhere ramped up to a career best average of 109.9 even after a prolonged hiatus from the game due to injury, dropping 8 scores of 130+ and smoking the rest of the ruck options. He's accordingly priced as such this time around. You'd think we'd all be jumping on him but something just doesn't quite feel right –  which Lazza the other day summarized far better than I ever could:
"He is over priced… Might pay to look at Witt's top scores last season … he had 13 tons with many of them against second string rucks and 8 rounds at 90 or less .. 154 vs Pittonet, 136 v Cameron, 132 v Ladhams, 131 v Sweet, 119 vs Koschitzke, 148 v Finlayson and 133 v McEvoy (2nd game back after long injury lay-off) .. his draw afforded perfect "timing" to inflate his average…"
The stars aligned last year and, of course to his credit, Witts just decimated the soft ruck fixture that was in his path. Opens the season against Hickey, who is the most restrictive ruck in the comp, but otherwise has a decent opening 6. Just a matter of whether you want to pay up 600k for him at the top of price when there are premo DEFs and MIDs at the same price (or more) who can put him away.
Tim ENGLISH (WBD, $581.k, 105.5, 27%)
Opening Fixture: MELB, STK, BRIS, RICH, PTA, FREO

Tingles is the most confounding ruck option. On the park, he's R1. Goes at 1:1 for HOs to disposals and covers the ground spectacularly. His injury and management profile however is just traumatizing to be associated with – concussions, strains, indeterminative niggles. Over the last month he's had both a concussion concern and then a minor adductor issue. Given he's the 3rd most expensive ruck, it might be worth starting him; if he pops off, great, but if something happens you can easily go down to whoever emerged early. The value in fading him entirely and betting against him (saving trades and cash) still remains though…who's game?
Sean DARCY (FREO, $562.2k, 102.1, 5%)
Opening Fixture: STK, NTH, WCE, ADEL, SUNS, WBD

The impulse to write him off due to the arrival of second fiddle Jackson is probably going to be warranted. Hasn't been able to get a bruise free run and return to the heights of his rampaging 2021 and the addition of an internally rated 2nd ruck like Jackson won't help. To be fair, he has been able to score well with Meek in the side before and is still a great overhead mark going back or foward but playing alongside a 2nd ruck is going to lower his floor by eating into his economy in the first instance and then also cap his ceiling by depriving him of those cherry-on-top CB H2As. Pretty good fixture but doesn't feel great going head first into a 562k option who's going to be second fiddled.
Reilly O'BRIEN (ADEL, $560.5k, 101.8, 2%)
Opening Fixture: GWS, RICH, PTA, FREO, CARL, HAW
Bloody SLOB. Absolutely ruined my life last year. Started him, all was well, but then showed a really annoying floor while not developing his intercept and around the ground work at all. Got a pretty nice early fixture but would be a bit of a gamble to start him after a down year and no signs of tangible development.
Nic NAITANUI (WCE, $537.5k, 97.6, 1%)
Opening Fixture: NTH, GWS, FREO, MELB, GEEL, PTA
Lifting this straight from tomorrow's upcoming Eagles Preview:
You know what, in the current landscape,Nic Natanui wouldn't be the most ridiculous pick. "But he's old!" they howled, well yeah but so are most of readers and we kept you lot around. While he is indeed going to be 33 this year and plays very low, managed TOG he put up his career best SC season just two years ago (22 games, 115.1) and has had a very strong pre-season – looking lean, blasting everyone else away at match sims. 8 games last year is, of course, a red flag but even then he still cobbled together basically a triple digit average and scores of 119, 119 and 132. If Tingles has another issue, RoMo isn't rucking solo and then one of the budget rucks doesn't pan out, Nic Nat will probably be the best of the established rucks to be honest. Doubt any of us will have the stones to do it and the hesitancy of obviously warranted but watch him finish the year with a bizarrely serviceable average.
Will add by summary: durability, TOG and age valid concerns, price and early fixture not instantly compelling, but remains an all time talent capable of high H2A and CP blinders.
Mark BLICAVS (GEEL, DEF/RUC, $537.2k, 97.6, 3%)
Opening Fixture: COLL, CARL, GCS, HAW, WCE, SYD
The game's ultimate utility is garnering some popularity. Capable of being deployed as a key defender, a ruck, on a wing and as a tagger gives him an incredibly volatile scoring stream. Will be hard to pin down where he'll start given his versatility and fluid utilization in the Cats' coaches box but if you're game for the ride there'll certainly be some nice purple patches on the back of SC conducive roles.
Toby NANKERVIS (RICH, $531.1k, 96.5, 1%)
Opening Fixture: CARL, ADEL, COLL, WBD, SYD, MELB

Had that brief period where he was straight up bussing, going on a rampage with scores of 107, 84, 121, 108, 135, 134, 85, 107, 141 and 95 before plummeting back down to earth with a 39 (did also have a 158 in Round 21). Was playing great footy at the time as well; strong H2A work and score involvement while maintaining that crash and bash style. If Mumford was a caveman, Nank is a caveman who's discovered fire. Going to be surrounded by a fully refurbished midfield this year, so that could be interesting, but probably lacks the upside when priced over 500k.
Todd GOLDSTEIN (NTH, $513.3k, 1%)
Opening Fixture: WCE, FREO, HAW, CARL, BRIS, GCS

Really comes down to whether Clarkson persists with the on field development of Xerri at the expense of Goldy as a pure ruck. Still got it when playing solo. Definitely keep him in mind if/when Xerri goes down, by which point he might have DPP. For now though, a pass to the Arden Street stalwart.
Brodie GRUNDY (MELB, $512.9k, 103.5, 17%)
Opening Fixture: WBD, BRIS, SYD, WCE, ESS, RICH
It would have been inconceivable a few years ago that AA rivals Gawn and Grundy would end up in the same side, but here we are. The expectation is it'll be Grundy who starts at the CB, with Gawn in more of a hybrid role. Batting to a great midfield, reportedly wrapped to be at the Dees and still an immense talent, so can probably be penciled in for 95~ at a starting point but a shared ruck economy, with Gawn no less, is always going to be frustrating and keep a lid on him.
I think starting Grundy at the center bounce and Gawn down back, with Grundy pushing FWD and Gawn coming up to the stoppages, would be a really unique set up that would accomodate their respectives strengths outside of HO contests (Gawn's defensive in the hole intercepting and Grundy's midfield-esque offensive mindedness. It does appear they're just gonna go one at CB, on FWD and rotate however. Shame.
Rowan MARSHALL (STK, $506.5k, 92.0, 41%)
Opening Fixture: FREO, WBD, ESS, GCS, COLL, CARL
What will it take for this man to be free of the shackles of Ryder and 2nd fiddle duties? A lot actually. Even though Ryder's hung it up the Saints have been babbling about how much "we love Rowan's forward craft" and his "impact across the ground" – for god's sake, as if he can't do that as a solo ruck. The real death knell however was King's injury, leaves the Saints without an anchor up forward and given the lack of list depth RoMo, in their heads, needs to therefore have some kind of a forward footprint. It's so cringe. Campbell is battling but if he's available for Round 1, it looks like they'll go with him and RoMo as a 1-2. They've even said they would consider bringing Ryder back for an 8 game stint until King gets back and they can resettle! Disaster.
Long story short: only select him if he's solo and free of the cult mentality that he needs to be FWD. Shame, because he's got a nice fixture!
Braydon PREUSS (GWS, $506.0k, 91.9, 0%)
Opening Fixture: ADEL, WCE, CARL, ESS, HAW, BRIS

I still maintain Preuss was great early in the year until injury, suspension and selection colluded to just destroy him. Early on he was the #1 ruck for (get ready), total HOs, H2As AND contested marks and honestly, as someone who watches every game, an AA contender early. $506.5k is of course too much to find out but if Kingsley has his head on and runs an in shape Preuss solo I wouldn't be surprised if he hauled ass. Mainly just wanted to put on the record that's he genuinely a good player, aha!
Oscar McINERNEY (BRIS, $487.0k, 88.5, 1%)
Opening Fixture: PTA, MELB, WBD, COLL, NTH, GWS

Lifting this from the Lions Preview I did the other day:
Had that really strong 2021 backend where he was close to R1 behind only a rampaging Darcy but since then Oscar McInerney hasn't taken that next step. Regressed on his average last year and still ranks as one of the work overhead marking and around the ground rucks in the competition. Opens the season against Port, Dees, Dogs, Pies, Roos and Giants – not the worst early fixture, but probably better options out there.
Suppose it would be fun to have him, Neale and Dunks though lol.
Darcy CAMERON (COLL, $465.9k, 84.6, 32%)
Opening Fixture: GEEL, PTA, RICH, BRIS, STK, ESS

A handful of setbacks, including a recent minor hamstring injury, have tempered enthusiasm for a player who is otherwise a must have to be perfectly honest. Sub 500k, did 104 as a ruck and is now the big boss with Grundy gone. Really like him as a FWD option but the move of selecting him as a ruck to see where the other rucks fall is also prudent.
Tom HICKEY (SYD, $465.9k, 84.6, 1%)
Opening Fixture: GCS, HAW, MELB, PTA, RICH, GEEL

Capable of some great scoring, playing in a red hot energetic and ascendant side and as the most restrictive SC ruck is totally insulated against tough fixtures. Again, only relevant in the current landscape and could be an absolute sleeper. Did 103.2 in a full 2021 season, was hampered early last but then made the quickest PCL recovery in medical history and found some dynamic form late while banging out 120s.
Luke JACKSON (FREO, $465.5, 84.5, 7%)
Opening Fixture: STK, NTH, WCE, ADEL, SUNS, WBD
Just don't understand how 7% of coaches at starting a second fiddle ruck at 465k. Sure, he put together the nice scores last year at 84.5 in that role and is undoubtedly an ascendant talent but realistically what can a 2nd ruck/FWD do? 90 flat? Maybe press 95 on trajectory amongst a youthful midfield? Just doesn't seem to have a lot of upside whilst playing alongside such a strong traditional HO ruck in Darcy. Freo have said they like him as a midfielder but that seems like a massive stretch given their clear lack of FWD stocks and stacked midfield.
Lloyd MEEK (HAW, $431.1k, 87.0, 5%)
Opening Fixture: ESS, SYD, NTH, GEEL, GWS, ADEL

Never had a proper run at it being behind Darcy but for the fleeting moments we've seen Meek he's been a solid 9-5, HO ruck. Free reign at the Hawks would be great but likely going to partner up with Reeves apparently, so the early enthusiasm has subsided. Rucking at the Hawks to a new and obscure midfield probably also diminishes his appeal.
Scott LYCETT (PTA, $429.9k, 86.8, 3%)
Opening Fixture: BRIS, COLL, ADEL, SYD, WBD, WCE

"Which moron requests a traded after winning a flag?" is what I've derided Lycett even since he shipped off the South Australia. Just loathed him. Now, he is in my team along with 3% of coaches. Had an initial shoulder injury which then became infected and rubbed him out for all of 2022. Had a ripper pre-season in full contact and a few nice lauditory press conferences. Even if you sift through the hype, the case for Lycett is strong: 101.4, 96.9 and 94.2 prior to last year, a strong ceiling and batting to a robust midfield looking to catapult themselves back into contention. Should be solid for 90+ on that profile.
Clearly the walk up solo ruck at Port. Hayes isn't up the level despite getting a lengthy chance and Finlayson would have been played as a FWD and 2nd ruck and wouldn't have challenged for a solo spot – doesn't matter as he's injured and in doubt for Round 1 anyway.
Sam DRAPER (ESS, $398.7k, 72.4, 9%)
Opening Fixture: HAW, GCS, STK, GWS, MELB, COLL

Wighty and Theoriginalforce have somehow conned 9% of people in starting Draper! I'm stunned. He's been the standout at the Hangar over the pre-season, which made me do a double take, and would not doubt be fun to own but the following facts remain: not a traditional HO ruck and plays a highly involved crash and bash style, which together is not at all conducive for SC. Also went flat on his average last year despite playing a full season. Going to have a capital season and take some strides for the Dons just very hard for that to translate into SC when he doesn't capitalize on that solo ruck scoring stream.
Marc PITTONET (CARL, $386.1k, 70.1, 1%)
Opening Fixture: RICH, GEEL, GWS, NTH, ADEL, STK

Nabbed the Blues ruck gig a few years back and famously made 200k for many coaches at R3. He's since struggled to find continuity in successive seasons at 13 and 8 games. That, of course, is cause for concern but there's definitely a case for Pittonet in 2023 assuming he comes in ready to rock. He'll be batting to what was, for half of the season, the best clearance and CP side in the competition, he has an old school 1-2 vibe with Cripps who is coming off Brownlow form (both score better playing with each other) and should get weapons he hasn't really played with in Hewett, as a sweeper, and Kennedy, as a bull, into the engine room. Just on a #1 ruck role to that midfield, he should do 85~.
Jonathan CEGLAR (GEEL, $374.4k, 85.0, 0%)
Opening Fixture: COLL, CARL, GCS, HAW, WCE, SYD
Was apparently seen as the last ingredient required for a flag, an established ruckman. They managed to get by just fine without him lol. Injured last year and I literally haven't heard a single thing on him over the pre-season.

 Loading ...
So there we go. All the relevant ruck options catalogued. Have a read, fire off your choices in the poll and then, if you like, let us know your thoughts on the ruck landscape and how you're heading in to 2023.
---
Leave a comment / Scroll to bottom