The forward line is always the most confounding line in SuperCoach. Down back there's Lloyd and then a slew of options who can all vie for Top 6 and remain close to each other, the midfield is pretty intuitive, rucks have historically been set and forget, while the forwards have just always been a headf*ck.
This year, however, selecting FWDs is markedly less stressful and rather exciting! Dunkley and Coniglio present themselves as F1 and F4 locks and we've then got 5x FWD breakout options. For those new to SC, generally speaking a "breakout" player is one who's been in the league for a few years, has shown signs and been developing nicely and now priced at 350k – 500k they look to be capable of going to the next level, placing them in the bracket of premium scorers in their line.
This season there are 5x FWDs with distinct and similar profiles priming them for breakout seasons: they've been forwards most of their careers, they're on positive scoring trajectories, they've got the goods and are all slated for SC lucrative roles in the midfield. Basically, they're gonna pop off!
In cataloguing the breakout FWD options, this piece will detail their:
Past

: draft relevance, scoring history and role in past seasons

Present

: most recent season's role, scoring and development

Future

: their 2022 prospects by way of pre-season, nature of midfield role in the conext of their respective team

Projection

: a summative projection of their 2022 scoring all things considered
In evaluating the breakout FWD options, we'll consider their:
Ceiling

: how high a player can score, determined by their scoring stream, tank, time on ground and accumulating and score involvement ability

Trajectory

: the trend of their scoring over time, with age, injury profile and scoring history as key variables

Role

: the most critical consideration when selecting a breakout is the role they play in their respectively team, for the FWD crop this year is forwards looking at substantial midfield, on ball roles
Alright, this is a bit of a long one coming in at around 3000 words, data heavy and raw analysis but the forward line is wide open and going to be more determinative than ever season. Let's get to it.
Note: data reflective of writing before practice and AAMI matches
Jordan DE GOEY (COLL, $463.5k, 13%, MID/FWD)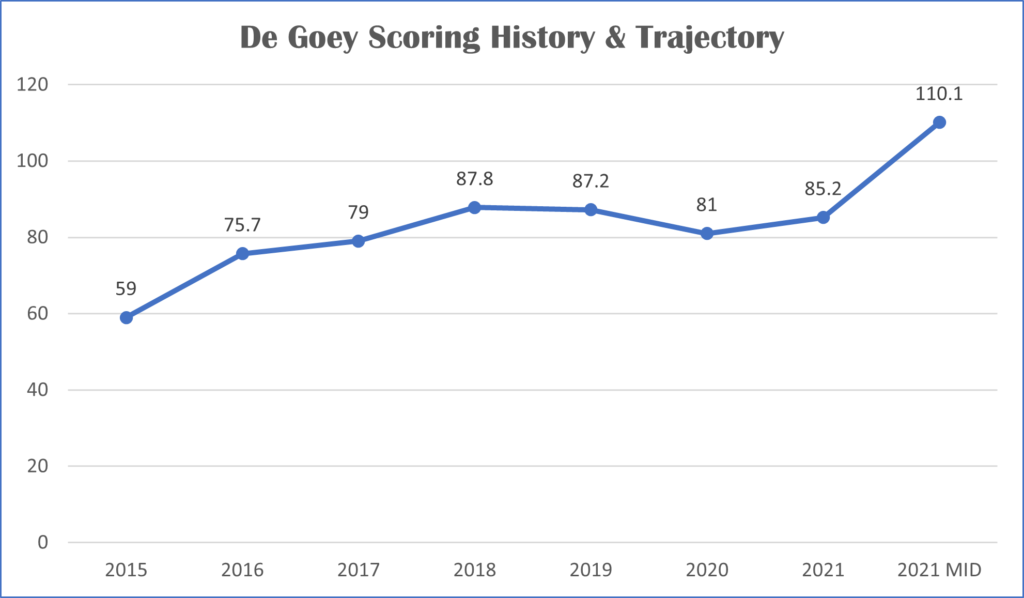 Past: For the majority of his career, De Goey's been a mainstay of the Collingwood forward line. With the marking presence and distance of a traditional key tall but the explosiveness and crumbing ability of a small, he was the Pies leading goal kicker in 2018 (48) and integral to their capital H&A season the same year. As a mainstay of the Pies' forward line, De Goey's scoring has been confined to averages in the 70s and 80s the last 5 years; with highpoints of 87.8 and 87.2 in 2018 and 2019 corresponding to the strength of the Pies in the competition.

Present: Early last pre-season De Goey was touted for an expanded midfield role, however for the first half of the season it did not materialize; his experience and role in Collingwood's increasingly one dimensional attack condemned him to the forward line. However after the Buckley drama and Pies season was well truly shot, from Round 13 onwards the transition was made to play De Goey on ball. He was on a decent 3rd/4th MID CBA load at times but capitalized on that opportunity: going at a 110.1 average, only 2x subtons in the 80s and indication that he had a ceiling to develop with a 124 and 138. Come the season's end he was one of the Top 6 FWDs post-bye and a FWD lock for 2022.
Future: The ideal lead in to 2022 for De Goey would have been: a full pre-season, to retain that OB role and have been training exclusively as a MID  – to the chagrin of the Magpie loyalists it's been far from that. De Goey hasn't had a normal, even full, pre-season after the whole NY/hands on saga. Once he returned to training with the club and was spending substantial time with the FWD group (did all the key drills) and then in the midfield, around 50:50 by the looks of it as Adams is back, Lipinski, Elliot and Maynard are set for opportunities and Daicos and a few other kids look to be joining the on ball brigade. Add to that he copped a broken rib the other day which barreled him out of the match sim and have since left him "touch and go" for the practice games.
Projection: With retention of that MID role and a full pre-season, you could have safely pencilled De Goey in for the 110 average he put up post-role change last season. However with concerns over his pre-season, the rib injury and foremost role retention, it looks possible he comes in underdone in a less conducive SC role for somewhere between 90-95. Passing the eye test in the AAMI game and confirmation on his role could of course assuage these concerns and bump that projection right up, so be sure to monitor closely.
Zac BAILEY (BRIS, $459.9k, 6%, MID/FWD)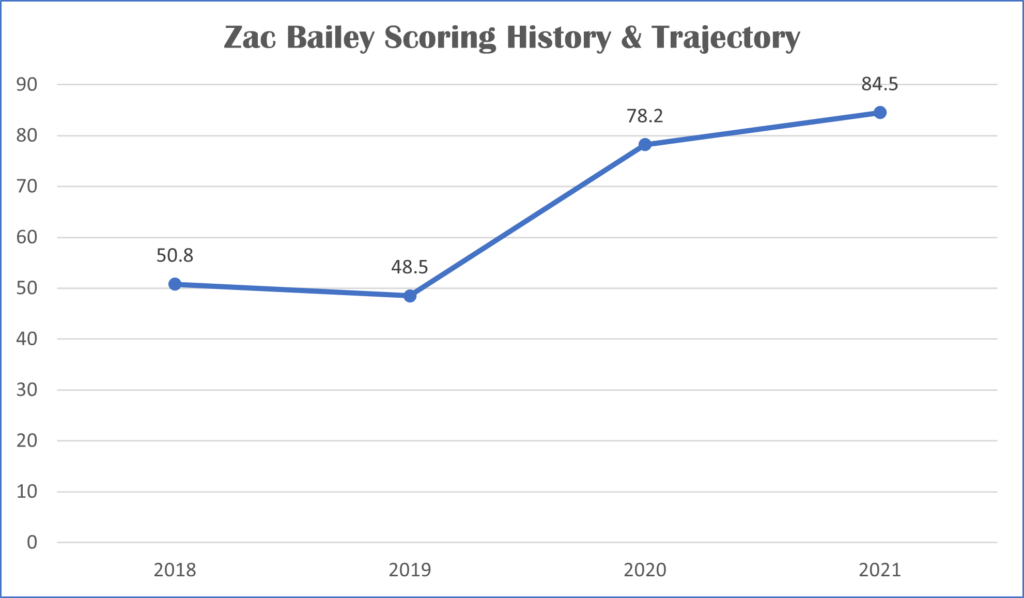 Past: Bailey's first two seasons were unnoteworthy at 12 and 13 games for 50.8 and 48.5 averages respectively. In 2020, he built a little more continuity and presence in the side but only averaged 13.4 disposals and remained confined to the FWD line at 78.2 with only 4x tons. Low possession player and small FWD in a key tall laden attack didn't signal SC relevancy in the future.
Present: Perhaps not in terms of SC, but 2021 was somewhat of a breakout season for Bailey. He became much more involved in forward of center stoppages, went at 18 touches a game, the Lions 4th goalkicker with 31 and, most importantly, he offered the Lions a dynamic, electric presence as FWD stoppages and on the occasion he snuck into a CB. Who could forget how he sunk the Pies after the siren? Charlie Cameron's preference to play deep meant that the Lions always had a spot for a non-accountable small FWD and in 2021 they had the confidence to give him the green light to get more involved in the contest. Again it only translated into a 6.3 average increase to 84.5 but in terms of his role and profile, 2021 was strong for Bailey.
Future: With that 2021 as a launching pad, Bailey has since been touted in the off/pre-season, along with Rayner, for a significantly expanded midfield role in 2022. Understandably his speed, small frame and dynamism have the Lions thinking he can offer a unique contribution to their on ball brigade. You'll all recall the piece last week where Fagan said he planned to transition Lyons forward and Neale onto a wing to open things up for Bailey and Rayner. Sounds a little dramatic and may not fully materialize but speaks to the internal esteem Bailey's held in. There's a limited sample size of Bailey at center bounces, he attended a handful CBs and was often to the first FWD to join up with the MIDs at FWD of center stoppages. When looking at Bailey in those limited MID and contest minutes last season, he totaled 66 clearances (14 the previous year) and 183 contested possessions (92 the previous year). Clearly capitalized and got purchase on the limited OB time he got in 2021.
Projection: Surely the Lions don't sack Lyons and Neale for Rayner and Bailey. It looks like Zorko will be the one on the chopping block (injured currently, training at HB prior). The most likely scenario then is an increased, but not permanent, MID role for Bailey at Zorko's expense; increased CBAs and stoppage attendance, then all the SC upside that confers. On that expanded MID role and his zest for the contest, Bailey could comfortably do 90. Probably behind the other options in terms of ceiling but monitor his role in the AAMI game.
Tarryn THOMAS (NTH, $459.3k, 9%, MID/FWD)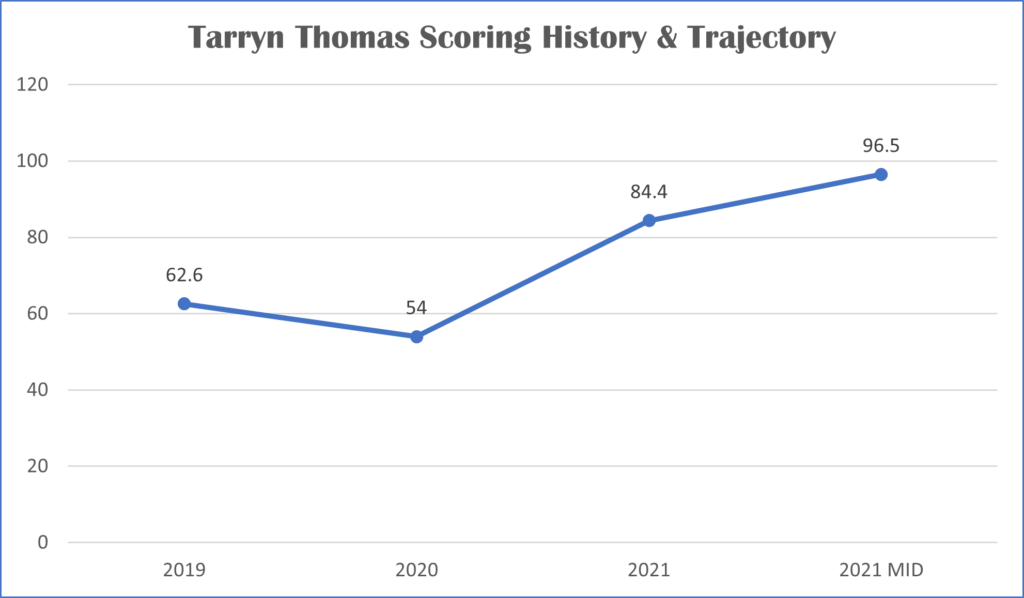 Past: Taken 1st by North Melbourne in the 2018 draft at pick #8, the former rugby fullback Thomas came onto the scene with a solid debut year; accruing a Rising Star Nomination and internal wraps, with lightning use and FWD presence earmaking him as a future star. His progress was stalled in his second year when an ankle injury reduced him to a six game season, however he's shown no signs of residual issues since.
Present: The season passed, 2021 and our most recent look/data point, was Thomas' first full year since debut and despite playing ostensibly as a forward in the league's worst side, he relished his return. Played the first third of the season as a forward, where there was only so much he could do at North, and then saw a shift to more of an OB role from Round 9 onwards. Playing as 3rd/4th MID with a substantive OB role, he averaged only the 20.4 touches which isn't a great deal however he had decent CP work, 5.5 score involvements and of the 266 touches he had from Round 9 onwards 150 of them were kicks (56%). Usually newly blooded MIDs tend to favour handballs and shy from opening the game up – not Thomas, definitely cast as an explosive midfield presence. Thomas received usually a 14-15 CBA load, behind the constants of Cunners and Simpkin, and really converted on those MID minutes, with a marked correlation between an expanded OB role and his scoring. From Round 9 onwards, Thomas went at 96.5 with scores of: 94, 114, 94, 77, 95, 55, 96, 84, 108, 135, 96, 68 and 139. Still had a low floor but remember he was essentially a second year player experimenting for the first time OB – those 2x 130s also bode well. Worth noting, when he was out of CBs he was always that burst FWD first up the contest, similar to Bailey.

Future: Over the pre-season, Thomas has reportedly been the Roos best trainer. Been given increased loads, playing firmly on ball, getting jacked and absolutely crushed both match sims. Much like all of the players analyzed in this piece, Thomas has been flagged for a proper midfield role and development as a contested presence at the Roos. Hearing big things about Tassie Thomas.
Projection: The key the Thomas selection is whether that midfield role fully materialises in the context of North's evolving midfield. Simply put: he's got the craft and potential but does he get a full CBA load? Cunnington and Anderson will eventually return, Simpkin is a constant, prized picks LDU, Powell and Phillips are slated to develop OB, of course Horne-Francis will play a deep FWD pocket/MID role and then, just to add another cook to the kitchen, Greenwood has showed up! Thomas did 96.5 on a 3rd/4th MID CBA load last season, so just on trajectory this season he'll do 95+ again, work those low scores out of his game and continue to develop. Whether you can back him to press into the triple figures, that comes down to how his place in the CB food chain.
Isaac HEENEY (SYD, $454.5k, 17%, FWD)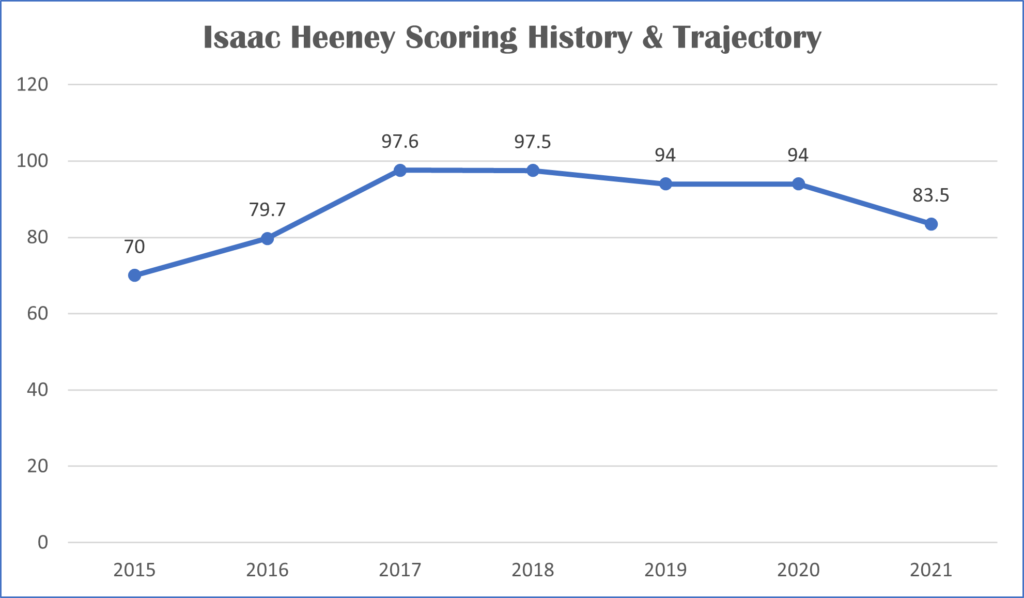 Past: Isaac Heeney was always been SC relevant and if you've ever owned him you'll know him to have gone from "never again!" to "what to a star" within the span of a fortnight given his volatile floor and ceiling. In cataloguing Heeney's 'past', the first handful of games from his debut year are a metaphor for his career and SC currency:
Round 1: A stellar 17 touch, game winning goal and 96 SC performance
Round 2: A solid 17 touch outing with 5 marks for 65
Round 3: 4 goals straight and 3 assists, Rising Star, at another 96
Round 4: Injury and off for 7
Round 5: Injured and didn't play
Round 6: Returns, serious knee injury, didn't come back till Round 17
That's pretty much been the story of Heeney's career: a truly elite talent, delicious to watch, excellent attacking and marking presence, capable of strong SC returns but injury and containment up forward have prevented him from ever averaging triple figures. Unlike the other options in this piece, Heeney has done Top 6 serviceable premium FWD scoring before: 97.6 (2017; 18 games), 97.5 (2018; 21 games) and 94.0 (2019; 22 games). He looked to be making it a 4th consecutive year of premo scoring relative to the FWD line in 2020: opened the season with a 152 and was going at a 90+ average but dislocated and ruptured his medial ligament in his right ankle in Round 6 to end his season at 94.0 (2020; 6 games).
Present: Most recently in 2021, Heeney put up 83.5 (his lowest average of the last 5 years) despite somehow playing 20 games. Late in the season we found out that he wasn't training between matches due to tenderness and injury risk. This lack of full match fitness rendered Heeney incapable of putting together consistent premium scoring. Through Rounds 9, 10 and 11 he looked really limber and had 3x 20 plus touch performances for 110, 86 and 128 – during/after which many of us brought him. The following weeks: cooked for 55, 42, 57. He still ended up closing the year out nicely with 80s, 90s, a few low tons and then 2x 130s but that kind floor was decidedly unappetizing. In terms of role, Heeney got no CB midfield time worth mentioning (maybe a CB here and there) instead playing as a forward but one that was highly mobile, covering the ground well when fit and being the first non-CB MID to attend stoppages. He was effectively a link man between the engine room and F50, reminiscent of Willie Rioli in the Eagles premiership year just much more SC conducive. Owning and watching him last year, I was actually happy with his role as that high pressing FWD with great coverage – just had those games where he struggled and couldn't keep up.
Future: Had Heeney come into 2022 with just a full pre-season and fitness, he would have been a fine starting in the same role as last year. Fully fit you could back him to return to his previous years' averages, particularly with the Swans now a really ascendant side. But here's where the upside his that makes him an even better pick: he's set for a midfield role. Unlike the puff pieces we get about OB development, Heeney's trained the entire pre-season on ball and the coaching staff has expressly said they want to transition him to a permanent on ball role. Magnificent.
Projection: A concern with flagged CBA midfield roles is whether they materialize, however any substantial CBA dimension to Heeney's game just improves his attractiveness as a pick – already has a strong foundational scoring stream as forward. However it does look like the Swans are set to follow through with Heeney's transition to the midfield: they've been very firm in discussing his role, he's spent the entire pre-season there and injuries to Mills and Kennedy leaving them in doubt for the season's start basically guarantee it. The stars look to be aligning for Heeney to do 105-110 this year.
Zak BUTTERS (PTA, $443.6k, 22%, FWD)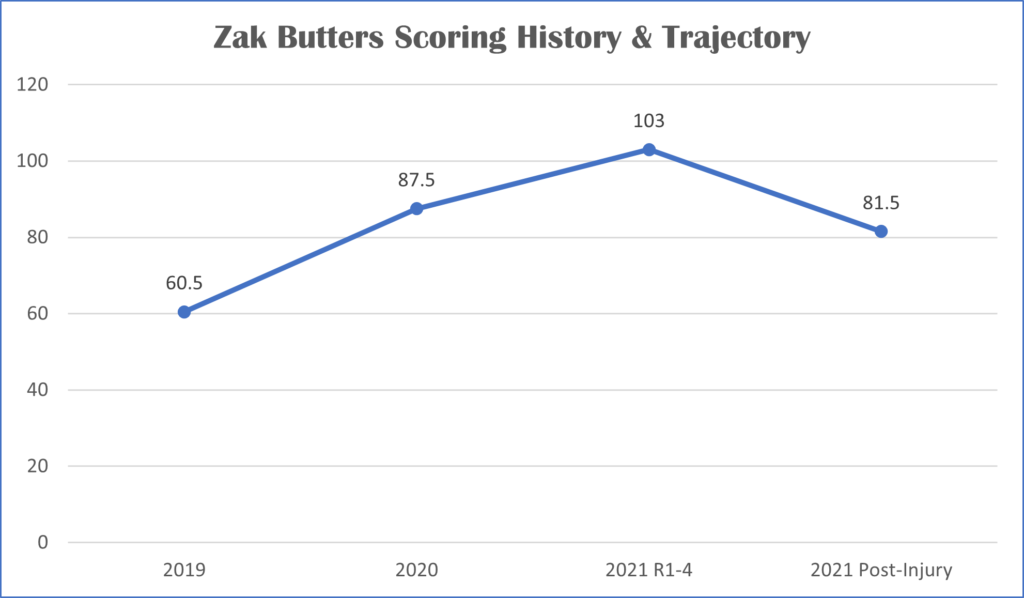 Past: Already of SC currency after his contribution to our 2019 sides as a rookie, where in his debut year Butters went at 60.5, averaged 14.2 touches and 2.5 tackles with a 1:1 K:H ratio. A high draft pick with his display of talent, burst and offensive edge had Butters firmly in the "in a few years" SC category. His trajectory, which is one of the breakout and SC fundamentals, was superb in his second year: going from 60.5 to 87.7. That massive 25.2 increase came on the back, of course, natural development and Butters injection into FWD stoppages and improved clearance work, with his disposal and CP numbers flat on the previous year. Those developments coupled with improvement to his tank and play reading ability at AFL allowed him to increase his ceiling, with 6x tons in his second year.

Present: Alright, he'd gone 60.5, 87.7 and was now entering his third year in 2021. Just on trajectory he was set to do 95~ in a strong side like Port. Four rounds in and he was looking at an average well into the triple figures:

Round 1: A solid 98
Round 2: An explosive 36 touch 163
Round 3: Port pounded by the Eagles, barely any Port players tonned, a paltry 55
Round: Only half time and he's on 110~, close one against the Tigers, was on track for 170+, injured and scaled down to 96
Say he'd closed out that game with a 170~ (adjusted), he'd have been averaging 121.5. Now, of course, that's a limited sample size but to have the capacity and talent for 160 plus performances is no anomaly. If you just take the four scores at face value, then he was going at a 103 flat average to open the season. What's interesting and most alluring about Butters is that in those first four games at a triple figures he wasn't playing as a pure MID – not even close. He was playing as loose high HF, pushing up the ground,  leading up the wing, coming to contests and the first one out stoppage player; covered the ground exceptionally and without a direct opponent he was having tremendous impact. That 36 touch 163? Not a single CBA. The ruptured syndesmosis ligament injury kept him out until Round 17 when he returned clearly battling and underdone. His role was contained and he copped a few more injuries which left his scoring and season's average (81.5) shot.
Future: You've always got to be discerning with pre-season news and puff pieces but continued press conferences with the senior coaching staff, reports straight from Alberton and match sims all have Butters on a phenomenal pre-season. No longer has any lingering effects of the sydesmosis on his mobility (although re-injury will always be a concern) and, like all the contenders in this piece, the reason he's here is he's up for MID minutes. Hinkley, Brett Montgomery and Butters himself have expressly said they want him as a midfielder and he's slated for a greatly expanded OB role this season. Like all of the contenders in this piece, the extent to which a MID role materializes is key but Butters is firmly fixing to star in Port's midfield. Wines and Boak aren't going anywhere but both play low TOG for midfielders, Drew isn't rated as highly as he should be internally and Amon has had midfield opportunity and can be pushed out onto a wing – the 3rd MID spot, even with some rotations, is Butters' for the taking.

Projection: Butters is a pure trajectory play. 60.5 his first year, 87.7 the next, interrupted in 2021 but showed enormous capacity. He's ticked the boxes of injury recovery, a full pre-season and a MID role expansion and should enter 2022 a shot for 100~.

Breakout FWDs Rankings
Heeney (experienced, highly skilled, widest opportunity)
Butters (high ceiling already, great trajectory)
Thomas (strong pre-season, crowded midfield)
Bailey (internally rated, full CBA load unlikely)
De Goey (poor pre-season, injury, role retention)
---
Leave a comment / Scroll to bottom