In this ten-part series we'll try to find you that elusive breakout contender, the underpriced and undervalued gem who could decide your Supercoach season's fate. Some basic criteria (which are a little flexible):
Player is entering their second, third or fourth season in the league,
Starting price somewhere between $350K and $500K, and
Averaged somewhere between 70 to 90 ppg the previous season.
Next up is a Suns defender primed to explode….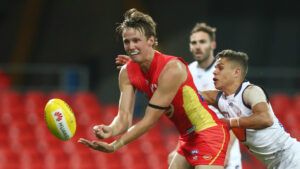 Jack LUKOSIUS (GCS)
2021 Starting Price: $430 800 defender
Scoring History (most recent first): 80.2 (17 games), 50.6 (21)
Why he will BREAKOUT this year: Touted as a potential number one pick in the 2018 draft, Lukosius was taken by the Suns at number two behind eventual Rising Star winner Sam Walsh. With the ability to play at either end of the ground, Lukosius was blooded by the Suns early on and missed only one game in his debut year. However Jack was a victim of his own versatility in that first year as coach Dew moved him around the field, from forward to wing to defence, trying to find a home for his talented young tall. Lukosius' second year was far more stable as he spent almost the entire year playing as a defensive distributor, combining his natural attributes with superior use of the footy to drive the Suns attacking raids. Four tons and a 30 point bump in his scoring average could be a sign of things to come. Playing in a rapidly improving Gold Coast team can only enhance his prospects.
Why he won't: It's a fairly well accepted footy generality that the taller the player, the longer they take to develop. At 6'5″ on the old scale, Lukosius is already a very good player, but the most exciting thing about him is the sizeable scope for even further improvement. Is this the season Jack breaks into the elite group of defenders in the league? Or does he still need more time?
VERDICT: I'm completely on the fence about Lukosius' potential this year. He is a phenomenal talent who played some sensational games last year, but also disappeared at various times during the season. Can he find the consistency that separates the must-haves from the not-quite-theres? He's certainly an interesting point of difference to the similarly priced but far more popular Zac Williams.

 Loading ...
---
Leave a comment / Scroll to bottom