Small or Far Away, Father Dougal on Cows
Hi Everybody!
What a round.
So, given how impossible it has been to plan this year, it is time to talk about planning. We might not be able to plan outs, but we can at least have a plan for ins.
At this point in the season, we really need to know who we will want to bring in and when. Often the when is not under our control, but we can know ahead of time. Downgrade targets when rookies hit the bubble after two rounds of playing. upgrade targets when they have had a low score three rounds ago. Three round playing that is, rounds off do not count. As it happens there is this fine rookie review Chillo did that talks about the incoming rookies, and a fine fallen premiums post also done by the mighty Chillo that covers fallen premiums.  Great job there handling two posts in a week , how he does it I don't know. I went mad with the one.
Anyways, if you can look ahead and see when downgrade targets will be available, and when fallen premiums will hit their lows, you can make at least a sort of plan. It really helps to be aware and not get caught needing to do three trades when you only have two available.
Oh, and bye planning is fast becoming a thing.
Another thing to be aware of is that downgrade targets very rarely make much money.  If they do, it is great, but it is usually better to focus on job security, so they can score points and provide cover, and low price, so you can get as much cash out of the fat cows as possible.  What you do not want to do is bring in an expensive rookie as a downgrade and then have him lose his job, stranding all that money there with no points either. Those guys who cost $170k+ are burn men waiting to happen.  I'd actually rather bring in someone more expensive if they had better job security and point potential.  Or if I really need to extract cash, the dread non-playing $102K permanent loophole. But with so many forced loopholes I'd be slow to do that. Depends on your team really.
I guess this is the time to talk about the Hotel California Effect.  I usually don't remember until it is too late to be useful  The old, "you can check in but never leave?"  (Ok, that isn't the real lyric, work with me here. Beats the Roach Motel Effect right? ) We get thirty trades and thirty players. Every time we use a trade, one player is locked into the team. Make ten trades, there are now ten guys who you will be unable to trade out, because no trade with which to do it.  Which ones are still flexible, but each move limits future moves. Right now even heavy traders will feel they have room left in which to maneuver, but really, the walls are closing in, of the hotel maybe, and every player that comes in may well be in forever.  So, be very careful who you get. Almost everyone you get in now will end up  a hold. You may think you'll have the trades to move them along but come Round 23 guess who will still be there?  So, like it says on the door,  Be Sure.
Defenders 
Cows
Lachie Young: Still going along nicely. Near topped out, but scoring decently every week, so if he keeps it up he might be fine to have on field until his bye.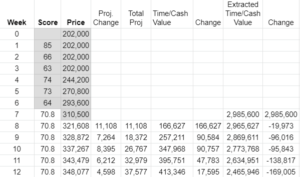 Jordan Butts: An ok score so he will have at least one more week of good growth. Well, if he really spuds up he'll get bad growth, but probably not backwards. Re-evaluate next week.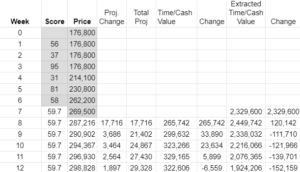 Nikolas Cox: He appears to have topped out, and has a strong chance of going down in the future, although not by a lot. Not the end of the world if you need to hold.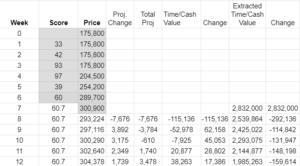 Jack Buckley: Still chugging along.  His average and last round's score really are both 67s.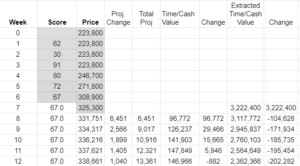 Heath Chapman: His 36 last round was a very big disappointment.  Another good score will help him push past it, and means money when the 36 leaves his three round average.  Some 60s will mean he stay about the same and eventually makes some coin. Not a must sell this round, but seems a big candidate to be traded out for May or Ridley before long.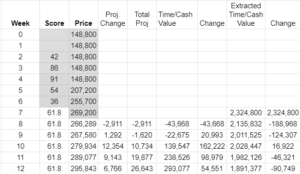 Jacob Koschitzke: That 104 is exactly why you have patience with slow burns, especially key forwards. Rule of three says trade out Round 9, assuming  no additional big score first.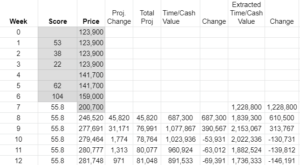 Cow-Like-Objects
Jordan Clark:  He played but being a late sub and scoring 13 means an end to his cash growth for a good while. A ton or really big score could save him, but he looks a lot like a trade out. Coulda been a good cow-like-object, if he just got played in the right place. And played at all. We all know who to blame.  (Sue)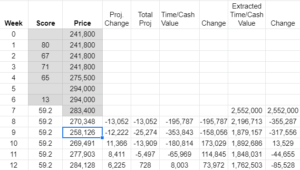 Isaac Cumming:  No longer looks like the last upgrade for defense, looks like D6. Probably going to graduate from Cow Talk next week, barring something interesting that keeps him in.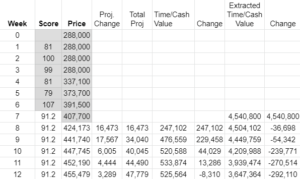 Changkuoth Jiath:  He looks so good on field and he is scoring well. If Cumming is D6, he could be D5.  Also likely to graduate from Cow Talk next week, barring something interesting that keeps him in.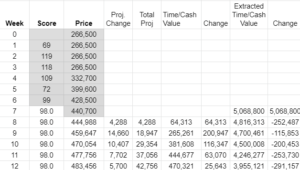 Midfielders
Cows
Errol Gulden:  Ok, so maybe I am not holding him and playing him on field right now. Holding yeah, but he needs looping.  Does anyone know just what Horse has done to him to so destroy Gulden's scoring? If his next score isn't something good, like at least his BE, it will be hard to keep him. That's really frustrating, since his first two rounds scores show what he can do.  I recall the Swans looked a lot better when he was doing whatever it was he used to.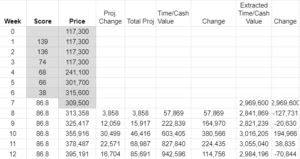 Sam Berry:  Did not play
James Jordan: Another example of patience being good. He is back on track to make money and hopefully play until his bye.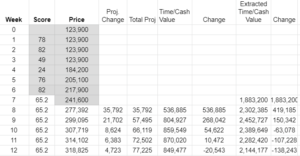 Tom Powell:  Looks like injuries to others have moved him into the guts. His last three rounds have been great, and he's the best on field cow right now. Definitely hold to get his cash later and points now. 
Lachie McNeil:  Blessed by the substitute fairy, he came on early and scored about as well as he ever has. He just keep going up in price, and sooner or later he'll be worth culling. Or if not, he seems a steady bench guy. Will probably get a rest at some point. All the forced changes at the Dogs might affect him somehow.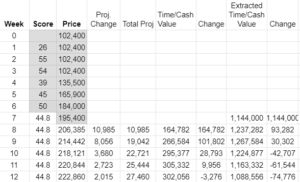 Rucks
Cows
Flynn: Finally played!  Made cash, and has a lot more to make. I'm thinking his floor is 70-ish, and if he can keep that up and put up a ton or two, that would be really great. Still a risk for playing every week.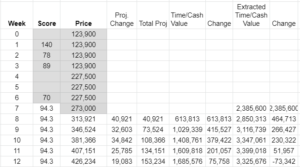 Forwards
Cows
Robertson:  Just three rounds of data but seemed important to have in.  If he can keep up 80+, he may be the only of the downgrade targets who could make good money. Definitely a risk, but also high ceiling and Neale out does imply some job security.  I think, and for gosh sakes correct me if I am wrong, he is a natural inside midfielder.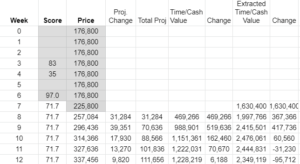 Warner: Still seems as safe t play on field as any cow. And given the fun up forward, he is hard to get rid of, especially since he has more cash in him when that 50 goes from his price cycle.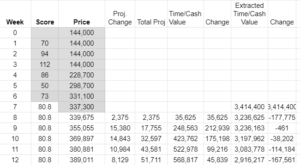 Campbell:  Ugh. He is starting to look more like a never-was than a has-been.  The Swans seem to have blown up their rookies somehow. Very much a do whatever is needed type this week. May not even play. Might be good if he rests. If he plays in the twos, that would be bad.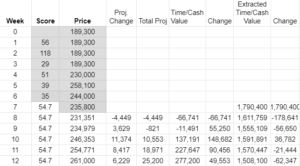 Brockman:  Did not play
Scott:  Huh, see the McNeil comments again. They are shockingly similar, although Scott is putting up higher scores at the top end.  Hold at least this week, since he should make sweet cash, and hopefully more the week after.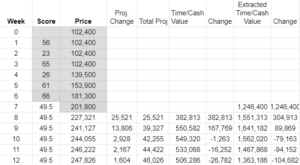 Rowe: Last week: He seems to be turning out pretty well.  Could go big or small at any time. This week: Argh, forgot to say no jinx again. He went small. Crows at home this week though, so maybe this week he goes big.  I'm really hoping I can hold him until he pulls a Kossa and tons up. Problem is, he is not a tall, but, still. If he is your worst problem you are doing well.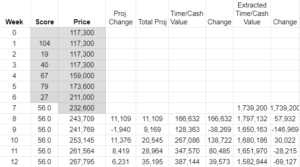 Cow-Like-Objects
Ziebell:  
A woman from the city goes to the country and she's at a farm. And she says to the farmer, 'Why doesn't that cow have any horns?'"
"He says, 'Ma'am, there are many reasons why a cow doesn't have horns. Some are a harmless breed, like Angus. Some, they get old, we've been milking them, they get sensitive to the touch, and they get a little rambunctious and they don't like it, and we cut the horns off. It's no pain to the animal.  And some, when they're just calves, we don't want them to have horns, and we put a few drops of acid where the horns would form, and there are no horns. But the reason that cow don't have any horns," the farmer tells the city slicker, "is because it's a horse.'"
A 169 and he left the game early. Ziebell is now the best forward in the game this year and has an average of 127.3 after six rounds.  I appear to have mistaken a horse for a cow.  Ok, I did say I thought he was a season keeper early on, but this is well past my best case. Anyways, Ziebell has reclassified himself, and will get a very honorable exit from Cow Talk after this week.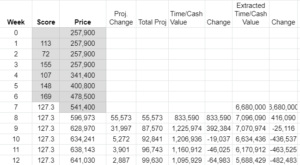 Impey:  Still K-Mart Ziebell, but wow, that's nothing to sneeze at. He did ton up again. He isn't exactly a horse, but maybe a nice pony?  Not the worst choice to come in this round if you really want to save cash from Dunkley, but you have to be thinking of him as a season keeper in that case. His owners are probably thinking of him that way, since we're all short trades and we're being hopeful.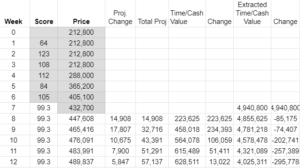 Atkins: Last Round:  A very unfortunate 57 last round. Of course if he follows his pattern he tons up again, since it is an even numbered round.  He's sort of the Start Trek movies of cow-like-objects.  This Round: Called it! He did ton up again, wow.  I didn't actually expect that. His owners have one less forward spot to be stressed about, and I would be slow to trade out if I had him. For one thing, who would you trade him to?!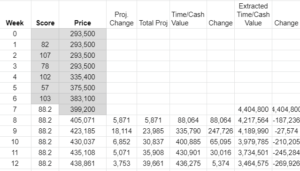 Fantasia:  Last Round:   Hold and hope for him to copy Daniher and go big enough to make cash. This Round: Well, he gave it a shot. Worth holding at least another week.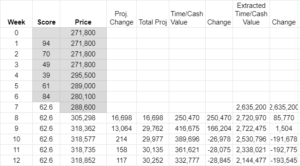 Daniher: Very, very likely to be a sell next round. He'd pretty much have to ton up to be worth holding.  Ok, given the forward carnage I'd not feel it wrong to just hold as long as he is playing, but…well, maybe I would. All depends I suppose.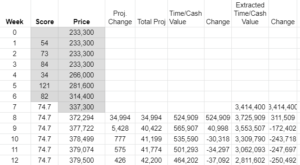 Please let me know if I missed someone or messed something up.
Dodgy Advice:  Deven Robertson.  Not yet expensive, and with Neale out he could have pretty good job security. He has the ceiling needed to have a shot at cash generation.  He could play a useful role in the forward line until culled, or just kept as F7/M9 as a flexible backup. I'd love another round's data, but If he scores well, I will not want to pay his new price. Very dodgy and with risks for sure. Are you feeling lucky? Am I? I wish I knew. 
Remember the Cow Talk guarantee: "All predictions wrong or triple your money back!"  (Offer not valid if money is actually involved.)
I am time zonally challenged.  When Cow Talk goes live, I'm probably asleep, so replies from me may take a while.
Thanks for reading!
---
Leave a comment / Scroll to bottom