Small or Far Away – Father Dougal on Cows
Hi Everybody!
Well, we're at the second halfway points of the season now. Do you know what that means?
No. I'd make a joke but I'm too tired from staying up to watch footy. 
I'm not tired, nope not at all nope nope wide awake awake awake awake!
And we now know not the let the hamster drink coffee. An important take away from the week.
Anyways, now that we are in the second half of the season, I think it might be a good idea to be thinking in terms of counting down to the end of season and not up from the beginning.  There's normally a beginning part of the season and then a middle part and then an end part. Week 10 would normally be the end of the beginning. Maybe the start of the middle. But now it is the start of the end. With 6 fewer weeks, we're really at week 16 in terms of trading and finishing teams and holding cows. So when making decisions about who to trade and all that, remember it is really week 16 with just 7 weeks left and not week 10 with 13 weeks left.
So what week is it…?
It is round 10 on the site. It is the tenth round of the season, but it is also week 16 in terms of how near we are to being finished.
How does that matter?
Well, normally I would be tempted to hold onto Rankine with 13 weeks left. But with just 7 weeks left, he just won't have time to grow much more so his extracted time/cash value is already negative. If you need to play him on field and you are not worried about his value, that's different, but with so many good value forwards, how good a plan is that really? It may be worth a shot, and best 18 makes guys who's scores vary a lot more useful, but, as a money maker he may already be done.
So, now he will score a few tons to prove you wrong!
Only if I trade him out
Are you going to?
Maybe….
This week's commentary is again brought to you by the Cow Talk Advisory Panel.
I'm the hamster and I am afraid a lot
I'm the Imaginary Interlocutor and go with my feelings
And I'm me, and I try to make productive use of thinking. Emphasis on the "try".
Due to the short turnaround, there will probably be reduced comments
Defenders  
Starcevich: We know who he is, use him however you need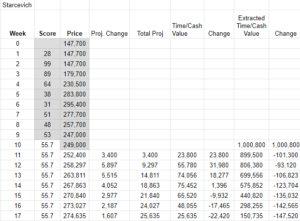 Noble: I traded him out. That bastard. Symbolic of my season really.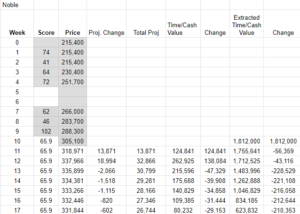 Brander: Did not play
Young: Did not play
Hamil: Bhleck.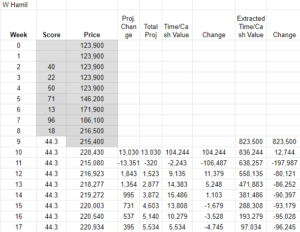 Williamson: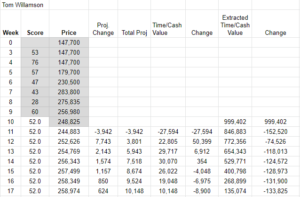 Day: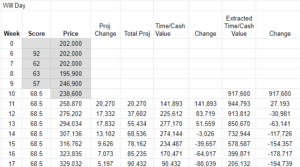 McKay: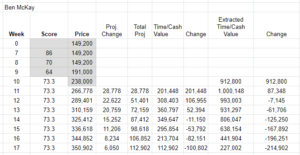 Midfielders
Brown: Did not play
Pickett: Wow, Rule of Three time!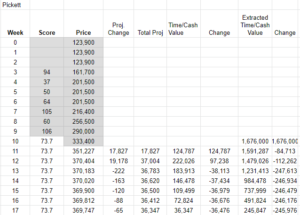 Mcinerney: Did not play
Hayden: One more week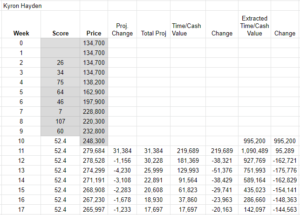 Serong: I do not own him, got Hill instead. Also symbolic of my season. If you  own him, I hate you. A little.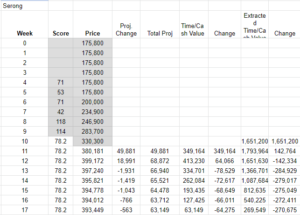 Caldwell: Both this and last week: Why are we even talking about this guy? Is he owned?  Well, about 1.7% of teams. At least for now we cover him. He's sort of slowly making money when he is able to get a game in. Curse of GWS cows.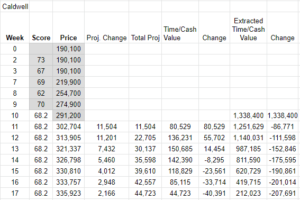 Hibberd: Didn't play but I hadn't run him before, so adding here for reference.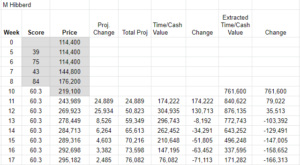 Simpson:  Looks like a lot of money left in him, and maybe points.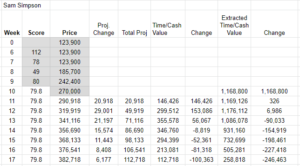 Mayes: I have no idea what to make of him. Me either! Me either!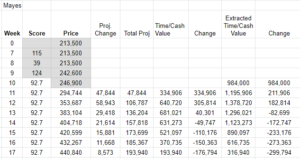 Rucks
Pittonet: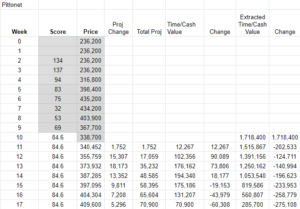 Forwards
Budarick: 
Both last and this week: I'm afraid he will putter along, playing and scoring 40-45 and just being blah. I'm hoping he will putter along, playing and scoring 40-45 and just being blah.  I'm pretty sure his having a job and a Fwd/Mid swing is more important than getting cash from him. Someday He'll put up a money score.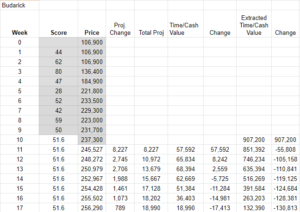 King: Gonna make money, but not so much you have to hold.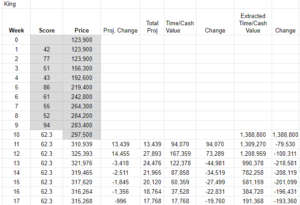 Taylor: Not the best week  for him to get hurt, unless you traded him out. Still has his job, but likely to drop a lot in ownership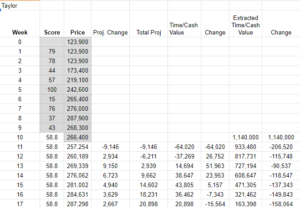 Vandermeer:  I'm afraid he will lose more money!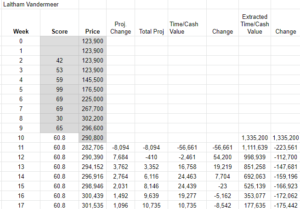 Rankine: Oh, see above.  But to sum up, looks ready to cull after just 4 weeks. BIG decision on keeping v trading, as he could do jut about anything.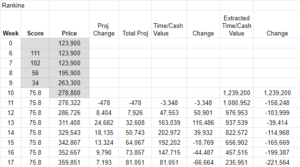 The Eggman-Smith
Georgiades: Again seems to have more money in him.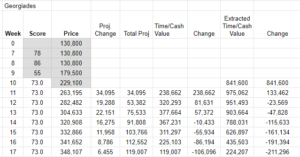 Aarts: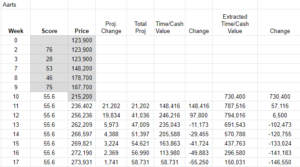 Dodgy Advice
I think Rankine is ready to cull probably qualifies.  This week is filled with obvious moves, so obvious I am not going to even bother mentioning them!
Remember the Cow Talk guarantee, all advice wrong or triple your money back! (Offer not valid if money is actually involved.)
I have been forgetting to mention: I am time zonally challenged.  When Cow Talk goes live, I'm probably asleep, so replies from me may take a while.
Thanks for reading!
Thanks for reading!
Thanks for reading!
---
Leave a comment / Scroll to bottom