Just a "lite" version of the Fallen Premiums this week, as due to the byes (and time, time, time) there are only a handful of outstanding options for upgrades this week – but what options they are! Expect the names mentioned below to feature highly in the "Most Traded In" list this week. Here are the Fallen Premiums!
DEFENDERS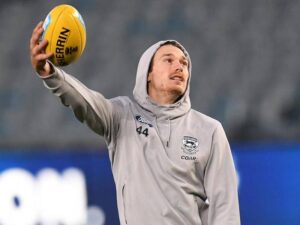 Tom STEWART (GEE), $443 000 (-$90K), avg 93, BE 31 – The Cats defensive lynchpin has returned from a broken collarbone that kept him out for a month and barely missed a beat. 89 against Freo was followed up by a stellar 145 against the Eagles, which included 22 possessions at 86% efficiency and 10 marks. The dual All-Australian is a beautiful user of the footy and his positional play in defence is second to none. Considering his price and break-even there's not much more to be said here, unless….
Zac WILLIAMS (GWS), $460 700 (-$91K), avg 82, BE 86 – The "Dash Brothers" nickname is faintly ridiculous, but it was great to see Zac back doing his thing out of the Giants' defensive arc yesterday. Counted 20 kicks among his 26 touches which is typical for him, lending itself to good Supercoach scoring. Has been prone to a few injury niggles in recent seasons but that's just about the only downside here. Could be a useful POD given most of the focus is understandably on Stewart this week.
Backing it up….
Daniel Rich, $429K, BE 151
Callum Mills, $541K, BE 130
MIDFIELDERS
Mitch DUNCAN (GEE), $521 500 (-$39K), avg 111, BE 29 – A few of you may have been harbouring plans of getting Mitch for a bit cheaper than this, but scores of 148 and 134 since his return from a hamstring complaint have dashed those hopes. A permanently under-rated cog in the Cats midfield, Duncan has stepped it up a notch this year by averaging a mammoth 125 ppg when you discount his injury-affected game. His injury record in recent years is actually quite good, so that shouldn't really be a concern either – actually the only concern is figuring out how to get both Duncan AND Stewart into your team this week!
Just quickly – There's a few very good options in the midfield who are not playing this round, so keep them in mind for future trades. This includes Patrick Cripps ($488K, BE 68), Luke Shuey ($488K, BE 45) and Tom Mitchell ($568K, BE 72). More on this trio next weekend!
Limbo land….
Adam Treloar, $609K, BE 180
Dylan Shiel, $545K, BE 176
Taylor Adams, $540K, BE 162
Nat Fyfe, $588K, BE 155
RUCKS

 A lot of the fancied ruck options have suffered uncharacteristic stumbles in their scoring lately, but Gawn, Grundy and Goldstein are still the ones you should be looking to lock in. If you insist on being different, Nic NAITANUI (WCE), $487 600 ($K), avg 101, BE 61 is not strictly speaking a Fallen Premium, but he is a cheaper option that has a high ceiling as seen in his 146 point demolition of the Cats last Saturday. He's on the bye this week but has the benefit of a home track (and crowd) to help him along in his next two games.
Timberrr…..
Tim English, $593K, BE 232
Max Gawn, $771K, BE 217
Brodie Grundy, $611K, BE 186

FORWARDS
Dustin MARTIN (RIC), $516 600 (-$26K), avg 105, BE 16 – As mentioned last week, the former Brownlow medallist does have a history of starting seasons slowly. However, once he gets some momentum, he's just about unstoppable. Last Thursday night was the prime example of this as Dusty absolutely demolished the Dogs to the tune of 184 points, including 26 disposals and three goals. If you still don't have him for some reason (*ahem*), then this might be your last chance to jump on.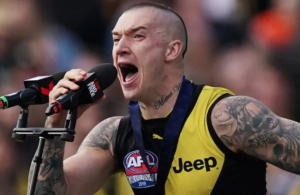 Forward thinking….
Hugh Greenwood, $558K, BE 167
Jy Simpkin, $425K, BE 163

---
Leave a comment / Scroll to bottom