LDU, Mills, Steele, Setterfield, Hopper. Anyone else's trade plans look like, 2 injured premos to two soon to be injured premo's? Remind me, when's next season start?
As the byes loom, this is where the men seperate themselves from the boys, and POD plays become ever more season defining. With that, let's get straight into Fallen Premiums.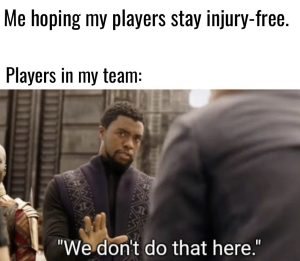 Defenders
James Sicily (HAW, $546.1k, (-$78.6k), 102.1 AVG, 114 BE, R14 bye)
It's hard to believe I'm sick of talking about SicDawg, but here we are. Even after all the hair pulling for coaches that started Sic, he's 5th on total points for Defenders. Eagles this week in Tazzie could see him go LARGE. Like I mentioned in the past, the game against North at UTAS in which the Hawks won, if Sicily didn't have a few early clangers, would have went 140+. Anyway, need a defender sub 550k? Sicily is your man, I expect the inconsistent scoring to continue to an extent, but I do expect more spike games from our Skipper.
Sam Docherty (CAR, $518.8k, (-$84.8k), 92.9 AVG, 90 BE, R15 bye)
Now consider this a joint piece on both Docherty and Saad, as I believe both are superb choices if you can skirt the Round 15 bye. After a shocker of a start (especially for those like myself that went Doch over Dawson), since returning from injury we've seen Sam average 103.7 points, much like Sicily, he's not the Doch of 2022, but he's still a great pick at a great price. The obvious lack of kick-ins, which has been passed onto McGovern and Saad, is an obvious negative, but the fact you're only paying 519k for the Dochtor should ease any concern there. Saad on the other hand started the season on fire, before a hamstring complaint hit in round 5. Since returning from his game off, Saad has yet to ton up. The breakeven is still high, but keep an eye-out, a potential Adam Saad for sub-500k is beyond value.
Backing it up…
Jordan Dawson, 649k, 159 BE
Jordan Ridley, 427k, 147 BE
Luke Ryan, 582k, 137 BE
Jack Sinclair, 527k, 136 BE
Midfielders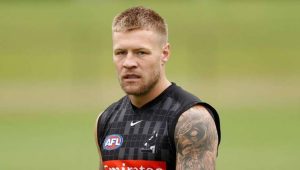 Jordan De Goey (COL, $501k, ($32.3k), 103.8 AVG, 81 BE, R14 bye)
Not Necesarilly a FP, but he has lost 34k from his price after Round 6, and is priced very reasonably for what he can deliver. I've also done a lot of digging for myself (and even after getting burnt by him last season, he's in for me). So it's only fair I share the knowledge. No doubt the Pies are flying this season, and the 27 year old looks to be taking the game as serious as ever, which Fly McRae definitely deserves a lot of credit for. With the likes of Cox and Cameron now back, the midfield synergy will continue to improve (scary I know), which only leads to further upside for JDG. 
Onto his season stats thus far, De Goey is averaging 24 disposals, with a slightly higher kick/handball ratio, 71% efficiency, 12 contested disposals, 7 clearances, and a goal a game. Supercoach wise we see him with a 103.8 point average (same as popular trade-in Zach Merrett), with 3/8 of his scores being 120+. While you may be thinking that sure De Goey can have a spike game, but he also can drop a stinker, let's look at his CBA's and then have a quick look at his two underwhelming scores. Averaging 73% CBA's for the season, with his last three weeks all being 80% plus. His score of 67 points against the Crows can be accredited to the 6 free's against, and below par ball-usage. The game against the Swans saw another measly 76 points, which in context of the Swans seeming to have his measure, was decent enough IMO.
Collingwood also have a nice three week run incoming, Carlton, North, Eagles, I'll be surprised if we don't see a couple of those big spike games from JDG. I'll gloss over the risk of an injury or niggle, as it seems no one is immune this season. I don't have him finishing a top 10 mid by any means, but I do think he's value, anyone else considering the controversial Pie?
Zach Merrett (ESS, $564.1k, (-$53.4k), 103.9 AVG, 120 BE, R14 bye)
With news Will Setterfield is out, you'd have to think that half-forward might get an increase in his on-ball time. But personally I think Stringer or Hobbs is the main benefactor here. With another inside midfielder biting the dust, comes the obvious attention to Merrett, especially against the Eagles next week who should have someone run with him. Onto the good, Zach loves a strong run home, look no further than last season when he was scoring like a man possessed post-bye. Essendon also have a strong run of games at Marvel post-bye, and at a nice discount there's a lot to like with the Merrett pick. Tigers this week can also spell for a nice spike game, and assuming Eagles don't tag, followed by North, we could see the Dons skipper at 600k+ soon enough.
Matthew Kennedy (CAR, $347.3k, (-$185.1k), 68.1 AVG, 73 BE, R15 bye)
If your first instinct was to see Matty's name and roll your eyes, let it be known all Carlton supporters have had the same reaction to Voss, and his team sheets this season. When looking at Matt Kennedy we have the big question of risk to reward. The most obvious risk is that it seems Voss has no idea what he's doing with his midfield this season. Which also blends into the fact Voss thought it was smart to play Kennedy as a sub, and then also play Kennedy off HB. In regards to his scoring, we can't expect Kennedy to play full-time OB, Round 1 and 2 saw Kennedy with an exact 55% CBA's which netted him a score of 96 and 110 points. In Round 8, utilised as the sub (bravo Voss), Kennedy came on in the dwindling minutes of the third quarter, and was played as an on-baller. In a quarter of football, he racked up 12 touches, 2 tackles and a goal. Round 9 saw Cerra (again, baffling) shuffled out of the midfield, and Kennedy was back with his 57% CBA's which saw him battle to 27 touches, 74% DE, 6 tackles and 89 points. Considering Kennedy outscored the likes of Hewett and Cripps, I'd say that was a decent enough showing. I'll quickly bring up 2022 as well, Matty K averaged 58% CBA's for the season and a Supercoach AVG of 96.7 points. Not bad considering Ed Curnow has been getting games ahead of him. Anyone else game enough to take a punt?
Limbo land…
Patrick Cripps, 583k, 189 BE
Lachie Neale, 575k, 155 BE
Jack Macrae, 551k, 145 BE
Rory Laird, 596k, 139 BE
Rucks
Who else Max Gawn (MEL, $518.3k, (-$103.8k), 90.3 AVG, 71 BE, R14 bye)
Forward DPP is slated for big Max, now while that may not help some of you now, especially with Maxy set to go large against Teakle Teakle little star this Friday night, I would be starting your bye-planning with a serious eye on how and when you'll be getting Gawn into your forward line.
Timberrr…
Tim English, 623k, 143 BE
Forwards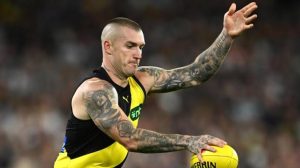 Dustin Martin (RIC, $461.6k, (-$18.8k), 85.8 AVG, 41 BE, R15 bye)
The three time Norm Smith medallist had a rather slow start to the year in a SC context, but the last two weeks have seen Dusty pump out back to back tons. Against the Eagles Dusty did have an up-tick in CBA's, 33% being the highest he's had this year. However, this past weekend against Geelong his CB load was once again reduced to 16%. No Jacob Hopper could see an increase in midfield minutes, albeit not dramatically, at his current price, I do think there's value here, the R15 bye isn't great, but if you're strapped for cash, and in need of a forward, I don't mind the pick.
Forward thinking…
Tom Hawkins, 581k, 166 BE
Tim Taranto, 626k, 148 BE
Jeremy Cameron, 524k, 145 BE
Stephen Coniglio, 526k, 128 BE
---
Leave a comment / Scroll to bottom