What an absolute banger of a weekend of football. A weekend where accuracy at goal defined a fair few results. Sorry Bombers fans, but Dan Houston has earned himself legend status in my book for that monster of a goal after the siren. After a horror game for my Hawks early Sunday arvo, Christian "Darcy Parish" Petracca and the inaccurate Demons fumbled what should have been a comfortable win. And finally, despite the Saints best efforts to lose to the Eagles, they somehow came up victorious.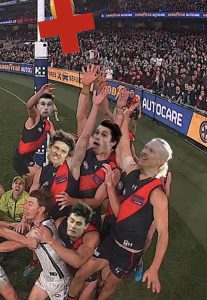 Defenders
Sam Docherty (CAR, $535k, (-$68.6k), 100.1 AVG, 85 BE)
Largely consistent since returning from injury, having tonned up from 6 out of 9 games. The Blues look a much better team these last two games, albeit against lesser teams in Gold Coast and the Hawks. For those looking to shift on a Fyfe / Yeo type for a defender, I do really like the POD play going for Docherty. Ultimately, I was very bullish on Houston during the byes, and it has hurt to be a non-owner watching that pan out (softened by him handing the Dons a loss).
Midfielders
Callum Mills (SYD, $404.1k, (-$238.3k), 88.1 AVG, 47 BE)
Back into the guts, with 76% CBA's and a score of 106 points. Mills as a result, is largely a popular trade target this week for coaches with manoeuvrability. Chad Warner you'd have to think is at least a fortnight away, but even still, we all know how Longmire can be when it comes to shuffling the magnets. The positive signs are obviously the price Mills is currently at, and the the consistent scoring the Swans co-captain has shown when played practically anywhere.
Rucks
Sean Darcy (FRE, $495.6k, (-$66.6k), 103.7 AVG, 72 BE)
Unsure if anyone is in need of a ruck at this stage, but Darcy definitely does present as a strong POD. Now sub-500k, with a friendly ruck-fixture to close out the season for the Shrek/Jackson duo. For those with trades to burn, downgrading RoMo to Darcy and using the funds elsewhere as both a cash injection, and a POD manoeuvre could be what helps set you apart from the pack.
Forwards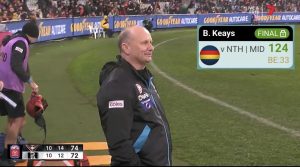 Harry Himmelberg (GWS, $405k, (-$94k), 70.4 AVG, 74 BE)
The role is there, the scoring however isn't. Butcherberg had 28 touches, 20 of those being kicks, but 11 turnovers halted his scoring to a soft 84 points. The price point is nice, but again, if you don't have Mills, I'd much rather go for the Swans midfielder. HH offers great cover for your defence and forward line, and for those with a Sheezel type, that's where the beauty of Himmelberg comes into play. Fyfe owners can also look at HH if funds permit. Only issue I have is that his role isn't quite set in stone, and he hasn't exactly lit the SC world on fire yet. Good cover, but I'd be wary straight fielding him.
---
Leave a comment / Scroll to bottom