Welcome to my Bumper Pre Finals Edition of Rare Gems. The next weeks results will hopefully cement you a finals spot, maybe even a top 4 double chance. Due to the fact most of you have full Premo teams by now, you will probably be looking at an under performer or two to trade out. So I have decided to included a segment on Anti PODs. Whats an Anti POD you may ask? Well Anti PODs, as the name suggests, are the opposite of PODs, these being highly owned players.  When they are going well, you certainly want to be on these guys. In this case, I have focused on highly owned players that have dropped off recently, and maybe worth moving on. Replacing a under performing  "Anti POD" with one of my Rare Gem selections, could be a way to get one up on this weeks opponent, and hopefully sail you on to an unlikely win. With only 5 weeks left, it's now or never to get that point of difference leading into finals. So don't be afraid to throw a Hail Mary trade (if you have any) to increase your chances of that crucial win. So first up, lets look at who we could trade out, the Anti PODs.
Anti POD Legend: Name (Club, Price, Overall avg, 3 Round avg, Ownership %)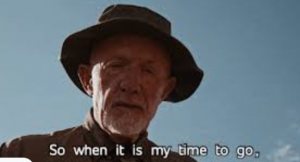 NOW
DEFENDERS
Jack Crisp (COLL, $472 300, 99.9, 82.3, 39.1%) Even with the Pies amazing form, Jack just hasn't been getting it done lately. He hasn't toned up since the Bye and his 3R ave is now 17 points down on his OA average. The CBAs are still there, but with a declining disposal efficiency, maybe it's time to move him on. This doesn't come without risk, as Crisp is probably the most durable player in the game. I still think, getting him to a form player, maybe a play worth considering.
Jayden Short (RICH, $473 100, 101.4, 92.3, 42.3%) Jayden hasn't really relished his move into the midfield. He has gone from one of the most reliable kicks in the game to somewhat of a butcher. Last weeks 100 against North was only his second ton in seven games. For me, without a ceiling game since round 7 ( 152) and with his huge ownership, I think he is one to look at moving on before finals.
MIDFIELDERS
Patrick Cripps (CARL, $500 800, 108.0, 91.3, 58%) The player most people are bailing on this week, averaging nearly 30 points a week less than the best MIDs, Cripps is bleeding points every week. I guess this is why a heap of  us were weary to pick him at the  start of the year. I know they have been messing with his role lately , and maybe Pittonet coming back may help to "save the day" . I still think he's the probably the best midfielder to jump off, if you can this week. He could still be ok to hold, if you're super low on trades, or have faith Pitto can make a difference. I will probably look to move him on, and I definitely won't be starting, or getting him in next year !
RUCKS
Jarrod Witts (GCS, $529 100, 112.2, 86, 50.4%) & Tim English (WBD, $540 800, 110.6, 86, 35.6%) The two highest owned Rucks in the game started the year on fire. Both these guys were incredible value, and certainly rewarded those that started them or jumped on early. In the last few weeks though , through injury or loss of form , both have been very average to say the least. I know a few of you maybe looking at offloading Darcy Cameron with Grundy coming back.This is probably the safer play , but maybe trading out a highly owned out of form Witts or English, could be the move that gets the chocolates.
FORWARD
Will Brodie (FREO, $528 100, 103.7, 89.3, 55.1%)  Well I have to say, I totally underestimated what Brodie could do this year. Getting a near 104 point average from a guy that cost $224K to start, is highway robbery. Saying all that, Fyfe back has, as expected, seemed to clip his ceiling in recent weeks. I was going to add Josh Dunkley (WBD, $501 000, 106.7, 80.7, 64%) to this list, but runs on the board, and a pretty easy fixture means Brodie has to get the nod. I'm definitely not saying you need to trade him out. I'm just saying, of the highly owned forwards , Brodie is probably the one that can make way if you're looking at a change.
RARE GEMS –Who to trade in ?
Legend: Name (Club, Price, 3 Round Avg, Ownership %) 
DEFENDERS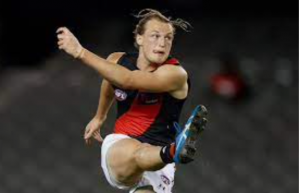 BOOM 
Mason Redman (ESS, $565 700, 120.3, 0.8%) The running defender with the booming left foot,  has surprised us all this season. Stealing Ridley's kick ins, and linking up from halfback, Redman has been a revelation. With the comeback form of the Dons, Mason has shown a huge ceiling and looks to be putting his hand up as a SuperCoach staple in years to come. Although he doesn't come cheap ( Tom Stewart back in R20 is the around the same price), Redman demands a mention on current form. Owned by only 1276 lucky coaches, he could be a match winner in the weeks to come.
Keidean Coleman (BRIS, $468 100, 108.0, 3.0%) Coleman has shown in the last month why a heap of coaches were looking at starting him this year. His precision kicking and ability to find the ball have seen him turn into one of the form young halfbacks. Does Daniel Rich coming back affect him ? Maybe, but if you're low on cash, or looking for a D7 /F7 swingman.  Coleman could still be a solid selection this year.
MIDFIELDERS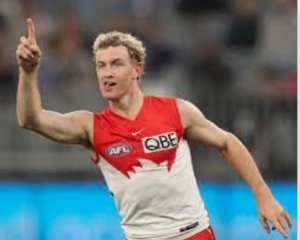 WOW
Chad Warner (SYD, $544 600, 137.00, 1.6%) Chad "The Wow Factor" Warner (I just made that up) has been incredible in the last month. Watching him closely last week as he destroyed my Dockers, he was a sight to behold. How he fell to number 39 in the 2019 draft astounds me. He's a mixture of powerful and poised, and plays a heap like a young Dangerfield. The Swans have a pretty juicy fixture coming up, and on current form they would be stupid to play him anywhere but midfield.  I actually think he's the most desirable player in this weeks article.Its a big call, but on current form, I would even take him over Mills (role changes too much) or Steele (hasn't shown that ceiling lately) at this point.
Dylan Shiel (ESS, $491 300, 104.3, 2.1%)  Shiel has been a burn man in the past, a 71 just 3 weeks ago is testament to that. Yet he is still worth a mention as he is super cheap, and with Parish out, he is getting his chance in the Bombers midfield. He attended 77% of  last weeks CBA's to Stringers 12% so he seems to be the go to option at this point. I huge 145 points last week could of been even higher if he wasn't so unselfish, and actually kicked for goal on several occasions. If you don't have the money to go up from Cripps, and want a real Hail Mary shot at finals. Maybe Dylan could be the way to go.
RUCKS
Rowan Marshall (STK, $460 600, 80.3, 6.3% ) Rowan is the talk of SuperCoach after Ryders possible season ending injury last week. He technically falls outside the 5% cut off, and will be heavily traded in this week, But he  is still the standout low owned Ruck this week. Abs goes into more statistical detail in his Fallen Premiums article, so I won't go over it again, but if you need  a Ruck / Forward or F7 loop. Marshall is your man.
FORWARDS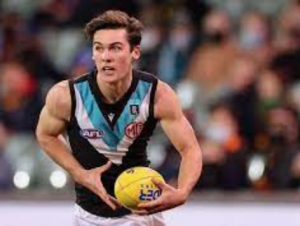 WOW WEE
Connor Rozee (PTA, $549 000, 122.7, 4.7%)  Connor Likes the Midfield. His speed and ability to break away from stoppage and score goals, give him a huge ceiling and in recent times a quite a high floor. If you believe Kane Cornes lol, he's the best player in the league at the moment. Low owned , high talent , right role, and massive ceiling, is everything you want in a SuperCoach player.Get on if you can.  Just don't mention to me about starting his mate Butters over him in Round one.
Dylan Moore (HAW, $513 500, 112.7, 2.9%) Like Connor above, Dylan has had a run in previous Rare Gems articles this year. Also like Mr Rozee, Dylan has recently found himself in the midfield rotations. This can only bode well for his scoring going forward, Reasonably consistent even as a pure forward, If Dylan can keep his 61% of CBA's he could be a great get for SC finals.
Mitch Duncan (GEEL, $510 100, 112.3, 5%) Yet another guy I wrote up this season, Duncan was always a risk verses reward pick with his soft tissue history. His body seems to be holding up and his scoring has been excellent. Can he keep it up with Stewart's imminent return ?  I guess we will have to see. A fair price , good finals run and past scoring history makes him a very solid trade target in my book. I'm very pleased I finally took some of my own advise, and got him in in Round 14.
One final thought 
It would be remiss of me not to give  Tom Stewart ($562 400) a mention. He is not back until next week, and is quite low owned as he's being held by just over 10% of the competition – probably a good chunk of that 10% are dead teams as well. He will make a killer POD for SuperCoach finals, so keep him in your trade plans if you are not desperate for someone this week. I will try to get to all your comments as soon as I'm free…(sometime after midday).
Thanks for reading .
Cheers FT .
---
Leave a comment / Scroll to bottom