Time to pass the mic over to BeardedBurbler, our long time draft guru and organizer who's here to recap what was an action packed SCT Draft Night:
The official SCT draft was held this week in what was a competitive and engaging event. We had Emile join us from the U.S (4am if you don't mind!), as well as Shaun & Matt battling internet issues due to the floods.
First pick fell to non-other than SCT's GD who was tossing up between a gun MID or a RUC. In the end, Grundy it was as there "was huge currency in that position". The next 4 picks were more predicable with the top MID being snapped up before a RUC rounded out the top 10.
Other notable picks in our 15 round draft included:
* McGrath and Pendles going within the first 4 rounds with potential DPP in sight
* Cunnington & J. Anderson getting picked up in the first half despite health and fitness concerns
* Stringer sliding to Round 6, with Matt nearly missing his next pick due to his over excitement…..
The full first round can be seen below, and we'll try to get another update up during the bye rounds for those interested.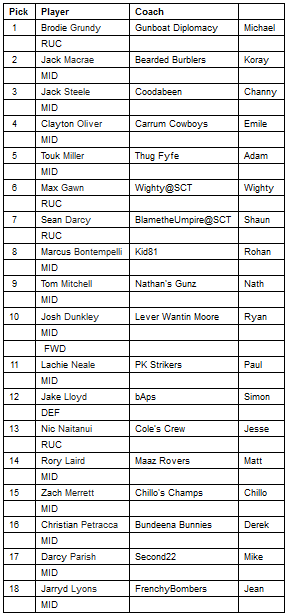 ---
Leave a comment / Scroll to bottom