This team has been pretty much the same as version 1 as I usually don't
play around too much until after the AAMI series and get a better read on players, especially rookies.
Two of the more recent changes were Preuss to Darcy and Duncan to Thomas. I had kept a half mill up my sleeve for the ultimate necessary change, or for a couple of premo upgrades if all else worked. If Duncan hadn't come up short, he'd still be there, and if Darcy's injury keeps him out  of R1, he's an easy flick across to big Max.
Now for a brief rationale underlying my picks:
Defenders

LLoyd and Crisp should be as good as any of the premos. Dawson could be anything but without a pre season could also be risky. Milera and Hinge are rated boys and both should get a round one guernsey and Sinn satisfies my DPP swing and is a potential R1 player on field. The two rooks may play.
(PS Dean gone will need a change, and upgrading from 102 k hurts a bit).
Midfield

Everyone will have a minimum 2-3 of these premos with good reason. Berry has been there since day one as my POD but I fear his game in the trial may change that, although it was only against a minimal Crows outfit. JHF and Daicos I think are must haves, and O'Driscoll was also supposed to be a bit of a unique pick but 89 points against a depleted West Coast is still plenty of reason for optimism. Bench is open at this stage.
Rucks
Self explanatory in trying for a set and forget. Max comes into calculations as well after his monster on the weekend of trials. I was one who thought his output may decrease with the Jackson sharing thing. R3 is the loop with DPP to switch forward if needed.
Forwards
Like most I expect, this is our troublesome line. Dunkley attended huge CBA numbers against the Bombers and scored like I expected. Thomas was my breakout pick but after only 81 points from 25 disposals and 16 CBAs, I may look at Butters. Cogs is a lock, either as shield or potential keeper. Gresh didn't do his cause any good and could go, and Curnow could become any of Perkins, Coleman or Brodie depending on my mood and their form after AAMI. I am paying up for Rachele because he will be good!! He looked composed, clean and assured (when Kayo actually let me watch). Hollands and Comben serve as DPP swings for now.
Once teams drop, I will have 111 k to tweak where possible.
Let me know what you agree with, or where you think I might have gone wrong. Cheers everyone and have a great season. Look forward to playing some of you as we go.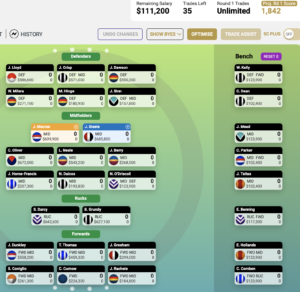 *Team Preview scheduled before AAMI
---
Leave a comment / Scroll to bottom