JM's alter ego Nancy with The Agates attained the top ranking for the round with 2074. Second on the step up to stardom was first year coach Chris' Running Bares with 2013, and only the second of two to breach the 2000 point barrier this round. Not far behind in bronze medal position was the consistent Father Dougal with his team of All Nuns with 1995.
Graeme's Glenboys moved into fourth with an 1987 point score, while Wayne's Bomber Boys and Kennedy's Lost Lands managed 1981 each, with Emile's Tech Rankine and Amir's Ninjas rounding out the top six equal on 1975. All these scores are blanketed within the top 15% of overall scores for the week. Well Done !
Whilst 88% of coaches opted to either VC or C Dunks this week, ironically two of the top six chose differently. Bomber Boys chose Taranto, ultimately only losing him nine points, and Amir choosing Marshall in a much more costly loss of minus 47 points. I guess that's what happens when you are looking for a POD and the raging favourite does as expected.
YeeterTECH and MBuzz maintain their one and two positions with Ninjas leaping from sixth to third following his good score. Chips Ahoy, Maxismen, LathazSCTTL and Cripps Walk dropped a spot. The big improvers leaping into the top ten were Barries Wet Dogs and Wayne's Bomber Boys, while Lost Lands moved up one into seventh.
Polls for the week below, thanks for participating.

 Loading ...

 Loading ...

 Loading ...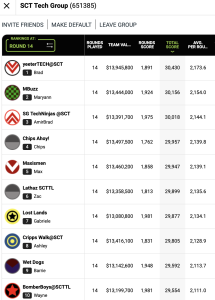 ---
Leave a comment / Scroll to bottom