It's not often a newbie can join the SCTTL and take out the title in their first year, but Brad Reid's YeeterTECH@SCT did just that this year with a fantastic overall ranking of 9669. Yeeter wasn't in the money this round, falling a couple of hundred points below the top scorers for the final week, but managed to hang on by 43 points to take out the title of Tech League coach of the year. We'll be in touch to sort out out your trophy, Brad.
Past champions, Chips Ahoy! (2772) and David Johnson Rules (2751) posted this week's big  scores to leap up to second and third spots respectively. A further seven coaches posted some significant scores to finish the season, in what turns out to be a little too late.
Kennedy's Lost Lands (2725), Greg's Champs Chumps (2723), Chrisso's Cirque du Sore Legs (2720), Barrie's Wet Dogs (2672), Ash's Cripps Walk@SCT (2664), last year's winner Nathan with Abel's Axes@SCT (2661) and my lovely wife's very own Fixed Interest (2652) were the only teams to score above 2600 in what may give us that boost of confidence to return to the fore next year and go one or two better.
For some of us, way too late to make a difference but I'm hoping we all had such a great competition that we will be back to strive for bigger and better again next year. This year was the biggest comp yet with three full leagues, and given the number of newbies pushing up the ladder and having success, I'm hoping it will inspire more of the wonderful folk on our site to have a crack at next years Tech League. Thanks for playing and I look forward to seeing you all again in 2024.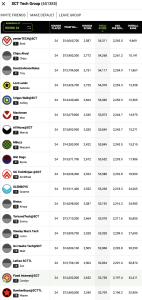 ---
Leave a comment / Scroll to bottom