Here is how the Kunde's Kings line up currently for 2023. A stock standard Guns & Rookies for the most part with a fairly standard and plain side but that's how I like to start.
I would say 11 solid premiums plus Cameron, Yeo and Hopper who just fall into that next bracket. The rookies are all subject to selection come Round 1 but the ones I have currently should be around the mark. The ones I have the least faith in or am not that thrilled to have selected are McAndrew and Davey. McAndrew could easily become a loophole player as his scoring is limited.
DEF

Docherty & Dawson are as solid as it can get back there with both averaging a tick under 110 last year and the potential to go even better this year. Doch finished the year in the midfield and will spend some more time in there this season with Dawson pinch hitting in there as well as on the wing. Although they both can score very well in the backline.  Stewart is a proven scorer but missed 5 games last season. I'm still backing him in as each year he has increased his average so far and he is 1 Cat that usually can avoid a 'managed' tag. Yeo if fit is very underpriced for what he can deliver. He won't hit the highs of 107 but with his role he can easily average over 90. The rookies are standard with McKenna and Michalanney on the watch list with a couple of DPP players in my midfield currently.
Premo Watchlist: Sicily, Dale
MID

Oliver is first picked for me every year and I'm happy to pay up for him. Macrae and Steele should be top 10 mids come the end of the season and may even be slightly underpriced. I wrote about Mitchell in the Pies Team Preview a couple of weeks ago and see him as good value. Priced at 96 which is his lowest since 2014, I see him averaging between 105-115 even with the Pies new playing style. Hopper I also wrote about in the Tigers Team Preview. I reckon he could go close to career best numbers with his new side which would be 95+. Meaning he could be 30 points underpriced and a great final upgrade. Ashcroft is in 74% of teams but it should be higher, the kid is a gun.
Premo Watchlist: Laird, Miller
RUC

I like the Set & Forget structure in the Rucks so have locked in English and Marshall. I'm not worried about scoring for English, it is his injury history that is the concern but he is my favourite pick from the remaining rucks at the moment. Marshall is an elite scorer as the solo ruck and I can see him averaging 110 if he maintains that role. Like I said earlier, I'm not thrilled with McAndrew at R3 but unless another ruck is named he can stay there for now but he may become Madden as a loophole.
FWD

Dunkley at F1, no explanation needed. Taranto can be a top 6 forward this year and is underpriced for what he can do when given the midfield role that we want to see him in, even at Richmond. Cameron is a little bit of Ruck insurance at F3. To me he is underpriced with an 85 average last season. He averaged 108 through the middle third of the season but with Mason Cox playing a bigger part in the ruck this isn't going to happen. I'm not as confident in him as I was a couple of weeks ago but I think he can average over 90 to be a decent F6. McLean has averaged over 85 twice but that was a while ago. Still, he is priced around a 32 average and he should be in for a 70+ average making him a great starting pick.
Premo Watchlist: Coniglio, Rozee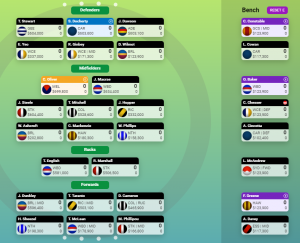 I have $63,100 in the bank but that could be used to switch some rookies around next week with hopefully not too many other changes before Round 1. Happy to hear feedback on my team as I haven't been across the pre-season as much as I would have liked so far.
---
Leave a comment / Scroll to bottom