Hi, all.
I have found this year constructing my SuperCoach team perplexing. I have made numerous changes and I am still unsure of what my final team will look like but this iteration should be pretty close. With only one round of practice games it caused more questions than answers. I Relied more on training and injury reports. Injuries and rookie selection will undoubtedly change my final team again.
Defenders
My most settled line until recently. Maybe a mistake, but I needed cash from somewhere to strengthen my forwards and finance changes elsewhere. Something had to give so hopefully the promising rookies and discounted returning players can get the job done.
Midfielders
Not much to say about this line. Went heavy with captain choices and popular mid price and rookie players.
Rucks
Like the majority of coaches I struggled with this line. So many different combinations contemplated. Oh, for the days of set and forget. I have finally decided on Marshall and the cheaper ruck selection Cameron. No particular reasoning applied here. Mainly $$$. Keeping an eye on Samson Ryan in the vague hope he gets named for round one. If so replaces Madden.
Forwards
After trying value with mid price and rookies coupled with the obvious elite forwards. I have gone with this line up due to the dearth of viable rookies and questionable mid price candidates in the forwards.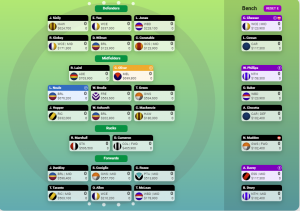 All the best to everyone for 2023 and may the SuperCoach Gods shine on you.
Cheers
CT.
---
Leave a comment / Scroll to bottom