How exciting is this. The season literally  on our doorstep. To be honest, if I had a dollar for every hour I've spent swapping my team around this pre-season, I wouldn't need the 50 grand prize money. Let's see if it was all worth it. Let me introduce the 2022 edition of the Dashing Donkeys@SCT
This team has bank balance of $29 300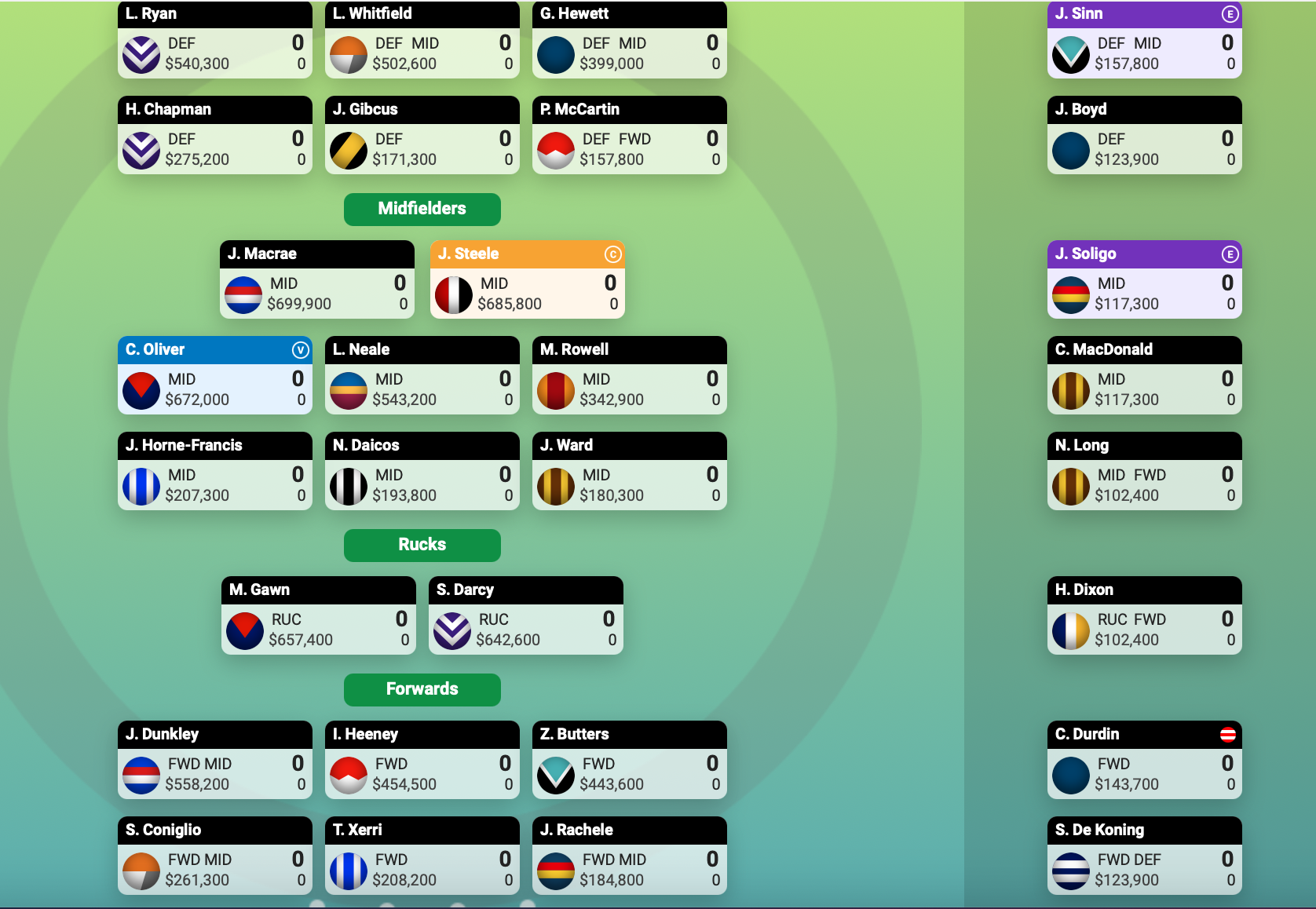 So lets go through it line by line.
Defenders
Lloyd was unfortunately the one to make way at D1. A: I needed the top priced rookies as they seem to have the best job security and B: to allow for Rowell up from Berry. Ryan sneaks in due to Dawson's untimely injury. His ceiling and "easy" early fixture make him an enticing prospect. He does have some injury history but like Whitfield this is somewhat off set by extra trades. I do really like Whitfield as he can score from any position, and has easily the highest ceiling of any player at his price point. Hewett is not ideal, but Walsh missing early, his DPP and low price, make him hard to pass up. Especially when it also allows good things to happen on other lines. Hopefully his role (at least early) will give him the best chance to go 90+. If he fails, he can potentially be swung to the MIDs (via Daicos in R6) and upgraded to an uber MID. Chapman is my wonder kid defender at D4. He is a future star and cemented in the best 22. He really needs to go at 75+. But I think he can do it, particularly with Freo's "easy" early draw.  Also I prefer the security of not having to field 3 defender rookies. My escape plan is to swing his money forward to a McGov/Brodie type at price changes, if he spuds and or I get cold feet. P.McCartin and De Koning with their DPP should allow this to happen. Rookies are pretty standard with Sinn a chance to turn into Kemp if he's not named Round one.
Midfielders
Macrae, Steele and Neale haven't really left my side, and I don't think they require too much explanation. I was going to start Touk Miller and would still love to  but then I remembered last year I didn't start Clayton Oliver due to the fact he had an interrupted preseason. He still averaged 123.5 and I never managed to get him in. I think I cried when he scored 200. This year with the confidence of a Premiership, and a full pre-season I think he goes 130+ .You heard it here first, Clarry "Satan" Oliver will be M1 at seasons end. This time my friends, save your tissues, I won't be missing out. Then for my M5, Rowell went and made himself a must have last weekend. It was initially Berry, but Rowell just looked so good . I feel he also has better keeper potential, so he gets the start. M6-8 is pretty standard. I'm happy with these three, although the temptation to turn JHF to Berry is strong. I will resist for now as I need playing bench rookies. Speaking of the devils.. I think MacDonald plays. Soligo may end up Hough from West Coast or C. Stephens. Long is a $102K DPP loop with a chance to play early.
Rucks
Gawn and Darcy. What the ruck, right? Grundy is probably safer than both these guys but hear me out. Firstly I feel Grundy's ceiling maybe lowed slightly by the Pies young and inexperienced midfield. Secondly, every year some rule change, or in this case the emergence of a youngster has us all chasing shadows and making assumptions.  This year the group think was all about the "Jackson factor". This and the high price, had scared some (me included) away from Big Maxxy. Last week Gawn's performance slapped me back to reality, and in a way forced my hand. I was made to realize, not only is he highly durable, he is also the best ruck in the comp, in the best side in the comp. I'm just going to start him and ignore the hype. Speaking of hype, Darcy has such a huge ceiling, I just have to own him. If his body fails he becomes Grundy. It's probably not the safest of moves, but what the heck Yolo.  For the bench, Dixon likely has better JS with Allen's injury seemingly more long term. He starts over J Hayes.
Forwards
Dunkley, Butters and Cogs have been in my forward line since SC opened. We all know their upside and are easy locks in my book. Heeney has been in and out, depending if I needed an extra DEF structure wise. I tried Sicily as a fourth premo, but somehow it didn't feel right. Heeney is priced ~10 points under his base average of the last few years. With the promise of more MID time, he has obvious upside. For his discounted price, I'm willing to take a risk on his body holding up. Xerri looks like he will overtake an ageing Goldy at North. If he is named as starting ruck in Round 1, he gets a gig. He is also a big chance to get DPP in R6 so could be handy ruck cover until he's ripe to sell. If he's named forward, I will look to Ralphsmith in his spot. Rachele is already one of Adelaide's best players so he looks a lock at F6. I think he will be okay on field. Durdin and De Koning are likely starters Round 1, although I will only be starting them on the bench.
In closing, the guys I passed on that were very close to making this side, and I'm worried could hurt me, are Lloyd, Dawson and Hinge in defence, Miller, Berry and to a lesser extent D. Stephens through the MIDs, Grundy in ruck and then up forward Dusty, Brodie and McGov. Dusty always pops off Round 1, I'm just hoping he doesn't keep it up. I just don't know about starting Brodie and McGov. I'd rather listen to my gut, pass and be wrong, than get burned knowing I had my doubts. Worst case I burn a few corrective trades before price changes.
Well, that's it for my 2022 Team Reveal. All constructive criticism and advice most welcome and I've got Tragics@SCT #3 open for late-comers wanting to take me on this year. The code is 635151. Please don't join if you're already in another Tragics league, I want fresh meat!
Thanks for reading and best of luck in 2022!
---
Leave a comment / Scroll to bottom