Thanks for getting us started Gunboat Diplomacy!
Original Team Reveal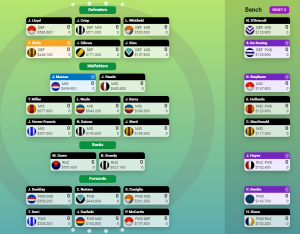 Changes
Between the original reveal and Round 1, I ended up making the following changes. Lloyd -> Tom Stewart, Sicily -> Jayden Short, Steele -> Matt Rowell, Hollands -> Will Brodie, Sinn -> Mitch McGovern (don't judge me), and then brought in all the essential rookies, just missed out on Nicki Martin who came in round 3.
Starting Picks
The good: Tom Stewart, Will Brodie, Mitch McGovern, Jack Hayes, Lachie Neale, Max Gawn, Tristan Xerri. Tom Stewart ended up being an excellent POD and his scoring, and ability really speaks for itself. Nailed all the rookie selections besides Nicki Martin which allowed me to save the trades correcting those selections. Starting, and holding Gawn while many were panic trading also resulted in some nice captaincy scores!
The bad: Whitfield, Short over Sicily/Hewett. Had one of Hewett or Sicily in my team all pre-season, with another Sydney spark-plug named Isaac Heeney who found himself in my drafts for a good while before I re-shuffled for a certain Carlton player who we'll get to in a second…
The ugly: Swapping Hewett, Nicki Martin and Heeney, to Jayden Short, Dylan Stephens and Mitch McGovern. Yep, that stung…
Season Summary
1) Mitch fkn McGovern
The aforementioned Stephens, McGovern, and Short combo resulted in a serious net-loss of points early on. I ended up moving McGovern to Nicki Martin, Berry to Cripps (who I had swore off after holding for the entirety of 2021), and Whitfield to Hewett prior to price-changes in round 3. Worked out in a way, but missing out on Heeney's monstrous start, copping McGovern's 30-odd set me back a fair ways to start the season.
2) Tom Stewart
With the bad above, comes the good. Stewart started the year off with some consistent tons, and then slowly began to pump out those monster-scores while still being somewhat under the radar. I'd easily claim he was my best starting pick, and didn't reach 20%+ ownership until round 8 (which was also after one of his monster 180+ scores).
3) Timing of Premium trade-ins
I brought James Sicily, and Clayton Oliver in quite early, grabbed Preuss for Grundy prior to Grundy getting injured, Jack Sinclair and Zach Merrett found their way into my side just after their byes in round 12, and likewise with Laird coming in after his.
4) Dayne Zorko and Jordan De Goey
Woof! This was a horrible punt, I was so jaded after Zorko's 37 points, that he got traded straight away to enable me to grab Jarrod Witts for Braydon Preuss who got McVeighed (which was a great move in hindsight), and English for Jordan De Goey (another horrible punt…). I was hovering around 4k overall when I grabbed these two. Usually in seasons prior, my POD choices have fired, guess I was due for a limp selection or two.
5) Holding and captaining Stephen Coniglio
There was a lot of concern around Coniglio prior to McVeigh taking over as head coach. I decided to bin Nicki Martin in his place, held Coniglio and then of course… Gunboat Diplomacy and I, with a serviceable 123 VC Neale decided to captain Coniglio in which he scored 173 points against North Melbourne. A personal season-highlight.
6) Aaron Hall Electric Boogaloo
So with team sheets for round 20 released, this is now the second time I have traded Aaron Hall out of my team (that's bad), I did get his 119 points over a donut last week (that's good), but I also copped his 18 points in round 16 (that's bad), on the flipside, I've been able to bring my boy Tom Stewart back-in, and he came with a free froghurt (that's good). I'm left with a single trade, and a melted froghurt (that's bad), but with only three rounds worth of trading to do, I should hopefully be fine for any unexpected carnage (that's good).
Current Team Reveal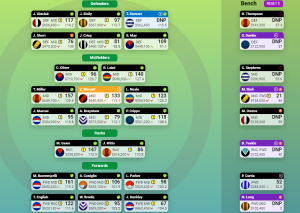 Rank: 1,105/ 1 trade left
The concerns with the current team come from Jayden Short, Jack Crisp, whatever my bench is, and a lack of Jack Steele. May has been performing quite well since he's come-in, outscoring the likes of Docherty, Dawson, and Dale. The bench is a ghost-town, however with my back against the wall, with English missing a game, Curtis scored 87 points and provided amazing cover in Norths win over the Tigers. Recent trades have included (and don't laugh): Stewart -> Hall, Hall -> May, Big O -> Gawn, Hewett -> Hall, Hall -> Stewart.
The year wasn't too kind to me at the beginning, had a round rank of 50k+ after round 1, and I was sitting at OR: 29,254 after round 3. This all resulted in some high risk plays this year, well that's the only way I can justify Zorko and JDG at least. Currently I'm just outside the top 1000, hoping for a strong finish to the season, and a potential crack at beating my personal best of 591 OR.
---
Leave a comment / Scroll to bottom