Rough season compared to 2022, definitely got a big head after cracking the top 500 last season and tried to take too many risks too early. Anyway, let's take a look back at the lows, the few highs, and what's left.
Round 1
Couldn't find picture of the original lineup, so in a "rate my team" format, here's what I lined up with in round 1.
DEF – Docherty, Dawson, Dale, Jones, Ginbey, Constable, Wilmot and Cowan
Only three of those remain in my current lineup: Dawson, Wilmot and Constable. The popularity of Docherty swayed me to him over Stewart, Sinclair or Sicily, and well, after the early season injuries and struggles of those 4, none of them seemed the better choice over the early rounds. Jones dropped a 5 n the first round but was semi-serviceable after that, ultimately turning into Sinclair in round 8 when he peaked in price. Ginbey has the same commentary and was moved after his bye, provided nice DPP throughout the season. Cowan wasn't around for long but obviously played early, hence the pick, while the biggest regret was Dale who was moved to Daicos prior to round 3.
MID- Oliver, Bontempelli, Kelly, Green, Hopper, Callaghan, Ashcroft, Mackenzie, Baker, Davey and Chesser
Bont, Green and Ashcroft remain before trades this week, while Chesser made his way back in round 16 purely for the fact he was playing as opposed to others around that price. Kelly was gone in round 2 after a concussion and became Gulden, while Callaghan hasn't been the breakout I expected but has had some nice games throughout. All the same, I happily traded him early on. Mackenzie was next to go, while Davey and Baker saw themselves through to their byes. Hopper left when as soon as he suffered that calf injury, wishing I applied that logic to Oliver, who I held through the byes with the constant messages of hope until he was confirmed out for another month, the most frustrating hold I can remember.
RUCK- Marshall, Darcy and Ratugolea
Marshall remains and will see out the year, while Darcy had some howlers but was overall very nice to own this year, he recently left as a cash grab with Briggs becoming my R2. Regretted it early but with the latest injury, it might pay off. Ratugolea was fantastic after a slow start, and I cashed him down to Briggs when his bye/injury occurred.
FWD- Dunkley, Taranto, Cunnington, Fyfe, Flanders, Long, Madden and Greene
Rough looking back on this, too many things could've and did go wrong. Dunkley, Taranto and the ultimate loophole Madden remain. I didn't expect Cunnington to be so poorly used in a young Kangaroos midfield, but he was gone ASAP, the same as Fyfe. I'll admit, I thought both would go 80-85 but couldn't have been more wrong. Long did some nice stuff early but found his way out when injury hit, while Flanders did the complete opposite to what he's doing currently and was out the week before he got injured. Watching his current form, it at least gives me some peace of mind that it was just right pick, wrong time. Greene made a nice 160K before I sideway traded him to Ben King who had a run of tons before the byes.
So there you have it, that's what I started with, and here is…
Where I'm Currently at
Remaining trades: 5, Money in the bank: 326,400, 1 boost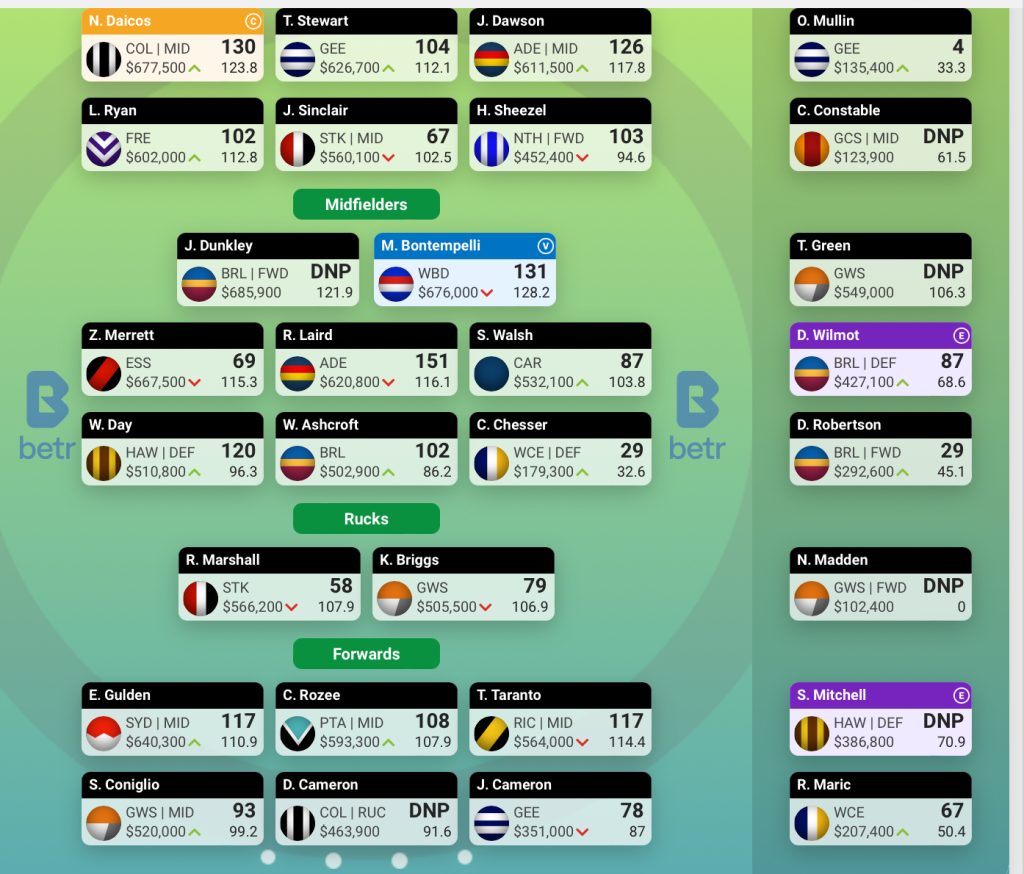 So before trading this week, that's how I currently sit. Honestly, not mad about it, liking the flexibility between lines, coverage etc. Wouldn't call it full premo, and ideally would upgrade all of  both Cameron's, Briggs, Ashcroft and Sheezel but that's not going to happen. Sheezel averaging 95, and Ashcrofts current form (and Wilmot for that matter) have me looking at options for Green, Mitchell and Briggs for the time being. (Gawn, Miller, Woewodin, Banks, Serong etc).
Happy to take any suggestions in the comments below of course!
Trade history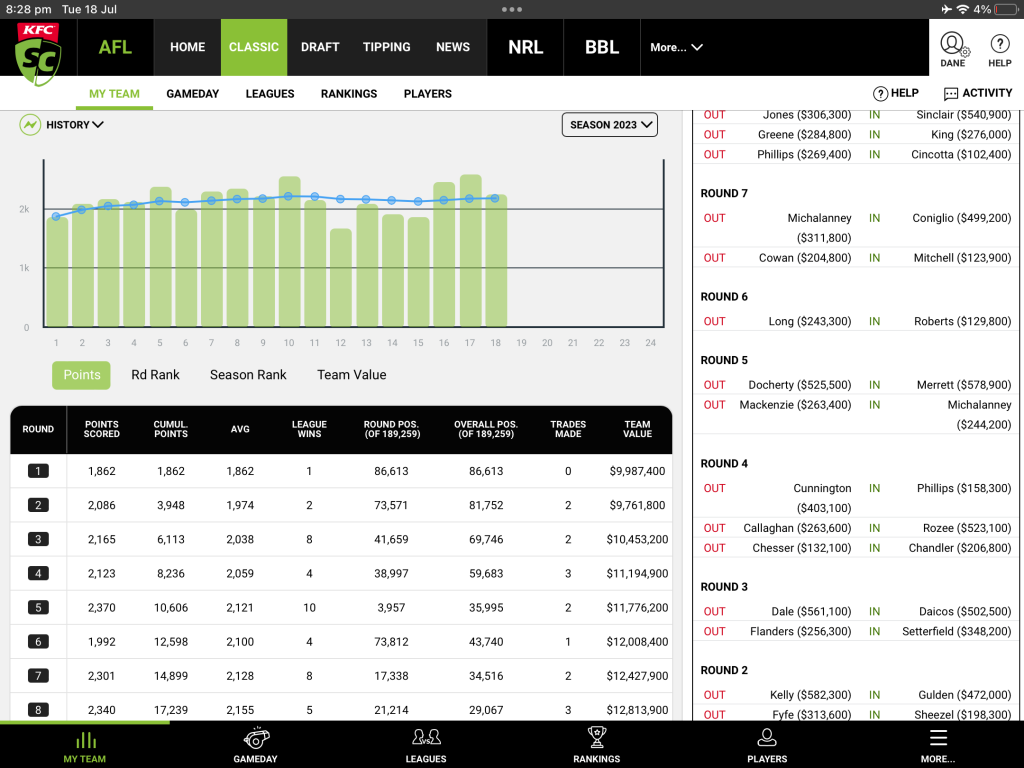 As you can see, the season started horrendously, sitting at pretty much 60K even after round 4 and due to this, I'd used 15 trades after 8 rounds. Biggest regret in terms of bringing in was Setterfield, who was just very mid before he got traded out in round 10. Roberts got injured the week I brought him in, wasn't alone there, while Merrett also only lasted 1 week before a suspension, although he has been flying and remains in my midfield. A lot of corrective trades here early, eg Gulden, Rozee, Sheezel.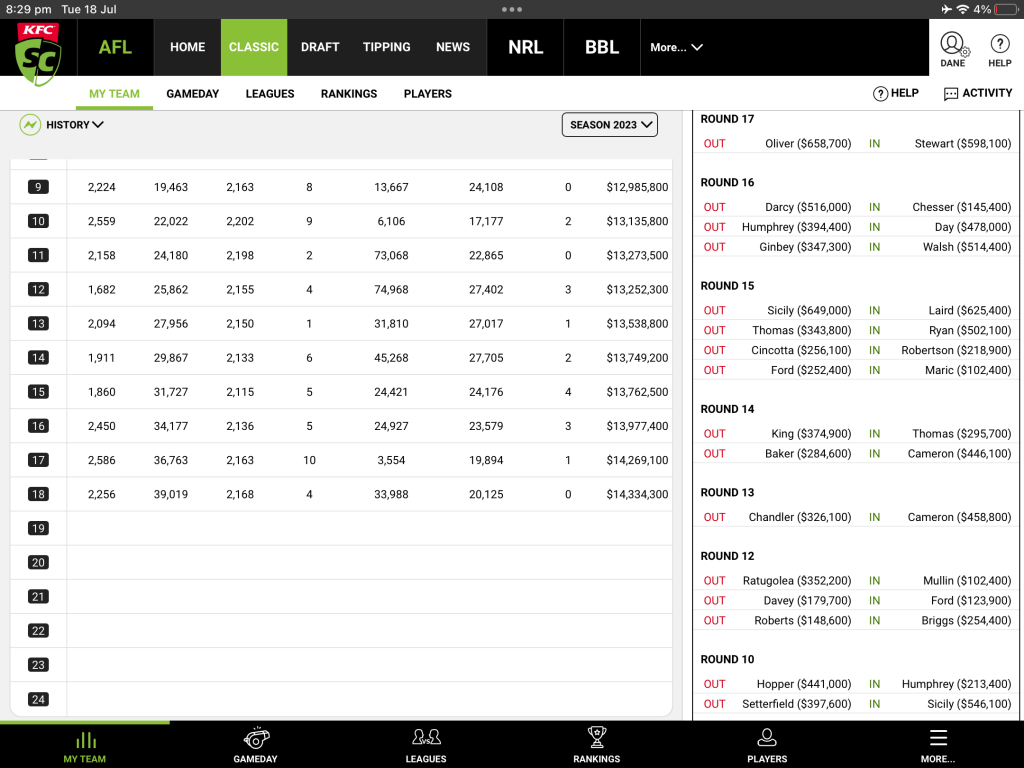 Second half of the season saw me really stagnate in the rankings, to where I am now, around 20K. Admittedly, as some may know I embarked on a holiday from rounds 12-17 (the dreaded byes) and gathered a new found respect for anyone who plays this game from different regions of the world.
Not being in good ol' Melbourne where footy news jumps around all day, I found it very difficult to make informed trades, let alone be over teams and loopholes with all the flights and shabby internet connections during this time. Hoping this doesn't sound like an excuse of course, and admittedly I was quite pleased with how that whole period turned out, essentially holding OA rank throughout.
Not many regrets with the trades done in this period either, bar Jeremy Cameron coming in, scoring I think in the 50's, then a -3 and a week off, but you can't foresee that, I'm hoping for a few bags of goals and big scores to finish the season. The only other one, and I touched on it before, was the hold of Oliver. I love this guy, and holding him through the byes was fine by me as it was best 18 anyway. But the weeks just kept getting extended until I gave in, although I'm not ruling out finishing with him. Trades I was really pleased with were: Briggs, Humphrey, Sicily and Ryan.
Wrapping up
Anyway, there's the summary. A weird year of SuperCoach but that's the fun of it. I'm in the running for finals in 9/10 of my leagues, but sitting 15th in the other (5th in total points, don't you hate that?).
Trading may not happen this week, it will all be teams dependent as it always is. Wanting to finish with cover on each line, have 3 for finals and ideally keep some for injury/rest. Hoping a few big weeks with correct VC/C choices plus a few trades in the back pocket can see me finish within the top 15K, but the majority of focus is currently around winning leagues.
Hope you enjoyed! Any questions or comments, drop them below and I'll use my lunch break to get around to them! Best of luck this weekend everyone!
---
Leave a comment / Scroll to bottom