Nineteen coaches exceeded 2400 points for round 11 in a display of excellence that I'm finding hard to keep up with. Given where these coaches started eleven rounds ago, their scoring power has risen dramatically making for a super competitive competition and astute decision making.
Top of the heap this week, and first mention at the top for a while is Barry's Jumper Punchers with a massive 2567. Really well done Luke.
Bombers SCTTL 2532, Tumultuos Tons backed up with 2530, ol' mate Amir's Ninjas with 2503 and five others in the 2490s, including Bog Eyes Ralph, West End Bombers, All Nuns, DR's Tech team and Romo Tech.
The top part of the table looks like this..
.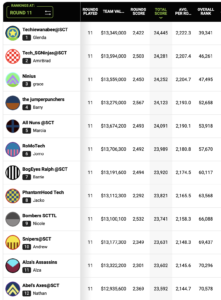 Withe first of the bye rounds upon us next week, can you fill up your warm body spaces adequately, or will you struggle this round. Let us know via the poll, and as always provide some comments for us to get involved in.

 Loading ...
---
Leave a comment / Scroll to bottom