After some moderate weeks Daniels Riches exploded back on the scene with a chart topping 2659 for his DR's Tech Team, which I think my tech team and classic team combined probably did not reach.
DR nailed the Satan VC  and had 13 tons, 7 of which were 140 plus. Certainly helps the scorecard with those kind of players in your side (I just dream).
Silver medal for the week goes to Zac SCTTL for a splendid 2607, which could have been gold with 2662 had he taken Satan's VC score. What's the go there Zac ? Third place on the podium goes to the ever improving and fast finishing Tumultuous Tons with 2578. Pretty cool score Tom, for a team without the Curley redhead.
So many great scores this week so I will break tradition and give them all shout out. Fourth was Snipers (2576), next the old girl Glenda's Techiewannabees  with 2568. Looks like you can't keep her down and that that top spot stays a little comfortably ahead. Ashley's Mr Plow(man) stitched up a 2557, Nato's Tech Difficulties 2541, Father Dougals girls are now making a habit of big scores with 2540 and Gumbies pumped out 2539 to finish among all those coaches over 2500. Fantastic effort that !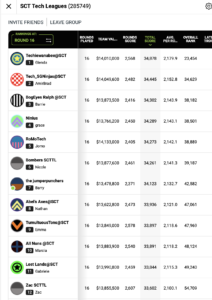 As you can see from the chart, none of the chasing pack made up any ground this week but don't give up just yet, this game goes right through to round 23 before we can declare a winner. Will it be two out of three ?
---
Leave a comment / Scroll to bottom