Round four saw a slight decrease in overall scoring with Liam's 2Ezy@SCT top score with 2216. Most of us had the Darcy Cameron hole to fill and those who filled it with Grundy took a leg up. Those who kept Warner also had the faith repaid and three of the to five scores this week had the Grundy/Warner combo, with a Daicos VC.
Gumbies and Hops of Yakima tied for second with 2201, with the coach of the latter being the odd one out with Tingles as VC and a Warner to LDU swap.  Father daughter coaches Andrew and Krispy showed that the "Creme" rises to the top with third and fourth (2183/2168) with Snipers and Ninius. Rounding out the top five was Running Bares on 2166.
Four round table wth Lucy@SCTTalk still in the one position attached below, as is a poll on how many trades you have used after these four rounds. Let us know the numbers and comment on any moves coming up this week.

 Loading ...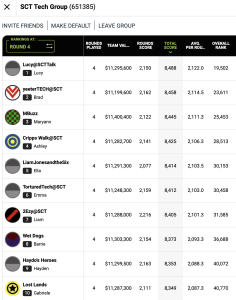 ---
Leave a comment / Scroll to bottom