With scores ranging from 2291 from Adam's Tech Mastermind at the top, to 1459 at the low end, although I feel Emma may be in the dead team category now as there were twelve DNPs in her side.
Top five for the week were Adam, Neale Steele (2195), R & J Bombers (2184), Technicoolz (2176) and Jacko's PhantomHood Tech scoring a first time top five with 2168. DR's monster of last week was followed up with a creditable 2121 to maintain top position in the group.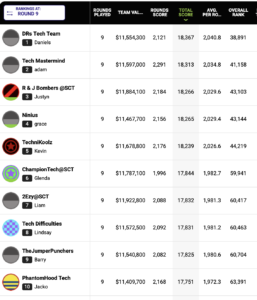 Let us know how you went, what trades worked out well and what were not so good. Are you on top of the byes or are you just struggling to field 22 each week. How many trades have you chewed up getting to where you are?
---
Leave a comment / Scroll to bottom