Normally I try to focus on footy in this little preamble each week, but I'm reading the news each day and – as I'm sure you can all appreciate all too well – it's incredibly distracting. In the old days I'd just take the newspaper and throw it in the bin with gusto and that would make me feel a bit better, but it's a bit hard to do that with a desktop computer so I need to find another outlet for my frustrations.
So….can someone please tell me what the deal is with Cripps this year? In 2018/19, he put a cape on every time he set foot on the field. This year,  apparently he started the season with a broken back (WTAF??!!) and he's spent most of the time running around like his bootlaces are tied together. I don't get it – if he's not fit, why is he playing? Leadership? I'm not sure that's it. Two tons in 14 games, and one of those was against the Swans where for some weird reason he got awarded a free kick every time someone breathed on him. Truly bizarre form from a genuine star, and I sincerely hope we get to see the 'old' Crippa before too much longer.
But, I'm still trading him out this week.
Ladies and gentlemen, the Fallen Premiums.
DEFENDERS
Brayden MAYNARD (COL), $516 900 (-$33K), avg 92, BE 41 – BrayMay had his breakout year in 2020, his sixth season, averaging 102 which included ten tons. Whether it was a hangover from those heights or some other factor I don't know, but Maynard really struggled early on in 2021, with four sub-80 scores polluting his first 7 games. The important part here is that he's put together five tons in seven games and is on the verge of recovering all that cash he dropped in that sloppy start. The absence of Darcy Moore puts more responsibility on Maynard's shoulders, but he seems to thrive in that situation and this is probably your last chance to get him for a discount on his starting price.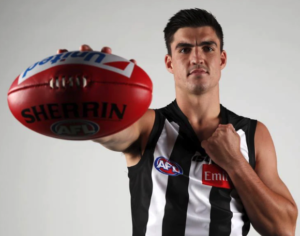 Lachie WHITFIELD (GWS), $521 900 (-$39.7K), avg 98, BE 65 – Another bonafide premium who started 2021 in limp fashion (albeit for very different reasons), the Giants running machine has piled up four tons in his past five starts and seems pretty darn close to his best form by now. The outlier in that period is a strange 74 point effort against the Roos in conditions that should have suited him, but the good news is that that particular effort now drops out of his price cycle. That means this is your last chance to get him for a half decent price!
Steven MAY (MEL), $485 900 (-$22K), avg 91, BE 68 – After a concussion/smashed face-induced 7 point game back in round 4 against the Cats, May was the popular fallen premium when he piled up 145 against the Roos a couple of weeks later. He 'rewarded' brave buyers by failing to ton up throughout the ensuing month, but a run of 106, 111 and then 107 against the Bombers last week has him back in the good books. Still takes the lion's share of the Dees kick in, which he inevitably plays on from, and when that fails he still has dominant intercept marking and pinpoint delivery of the footy to fall back on. Only in 10% of teams and nicely-priced!
Just quickly….Jordan RIDLEY ($471K, avg 101, BE 55) and Nick HAYNES ($407K, avg 71, BE 50) were here last week, and each performed to (or above) expectations. Haynes in particular has really caught fire lately and is a perfect option if you're running short of dough.
Backing it up…
Tom Stewart, $550K, BE 146
Jake Lloyd, $545K, BE 144
MIDFIELDERS
Taylor ADAMS (COL), $464 900 (-$123.9K), avg 82, BE 72 – From a fantasy footy perspective, I'm a massive fan of TAdams – when he's on the field. Taylor has developed a frustrating habit of missing games due to soft tissue niggles throughout his career, and unfortunately 2021 has been no different. Having said all that, Adams did come straight back into the Pies midfield last week after a month's 'holiday' and racked up 32 touches, as well as attending 87% of the centre bounces. A veritable ball magnet that is priced insanely low for someone of his ability, this is very much a left-field choice to finish your midfield – but could pay dividends if he can just get through these next 8 games…
Travis BOAK (PTA), $517 000 (-$73.4K), avg 108, BE 104 – The inspirational Power stalwart hasn't quite been himself lately, but after fighting through a Hewett tag to post his best score since round 1, it's time to take a serious look at Trav. It's ridiculous that we're even talking about him at this stage of his career, but he just keeps getting it done and you'd have to back him in to run out the season in a similar fashion. The one struggle is that, like a few other Port mids, Boak can struggle with disposal efficiency at times, slowing down his scoring. But when you're averaging 28 touches a game, the odd clanger here and there can be tolerated!
Just quickly….Lachie NEALE ($575 700, avg 102, BE 85) also fought through a tag last week and really seems to be moving much better now. Took a big bump to the shoulder last week, but he's tough as old boots and if he plays he must be considered.
Limbo land…
Darcy Parish, $677K, BE 162
Clayton Oliver, $630K, BE 158
Ollie Wines, $596K, BE 149
Josh Kelly, $594K, BE 146
RUCKS
No fallen premiums this week in the rucks….but I'll be monitoring St Rowan for any semblance of form!
Timberrrr….
Rowan Marshall, $464K, BE 162
Brodie Grundy, $619K, BE 153
FORWARDS
Patrick DANGERFIELD (GEE), $495 300 (-$116.6K), avg 85, BE 100 – The Big Question this week: is the Dangerman back? Seems to be taking a lesser role at the centre bounces these days, but as we know he's just as lethal in the forward line (although if he could find the big sticks a bit more often we'd all appreciate it!). His second half performances since returning from syndesmosis surgery are indicative of a man short of a gallop, but he's definitely building fitness and form with each game. Getting a player with Patrick's potential output – and in the forward line no less – at less than $500K still seems to be too good to be true. And judging by the poll results, it appears that the majority of you agree!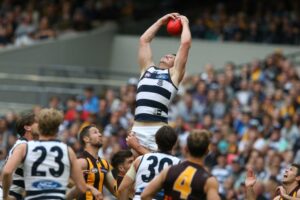 Forward thinking….
Shai Bolton, $502K, BE 156
Aaron Hall, $549K, BE 150
Bailey Dale, $477K, BE 135
---
Leave a comment / Scroll to bottom