For an elite few of you, it's full speed ahead in the hunt for that magical 50 large (go bAps!). But, dear reader, it's more likely that your focus has now switched to league titles and the bragging rights that go with them. And if you somehow have a spare trade or two stashed away for a rainy day, then it's time to start watching the skies! Good luck to all this week.
Ladies and gentlemen, the Fallen Premiums.
DEFENDERS
Caleb DANIEL (WBD), $479 900 (-$65.6K), avg 92, BE 46 – It feels like this is about the gazillionth time I've written about the wee man in the helmet this year, which gives a fair indication of just how inconsistent Daniel has been. Five scores under 80 – including a putrid 19 pointer against the Lions where he also managed to get himself suspended – have been mixed in with eight tons. That includes his season best 145 last weekend in a typhoon against the Dees, where Caleb's elite disposal came to the fore. Yes you're rolling the dice here, but at this time of the year what else are you going to do?
Backing it up…
Steven May, $477K, BE 154
Luke Ryan, $505K, BE 145
Christian Salem, $490K, BE 140
MIDFIELDERS
Josh P. KENNEDY (SYD), $486 900 (-$26.6K), avg 95, BE 26 – There's a bit of life in the old warrior yet! At 33 years of age, one of the great contested ball players of all time won't pump out the 110 average of his heyday, when he was a mainstay of our Supercoach midfields. But as shown in his BOG, 154 point effort against the Dockers last week, JPK is still more than capable of turning out big scores when that battered body still lets him get a run at it.  The Swans have a nice run home and are racing towards September – get on quick, this ship is set to sail!
Hugh MCCLUGGAGE (BRL), $489 600 (-$55.9K), avg 102, BE 61 – A genuinely classy midfielder has actually had a fairly typical season for someone at his age. Slow start followed by seven tons on the trot, and then six straight weeks in double figures. That all adds up to a heavily discoounted price tag compared to where he was earlier in the season. Now, as the Lions move towards another finals campaign, The Suitcase looks to have picked up form with back-to-back tons. "Pick good players who play for good teams" is one of the tenets of Supercoach – here's your chance!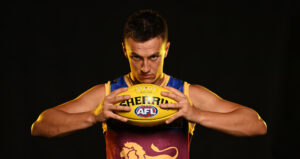 Cameron GUTHRIE (GEE), $506 800 (-$47.9K), avg 111, BE 72 – In my haste to find a replacement for the injured Dusty last week, I somehow overlooked the elder Guthrie. Mistaaaaaaake! One of the most underrated mids in the game has been excellent for much of the season, as he was again against the Tigers last weekend. Just runs all day, knows how to find the footy, and isn't afraid to get his hands dirty when the going is tough. Appears to be over a mid-season shoulder complaint and is still well and truly gettable at this price.
Limbo land…
Darcy Parish, $636K, BE 190
Zach Merrett, $595K, BE 168
Lachie Neale, $553K, BE 157
Touk Miller, $659K, BE 156
Jack Steele, $691K, BE 155

RUCKS
Rowan MARSHALL (STK), $464 600 (-$92.6K), avg 90, BE 57 – Rinse and repeat. Marshall was supposed to be here last week….until Mother COVID had her say. But he'll be back out of isolation this week and surely champing at the bit to do some damage against the Blues on Friday night. Sorry, Motts!
Timberrrr….
Brodie Grundy, $593K, BE 178
Sean Darcy, $716K, BE 174

FORWARDS
Steele SIDEBOTTOM (COL), $397 700 (-$190.3K), avg 87, BE 49 – I have mixed feelings writing this, because Sidey is in my team. He's also made it on to my "Never Again" list in the past month, after spending that time camping out in the forward pocket and posting baldness-inducing scores of 33, 57 and 78. However, after the unfortunate demise of his skipper last weekend to a broken leg, you would've seen Steele move into the midfield as a stopgap and do a bloody good job of it, gathering 26 disposals and 109 points. Extraordinarily well-priced for a player of his class and you'd have to bet that he keeps that midfield role for these last four games.
Just quickly….I'm not saying anything about Isaac HEENEY ($417 200, avg 80, BE 33). Nuh-uh. No way. Not even after he booted five majors last weekend….
Forward thinking….
Dayne Zorko, $565K, BE 175
Josh Dunkley, $628K, BE 153
Nick Hind, $475K, BE 147
Jack Ziebell, $545K, BE 142
---
Leave a comment / Scroll to bottom