This little article typically consists of players with that combination of low break-evens and a price tag that has been reduced from its starting point. That's a little more difficult at this time of year, because you're probably not going to target anyone who has already lost value. Instead, I've decided to look at a few interesting statistical trend and tried to apply this knowledge to some potential trade-ins for those of you looking for a sideways trade or two.
DEFENDERS
We've come a long way from the old days of defenders doing that dinky little kick to themselves, taking two steps and then going the roost from kick-ins. Now, the latest in Hocking's enhancements grants the designated kicker an open paddock to run into, and it's not uncommon to see the kick-in reaching well into the confines of the centre square. Given the extra meterage that is now possible, it's not a coincidence that players who find themselves in this role are also posting impressive Supercoach numbers so far this season:
Player
Club
% total kick ins taken by player (raw)
% play-ons
(raw)
2021 Supercoach
avg (ppg)
BE
Jordan RIDLEY
ESS
90.9 (30/33)
90.0 (27/30)
136.0
61
Shannon HURN
WCE
74.2 (23/31)
95.7 (22/23)
114.3
72
Steven MAY
MEL
68.4 (13/19)
100.0 (13/13)
92.3
133
Daniel RICH
BRL
65.4 (17/26)
100.0 (17/17)
102.3
55
Dougal HOWARD
STK
64.3 (27/42)
81.5 (22/27)
100.3
30
Jayden SHORT
RIC
63.9 (23/36)
65.2 (15/23)
102.7
98
Jack ZIEBELL
NTH
62.8 (27/43)
85.2 (23/27)
113.3
-27
Caleb DANIEL
WBD
58.6 (17/29)
88.2 (15/17)
89.7
145
Luke RYAN
FRE
58.5 (24/41)
75.0 (18/24)
94.7
124
Isaac CUMMING
GWS
56.4 (22/39)
81.8 (18/22)
93.3
-1
Jake LLOYD
SYD
51.2 (22/43)
100.0 (22/22)
112.7
133
This table details the eleven players who have taken at least half of their team's kick ins in 2021. As you can see, all are averaging at least 89.7 ppg (including Isaac Cumming, who started the year at $288K and looks like being a rare mid-priced winner). Only Ziebell is not available for your defensive line this year, and I dare say that if you based your backline around this list you're probably not going to be disappointed at the end of the season.
MIDFIELDERS
No genuine fallen premiums in the engine room either, but there are a handful of under-priced options here worth investigating….
Cameron GUTHRIE (GEE), $583 700, avg 130, BE 55 – The unfashionable Guthrie often fades into obscurity alongside his more decorated teammates, but he is an incredibly talented footballer who should not be ignored. 43 touches against the Hawks last week is a good indicator of what Guthrie is capable of, including 10 clearances and trademark efficiency with ball in hand. Fresh off a breakout year in 2020 and more than capable of finishing as a top mid this year.
Rory SLOANE (ADE), $507 400, avg 119, BE 60 – At 31 years of age, you could excuse the Sloane Ranger for riding off into the sunset – but it seems he's not ready to go just yet! Scores of 119, 97 and 141 this year, and an impending bonanza against the insipid Roos to look forward to this weekend. His record speaks for itself and at this price, you could certainly do a lot worse.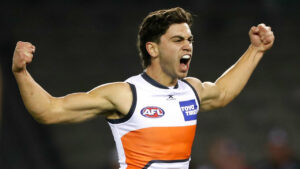 Tim TARANTO (GWS), $463 300, avg 96, BE 91 – No Cogs, no de Boer, no Perryman, no Whitfield. Someone at the Giants has to get the ball; fortunately this is something that Timmy T is reasonably capable of doing. Yes, you'll probably find his occasionally haphazard disposal a bit frustrating if you're an owner – but when he gets so much of it, does it really matter?
RUCKS
Brodie GRUNDY (COL), $642 400 (-$5.8K), avg 122, BE 80 – The Set-And-Forgetters had a field day last week as the old firm of Grundy and Gawn smashed out twin 160s. That distinctly off-colour 70 in the first round now drops out of Brodie's price cycle, and this could well be the cheapest we'll see him for the rest of 2021. Gulp!
FORWARDS
Taylor WALKER (ADE), $406 100, avg 140, BE -35 – The flavour of the month is the Crows' spearhead who is in the midst of one of the richest and most unlikely of late-career revivals. After averaging less than 70 for three consecutive seasons, Tex has belted out scores of 146, 143 and 130 to start his 13th season in the league, relishing the extra space that the rule changes have created for leading forwards. At this price you're selecting him as a keeper for the remainder of the season, but with games against the Roos, Dockers and Hawks coming up, Walker could still be a very lucrative choice for your forward line.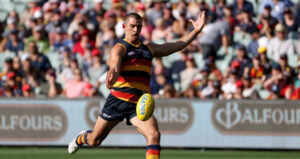 Lachie FOGARTY (CAR), $382 600, avg 110, BE -12 – Already hands down the recruit of the season, Lachie has moved from the forward pocket at the Cats to become a valued attacking midfielder at the Blues, and his scoring has sprouted wings as a result. There is sizeable risk here, but Fog could hardly have been more impressive in piling up 163 against the Dockers' vaunted young midfield last weekend.
Toby GREENE (GWS), $462 900, avg 99, BE 62 – See Taranto. Greene is Leon Cameron's go-to guy when the Giants midfield is struggling. And boy, is it struggling right now! Form line is solid this year and has previously shown an enormous ceiling when playing in the middle. Risk/reward, etc.
Josh DUNKLEY (WBD), $581 500, avg 126, BE 77 – You've already got him, but just in case you've been comatose for the past month then this week is your last chance to get the Dogs' ball magnet before he smashes through the $600K barrier.
---
Leave a comment / Scroll to bottom