The drought quickly becomes a flood this week, as all those game winners we've been waiting for finally turn up on our doorsteps – and they bring discounted price tags with them! There's a plethora of midfield options here – but I actually think the best value is to be found in the forward line this week. Ladies and gentlemen, the Fallen Premiums.
DEFENDERS
Luke RYAN (FRE), $543 000 (-$33.5K), avg 102, BE 92 – Generally a solid season for the Dockers general so far, but Ryan turned in his best effort so far against the Crows. 24 possessions, 21 of them kicks, 12 intercepts, 572 metres gained and an impressive 134 points reminded everyone what Luke is capable of. It's significant that the best score of Ryan's season so far coincided with the return of key defender Griffin Logue, freeing him up to play that coveted intercepting role that he does so well and lends itself to high scoring. Blue chip stock at only 10% ownership, Ryan should be strongly considered if you're in the market for a defensive upgrade with a difference.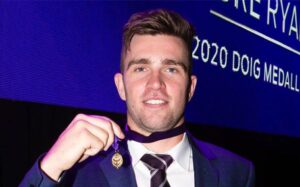 Adam SAAD (CAR), $472 300 (-$53.9K), avg 91, BE 65 – When it comes to Supercoach, The King Of The Running Bounce will never be accused of being a consistent scorer  – but that doesn't make him a bad one. Following a pair of 60's with scores of 112 and 99 is familiar territory for Saad, but it also puts his price and break-even at attractive levels. Exciting to watch and – when he's on – exciting to own too. If you don't believe me, just ask ol' Mottsy, he'll tell you!
Brayden MAYNARD (COL), $450 200 (-$99.7K), avg 81, BE 89 – BrayMay had his breakout in 2020, rocking a 102 ppg average and establishing himself in the upper echelon of Supercoach defenders. The first month of 2021 has been a thoroughly mixed effort though, with a couple of putrid 40s sandwiched in between tons against the Dogs and Eagles. This is the bravest of brave picks, but Maynard is currently priced a good $65K below what he is capable of and injury to Howe may give him the extra responsibility he needs in the Pies defence.
Backing it up…
Jordan Ridley, $589K, BE 190 *injured*
Jeremy Howe, $476K, BE 184 *injured*
Steven May, $444K, BE 174
Shannon Hurn, $477K, BE 165 *injured*
Caleb Daniel, $468K, BE 159
Jake Lloyd, $596K, BE 154
MIDFIELDERS
Christian PETRACCA (MEL), $577 500 (-$53.9K), avg 105, BE 84 – It was always going to be a challenge to back up from such a massive year, but Petracca might just be up to it. 117 ppg in 2020 was the breakout we all suspected was coming, but Christian's struggles with disposal efficiency in the first three weeks had affected his scoring despite seeing plenty of the footy. But a titanic effort against the Cats two weeks ago – 36 touches, 146 points – followed by 108 despite the best tagging efforts of James Worpel seems to indicate that the former number 2 pick is back on track (sorry).
Lachie NEALE (BRL), $580 200 (-$141.6K), avg 97, BE 98 – There's been more bile than usual aimed at the reigning Brownlow medallist to start the 2021 season, with a bit of "old man back" limiting his output. That all went out the window against the Bombers as Neale's patient owners were rewarded with a pleasing 157, including 38 possessions (17 contested) and a couple of goals to top it off. He is now priced with a whopping discount and faces the prospects of some Ed Curnow attention this weekend, but anyone who can spend a year running at 134 points per game can never, ever be written off.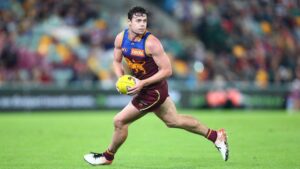 Nat FYFE (FRE), $598 500 (-$9.8K), avg 115, BE 92 – If it's Brownlows you want, Nat has two. Now in his 12th season, we're all very familiar with what Nat can do on the footy field. In fact, the only downside here is how much time Fyfe spends off the field – he's already had one concussion-enforced layoff this year. Still, he could hardly have been more impressive since his return with scores of 133 and 125 and he plays four of his next five on his home patch, starting with the generous Kangaroos this week. Risk, meet reward.
Marcus BONTEMPELLI (WBD), $590 200 (-$33.7K), avg 114, BE 96 – The cavalcade of premium midfielders continues, with the Bont also showing up with a discounted price tag and a propensity for sizeable scoring. Marcus probably lacks the consistency of someone like Fyfe, as he can be susceptible to a tag or being pushed deep into the forward line whenever Bevo gets a bit bored. But then there is the huge ceiling to deal with, as anyone who saw (and captained!) his 199 last year against the Crows can attest to. The Bulldogs are flying and fitting as many of their globetrotting midfielders as possible into your team seems like a sound strategy right now!
Andrew BRAYSHAW (FRE), $482 700 (-$61.5K), avg 98, BE 117 – Special mention for the Dockers tyro who started the year in a blaze, then spluttered his way through the next fortnight before returning to form in a win over Adelaide. As mentioned previously there's a lovely run of games coming up for Freo and the younger Brayshaw is a demon on his home deck, averaging just shy of 109 there since the start of last year. If you're lacking the bucks to get to one of the big dudes then Andy may be your man.
Just quickly….Adam TRELOAR ($560 600, avg 100, BE 93) is ridiculously cheap for a man of his talents, in great form, and playing for the hottest team in the comp. Still only 3% ownership!
Limbo land…
Travis Boak, $564K, BE 140
Tom Mitchell, $549K, BE 139
RUCKS
That two-headed monster we call BroMax has ruled over this little corner of SupercoachTalk for the past three years, and 2021 looks to be no different. For those of you who subscribe to the theory that variety is the spice of life…
Just quickly….Reilly O'BRIEN ($530 900, avg 91, BE 63) was here last week and duly the raised the bat for the third consecutive week. Break-glass option for all you Flynnsters out there who are a bit short of dough.
Timberrrr….
Rowan Marshall, $557K, BE 172
Brodie Grundy, $652K, BE 156
FORWARDS
Shai BOLTON (RIC), $421 700 (-$40.7K), avg 84, BE 27 – Shai was a popular breakout pick at F3 for many to start the season, but a god-awful 29 against the Swans in round 3 left us all wondering what the hell just happened. Bolton has bounced back with consecutive 110s, and now fits the textbook definition of a Fallen Premium. Plays 5 of his next 7 at the Tigers' favourite stomping ground, the G, and is clearly getting that midfield time all his owners were hoping for. Picking Bolton up this week is pretty much what this article – and good Supercoaching – is all about.
Forward thinking….
Patrick Dangerfield, $612K, BE 191
Dustin Martin, $522K, BE 125
Dayne Zorko, $493K, BE 118
---
Leave a comment / Scroll to bottom