We'll look at all lines in this week's article, but I know it's the forwards you're here for. The ranks there were weak to start to year but they're positively anaemic now, with Danger and Dunks out long term and Dusty having a concussion-induced rest this week. Suddenly the PODs have gone from being the despised nerds of the classroom to the cool kids that everyone wants to talk to – but which one? Ladies and gentlemen, the Fallen Premiums.
DEFENDERS
Jack CRISP (COL), $494 900 (-$38.3K), avg 97, BE 82 – His inconsistent scoring has made him a favourite of the Fallen Premiums over the years, and the steak knives return to this article again this week. With Treloar traded away, Adams injured and Pendles increasingly taking a back seat, Crisp is getting plenty of mid time right now and his numbers are reaping the rewards. 29 possessions a game in fact, which really should see his SC average higher than it is – were it not for his 68% disposal efficiency. Coming off a good game against the Bombers and fair POD value at only 3% ownership.
Callum MILLS (SYD), $525 500 (-$19.3K), avg 111, BE 89 – He's a bit of an enigma, is Cal. Top 3 draft pick, Rising Star, an obvious talent in every moment he spends on the field, and yet he hasn't quite broken through to the upper echelon just yet. Still, courtesy of a couple of big scores, Mills is averaging 111 this year and is the highest scoring defender of the year. You can actually get him this week for a marginal discount off his starting price, and at less than 8% ownership you get an amazing point of difference into the bargain.
Backing it up…
Jordan Ridley, $589K, BE 192
Shannon Hurn, $477K, BE 167
Jayden Short, $501K, BE 160
Caleb Daniel, $431K, BE 157
Dan Houston, $501K, BE 140
Steven May, $407K, BE 139
MIDFIELDERS
Tom LIBERATORE (WBD), $498 900 (-$71K), avg 98, BE 72 – Dunkley is out. Someone else has to get the ball. Guess who's really good at getting the ball? It's Libba! Liberatore played his best game of the season so far last Friday night, racking up 27 touches and a couple of goals for his 139. He'll probably never be the player he was pre-reco, but at this price and in these circumstances he is a very viable selection this week. He's also playing for a team that is 6-0 this year – useful!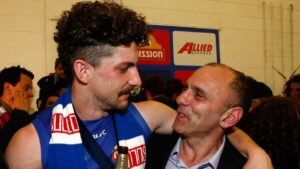 Zach MERRETT (ESS), $587 000 (-$33.9K), avg 110, BE 99 – One of the more consistent scorers in recent Supercoach history, it's a good measure of his abilities that quite a few people have commented on Zach's "quiet" start to the year – and he's averaging 110! A constant dose of leather poisoning combined with a laser-accurate left boot leads to big points, but the best news this year is that Merrett doesn't really miss games. Only two in the past 5 years, in fact. I'm prepared to tempt fate and say this: it's not an exciting selection, but it is pretty much a bullet proof one.
Travis BOAK (PTA), $555 000 (-$35.4K), avg 116, BE 100 – This is getting beyond a joke now. How much longer can Grandpa Trav keep doing this? Fast closing in on his 33rd birthday, Boak posted 160 in the season opener and has barely stopped for a breather since, notching up five tons in six games and sitting equal seventh among mids for points scored. It's only because Dave Mundy is still running around that I'm not going to make any more "old man" jokes. But seriously Boaky, start acting your age mate!
Just quickly….Marcus BONTEMPELLI ($603K, avg 116, BE 95) and Andrew BRAYSHAW ($480K, avg 100, BE 53) were both here last week, and they managed 239 points between them. Brayshaw has a wonderful run of games coming up, and Bont is Bont….
Limbo land…
Luke Parker, $568K, BE 171
Jack Steele, $644, BE 170
Tom Mitchell, $527K, BE 144
RUCKS
I'm just going to keep pushing this barrow until the wheel falls off….
Just quickly….Reilly O'BRIEN ($561 200, avg 98, BE 84) is averaging 120.5 in his past four games. 120.5! If Flynn gets 'rested' again this week and you can't afford to get to Bromax, then ROB might be a good second option.
Timberrrr….
Rowan Marshall, $557K, BE 146

FORWARDS
Dunkley's shoulder injury is possibly the biggest curveball I can remember this game throwing us. The highest scoring forward, and third overall, is suddenly taken away from us and there are no obvious replacements. How about some obscure ones?
Steele SIDEBOTTOM (COL), $493 300 (-$94.7K), avg 86, BE 78 – Rapidly moving into the veteran class, but Sidey remains a supreme talent who can still churn out a big score. Most encouraging is the 88% of centre bounces that he attended last week, which no doubt played a part in his season best score of 119. I'm not really sure why he's classified as a forward this year, but I'm not about to argue…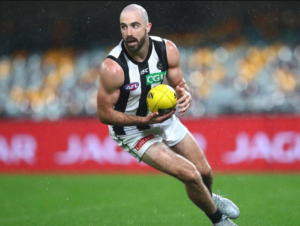 Dayne ZORKO (BRL), $485 500 (-$40.3K), avg 94, BE 83 – The Magician is one of those guys that, for whatever reason, I have trust issues with. I think it's his propensity to throw in at least one stinker of a game every season, usually right in the middle of an otherwise good run of scores. At 32 years of age he still as enigmatic as ever, but he's also possibly the most reliable option we have left to choose from. Neale's absence may actually help boost his numbers a bit – provided that he doesn't become the number one tagging target for the opposition now….
Tom HAWKINS (GEE), $464 500 (-$104.1K), avg 86, BE 89 – If there was ever a time to break the "No Key Position Forwards" rule, this is probably it. The Tomahawk quite enjoyed the shorter quarters last year, where he could avoid any concerns about stamina and instead maximise his strength – his strength. There aren't many defenders in this league who can go toe-to-toe with Hawkins at his best, and if he can finally start kicking straight (13.16 so far this season) then I get the feeling a big bag is just around the corner.
Just quickly….Shai BOLTON ($453 000, avg 87, BE 58) was among the Tigers best in a losing cause last weekend, and still scored 99. I don't think anybody expects Richmond to keep losing, and when they do turn it around you should expect Shai to be right in the thick of it.
Forward thinking….
Dustin Martin, $483K, BE 153 *injured*
Isaac Heeney, $411K, BE 144
---
Leave a comment / Scroll to bottom