A round best summarised by Paul Curtis (83), out-scoring my two set & forget ruckman, Max Gawn (50) and Jarrod Witts (78). Josh Ward had a great game against the Eagles, (99 SC points, 34 possies, 6 clearances, 618 metres gained and 5 tackles), while also earning a Rising Star nomination, (where was that in the early season Wardy?!?). Cripps continuing his less than stellar form is looking a popular luxury-trade as it stands. However with the inclusion of Pittonet, he could be one to hold for another week. Anyways, enough of the talk, let's get straight to The Fallen Premiums – Round 19.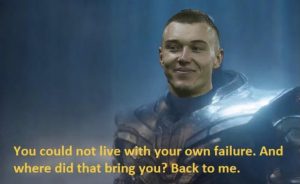 Who else had him on the "never-again list", and then got sucked-in…
Defenders
Harris Andrews (BRL, 427.6k, (-$90.3k), 80.6 AVG, 70 BE) I mentioned (two weeks back), and brought in Steven May myself, but on this weeks write-up, I want to turn my attention to another high ceiling, potential D7. Now, notice the inclusion of the letter/number combo (D + 7), in no universe would I rock Andrew's straight-field. However at a heavy discount, with a 3 round average of 99 points, and up against GCS (93 point 3 game AVG), and RIC (115.6 point 3 game AVG) in the next two weeks. Andrew's makes for an interesting POD-loop If you're after a cheap D7 to loop the likes of Short, Crisp, May.
Backing it up…
Jordan Dawson, 602k, 180 BE
Dayne Zorko, 392k, 170 BE *injured*
Adam Saad, 519k, 169 BE
Midfielders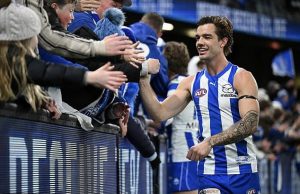 Don't know what the big deal is, North only beat the Tigers, *yawn.
Jy Simpkin (NTH, 472.7k, (-$56.3k), 89.8 AVG, 52 BE) In the theme of mentioning players that you should be able to squeeze in as a loop, Jy Simpkin had caught my attention. Now, let it be of note, the last time Jy played my Hawks in Tazzie, he scored a lazy 164 points (yes I know, he's no Callum Mills). 105 points against the Pies, and 119 points against the Tigers, North seem to be slowly turning their season around, and as such, Jy seems to be relishing in the midfield. Might not be a punt for everyone, but I'll definitely be grabbing Jy in Draft, and if I had trades, would be looking at him as a M9.
Jack Steele (STK, 562.2k, (-$123.6k), 111.5 AVG, 87 BE) I know, Jack Steele is a Fallen-Premium cheat code.  Slowly climbing in price, yet still a 120k+ discount from starting price! For those that have been watching the Saints, you'll notice Steele isn't quite 100%, hampered by the shoulder that kept him out for a chunk of the season. Yet he's still been averaging 116 points in the four games since returning from injury. The Man of Steele is still an amazing option for anyone looking to side swap Cripps an under-performer.
Limbo land…
Ollie Wines, 523k, 150 BE
Josh Kelly, 550k, 149 BE *concussion*
Ben Keays, 530k, 147 BE
Lachie Neale, 604k, 143 BE
Rucks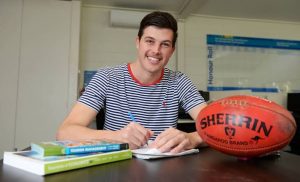 Here the great man is seen, signing the papers to climb me to a top 500 finish in 2019. Forever SC Royalty.
Rowan Marshall (STK, 460.6k, (-$76.2k), 87.4 AVG, 107 BE) In my opinion, RoMo is the main event of the Fallen Premiums this week! The good? Bad? News, is that Paddy Ryder will miss 4-6 weeks, effectively ruling him out for the regular season, the Saints this year. What's so special about Ryder being out you may ask? Well, before I get carried away, let's factor in RoMo's newly acquired FWD DPP, and then let's take a look at two figures. Rowan Marshall with Paddy Ryder in the team, 75.8 points. Rowan Marshall without Paddy Ryder, 112.8 points. I could carry on, discuss RoMo's injury profile, how some of those Ryder-less games included him spending time on the pine with corky's, or just straight up say the following. If you can grab Marshall as a F7/R3 loop, sell the farm, do it. If you can side-swap an under-performer and get the man in, do it. I rate this pick highly (if you couldn't tell).
Timberrr….
Max Gawn, 551k, 174 BE
Reilly O'Brien, 550k, 163 BE
Toby Nankervis, 507k, 160 BE
Forwards
Luke Parker (SYD, 528.1k, (-$63.5k), 103.5 AVG, 104 BE) last week we discussed both Mills and Heeney (who both put up impressive numbers against Freo), however this week, we turn our attention to the other popular Swan. Parker has cooled off a tad, finding himself at a modest 528k. However his 3 round average (101 points) and 5 round average (102.6 points) still hold up as quality averages in the FWD-line. The Swans have an underwhelming Adelaide this week, followed by Giants, North, Pies and the Saints. Quite a favourable matchup for the Swan midfielders. Anyone without Parker, looking for a side-swap, heavily consider bringing him in (even if you have Heeney & Mills)!
Backing it up….
Tom J. Lynch, 408k, 184 BE
Tim English, 541k, 168 BE
Bailey Smith, 532k, 153 BE
Josh Dunkley, 501k, 151 BE
Will Brodie, 528k, 137 BE
---
Leave a comment / Scroll to bottom