With Round 2 in the books, we have double the data to go off of heading into Round 3, as many of us look to collectively fix our teams up with a trade (or three).
Normal programming will resume shortly for the Fallen Premiums. Until then, we can once again have a look at the Table of Misery and under-priced players showing premium potential!
I've excluded players that are not on the bubble (Sam Walsh, BE 166 – breathing a sigh of relief). Once again, price predictions are theoretical.
| Player | Position | Breakeven | Projected price change | Projected price |
| --- | --- | --- | --- | --- |
| Tom Mitchell | Mid | 211 | -$45.6k | $592.5k |
| Dayne Zorko | Mid | 206 | -$50.1k | $545.3k |
| Max Gawn | Ruc | 204 | -$44.8k | $612.6k |
| Jack Steele | Mid | 203 | -$44.7k | $641.1k |
| Dyson Heppell | Def | 202 | -$47.9k | $493.1k |
| Chad Wingard | Fwd | 195 | -$53.7k | $447.8k |
| Jarryd Lyons | Mid | 188 | -$26.9k | $613.2k |
| Sean Darcy | Ruc | 186 | -$57.9k | $584.7k |
| Cam Guthrie | Mid | 173 | -$28.5k | $588.2k |
| Joel Selwood | Mid | 172 | -$34.8k | $514.2k |
| Marcus Bontempelli | Mid | 171 | -$21k | $630.7k |
| Tarryn Thomas | Mid/Fwd | 171 | -$43.6k | $415.7k |
| Ollie Wines | Mid | 161 | -$26.4k | $586.2k |
| Clayton Oliver | Mid | 160 | -$21.9k | $650.1k |
| Darcy Parish | Mid | 154 | -$14.8k | $606.5k |
Defenders
George Hewett & Dan Houston were both featured in last week's write-up and both backed it up with solid outings. George Hewett (CAR, 399k, 124 AVG, -15 BE) will definitely be a popular trade-in target this week, with Dan Houston (PTA, 467.9k, 119 AVG, 37 BE) being a bit more of a point of difference selection. Who do we think goes larger from here-on out?
Hewett's teammate, Sam Docherty (CAR, 533k, 122 AVG, 68 BE) after a major outing in RD 1, scoring 141 points in his return to football. Also, backed it up with a respectable 100 points. Docherty is definitely a nice POD with a major ceiling! Question is, without a proper pre-season, will he slow down as the season progresses?
Midfielders
Patrick Cripps (CAR, 454.8k, 147 Avg, -28 BE) after a huge AAMI score and a fit and firing Cripps was presented to us in pre-season, I said to myself, "Patrick Cripps will not be in my team in 2022" – a statement that aged as well as Travis Boak, Tom Morris saying that 'Fox backs him….' Anyway, Cripps showed out with a monstrous 161 points, 2 goals, 11 clearances, 35 disposals, 23 contested and 83% efficiency against the Dogs on Thursday night, all while rocking a very stylish headband. Being the most traded in player this round, many seem to think he's back to his super-premium days. If so, a super-premium midfielder at 454k is impossible to ignore. Can he keep it up? (I've always thought so)

"Ladies and gentleman, we got him" – The SC Gods.
Tom Green & Luke McDonald after a great round 1 for these two, they both showed exactly what you'd have wanted to see if you're considering them. Luke McDonald (NTH, 372.1k, 114 AVG, -10 BE) for those unaware, will be given Def/Mid DPP in 4 rounds and will slot nicely into most people's back lines. A true fallen premium that could most certainly get back to that 'premium' status. Tom Green (GWS, 430k, 137 AVG, -19 BE) went strong with 34 possessions, 16 contested, 6 clearances, 106 points and 1 hit-out. Yep, Leon Cameron played Tom Greene in the ruck for a brief stint. Surprised?

Andrew Brayshaw (FRE, 584.3k, 158 AVG, 26 BE) going into the season, there was a lot of speculation that Andy would break out into super-premium status. Well, he is definitely making a claim and left the 6% of his owners very happy with a whopping 189 points against the Saints on Sunday. Is Andy finally breaking into the top eight midfielders? Speaking of whopping scores, Lachie Neale (BRI, 543.2k, 169 AVG, -20 BE), the 2020 Brownlow Medalist, is back to his absolute best. Unfortunately for the "Neale C gang", Lachie, with only 198 points, didn't even crack the double ton… Poor effort! For non-owners, it's not negotiable. Bring Neale in!
Travis Boak (PTA, 578.5k, 152.5 AVG, 33 BE) we've been waiting for this man to slow down and it never seems to happen. 33 years old and still pumping out 153 points in a losing effort to the Hawks. A super POD with only 2% ownership. Christian Petracca (MEL, 606.2k, 146 AVG, 62 BE) has started this season by picking up exactly where he left off. Petracca had, 6 marks, 14 inside 50's, 6 clearances, 780 metres gained, 40 possessions, 17 contested, but only went at 52% efficiency. Still leaving Tracca with a healthy 129 points. With a Brownlow medal push on the horizon for Christian, keep an eye on his efficiency, as if he can clean it up, he's going to be a must have Mid!
Rucks
Tim English  & Luke Jackson: I wouldn't be surprised if these two become the new "Gawndy" in a few years. Both popular trade-in targets this week as coaches look to free up funds from Max Gawn (BE 204) who's unfortunately started the season slow. A trade I'm not too fond of… Tim English (WBD, 482.6k, 111 AVG, 60 BE) punched out a conservative 99 points and was beaten by Pittonet in the contest. However, his work around the ground was once again impressive. 1 goal, 6 marks, 24 disposals, 9 contested with a solid 88% efficiency is a solid outing for a ruckman. Ruc/Fwd split will be a close watch with Stef Martin not far away from returning to the Doggies line-up. Luke Jackson (MEL, 389.8k, 112.5k, 3 BE) was phenomenal. 16 HO's, 2 goals, 5 marks, 21 possessions, 11 contested, with 76% efficiency. It's no surprise that he churned out a massive 137 points. Is this the season Luke Jackson puts his hand up and enters premium status?
Forwards
Isaac Heeney (SYD, 454.5k, 140.5 AVG, -15 BE) with many opting to grab Cripps this week, who's priced identical. Heeney luckily looks to sneak under the radar for those that started him. As long as he stays fit, his role and the eye test suggest he's a lock for top 6 FWD's this season. Zak Butters (PTA, 443.6k, 125 AVG, 9 BE) is another player who looks set to finish in the top six after scoring 114 points in round one and 136 points against the Hawks.If you are not one of the 48% of owners, consider moving heaven and earth to get him in.
Adam Treloar (WBD, 483.2k, 95 AVG, 93 BE) a somewhat popular pick with 18% ownership, after a subpar 79 points, Treloar rewarded owners with an increased CBA load (with Bailey Smith missing) and 111 points in round 2. A proven SC scorer, definitely one to keep an eye on for non-owners. And finally, Mitch McGovern (CAR, 256k, 55 AVG, 40 BE) just kidding… If you were silly enough to start him like myself, we can rejoice knowing it isn't the end of the world. Tristan Xerri (NTH, 208.2k, 96 AVG, -77 BE) and Will Brodie (FRE, 224.3k, 88.5 AVG, -46 BE) both with major scores make excellent trade-in options before their prices skyrocket.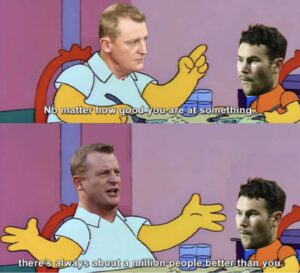 Someone had to say it.
---
Leave a comment / Scroll to bottom