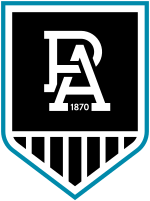 2022 was a strange old year for the Power. After five winless rounds they were stone motherless last and staring into the abyss. Eight wins from their next 11 games completely flipped their season on its head and suddenly finals looked a distinct possibility. However, narrow successive losses to the Dees, Cats and Pies put Port's season to bed and the planning began for their 2023 campaign.
Despite missing the finals, there was a lot to like about Port's season. They boast a clutch of exciting young players who continue to develop, with the likes of Rozee, Butters, Duursma, Marshall, Georgiades, Jones and Powell-Pepper forming a talented nucleus for the playing group. They welcome former number 1 pick and hometown boy Jason Horne-Francis to the club after the trade period. And they are guided by an experienced and battle-hardened leadership group, including a Brownlow medallist and a three-time All-Australian who is one of the most respected players in the game.
Defenders
Feeling Lucky
Dan Houston ($545,100)
Houston has been promising to break into the top echelon of defenders for a few years now, but so far his promises have exceeded his results. However, 2022 was by far his best and most consistent effort yet, posting 99 ppg with nine tons and only 3 sub-80 scores in his 21 games. Dan has often flirted with the "more mid time" brigade, but I think he actually scores better when he's playing the rebounding role off halfback and using that prodigious right boot to set up the attack for the Power. Houston is a despised outsider amongst the premium defs this year, but with Rozee and Butters sure to spend more time in the guts and JHF being added to the mix, Houston should settle into his favoured role as a backline distributor.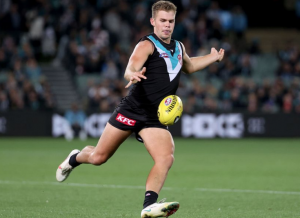 Darcy Byrne-Jones ($460,400)
It's two years gone but I still haven't figured out how DBJ wrangled himself an All-Australian blazer. Solid enough player, but top 6 defender in the league? They were bizarre times in 2020, but even that seems like a stretch. Still, he's capable of putting up a big number and is worth a mention here for those who partake in draft leagues and are looking for a third or fourth defender.
Midfielders
Feeling Lucky
Ollie Wines ($580,700) and Travis Boak ($580,200) are the heart and soul of the club and put the Power into Port Adelaide. 2021 Brownlow medallist Wines was elite during that season, posting 112 ppg to justify his place at the top of the pile. However Ollie regressed last year (admittedly he's hardly the first player to struggle to back up a Brownlow year), managing a still-respectable 105 courtesy of a good final month to his season. Will be disrespected by almost everyone at the start of the season (currently standing at around 1% ownership) but if he finds his way back to his previous medal-winning form, Quadzilla is well under-priced!
Boaky goes around for another season, probably his last although writing that is starting to feel a lot like Groundhog Day at this point. Old Man Teal just keeps finding new ways to reinvent himself and keep those veteran legs ticking over which is admirable in itself, but even more so when you consider the high level of performance he continues to produce. It's a shame he can't manage a DPP status anymore because then he would be a very interesting prospect, but despite the walking frame Trav very rarely misses games and is a lock for a 100-105 ppg season. Draft special.
Rucks
Scott Lycett ($429,900)
There's been renewed interest in Lycett this season as a potential bargain or stepping stone in the ruck stocks. I think a lot of this stems from general uncertainty around the roles of Gawn and Grundy and whether English and Marshall are ready to step it up, rather than any real faith in the Port big man who managed only four games last year thanks to a busted shoulder. Still, he has shown in the past that he is capable of 100+ ppg and all that extra dough you could save by holding on to Scotty until the byes could be very valuable. The good news is that, fitness permitting, he looks a good shot to be the first choice ruck at the Power this year, although there are a few challengers for that mantle too.
Forwards
Lock and Load
Zak Butters ($529,400) (M/F) and Connor Rozee ($513,800) (M/F)
It's been coming for a while but I truly believe this is the year that the guard changes at Port. The Power have relied on Boak and Wines to drive the midfield for so long now, but it's finally time for the younger brigade to move in there permanently. Rozee had a brilliant but wildly inconsistent 2022, partly due to his constantly changing role in the team and his potency as a forward target, but still managed to average 93 after a painfully slow start to the year. There's no doubt that this bloke is an absolute game winner, and the only thing stopping you from putting him in your forward line is whether he can string those performances together week after week for a full season. Just to emphasise his undoubted potential, Connor topped the 150 mark on three occasions last year.
The other Port young gun to consider this year is Butters, who alternated between thrilling and frustrating last season. Zak posted four scores below 60 in the early parts of the season where he was jammed into a forward pocket for seemingly no reason at all. By contrast, he finished the year with five straight tons and effectively removed any chance of getting him for a competitive price to start 2023. Butters plays like he's made of bricks but is actually built more like straw, and owners will be holding their breath every time he launches one of his kamikaze attacks on the footy. But there's absolutely no doubting his ability, and even though as a frustrated owner I put him on the "never again" list last year he's somehow found his way back into my team. Good luck everyone!
Feeling Lucky
Jason Horne-Francis ($348,800) (M/F)
Well, that escalated quickly. After being drafted at number 1 and famously photographed sleeping in a North jumper, the shine came off the apple very quickly and Horne-Francis finds himself at the Power for his sophomore season. Only those on the inside will know exactly what the circumstances were that led to this rapid falling out between a young player and his footy club, but anyone who saw the way JHF could win the footy and explode out of congestion in his rookie year will know this guy can play. He presents in 2023 with DPP status and a tantalising price tag. There's obviously a bunch of unknowns and associated risk here, but pull the trigger and you could look like a damn genius if the kid finds his new surroundings to his liking. Feeling lucky indeed!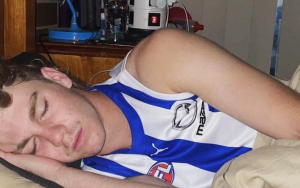 Money Maker
Josh Sinn ($123,900) (M/F)
Taken at pick 12 in the 2021 draft, Sinn promised a lot early in his debut year and made his senior debut in round 2 against the Hawks. Unfortunately that was all she wrote for the talented left-footer, as leg and groin injuries played havoc with the rest of his first season. Generally regarded as a halfback flank type with a long kick, I'm not sure how he's been assigned forward status but I'm not complaining either. Obviously there's always a bit of uncertainty around the rooks at this time of year but keep an eye on him and lock in if named for round 1. Sinn definitely has a fantasy friendly game and shapes as one of the prized cash cows if he can get into the Power 22.
---
Leave a comment / Scroll to bottom