It's fair to say that the expectations for the Ratten era at the Saints far exceeded the results. After missing the finals for the past two seasons, the club has embraced a "back to the future" philosophy to its coaching staff, returning Ross Lyon to the helm after a 12 year absence with his coaching unit including Hall of Famers and club legends Robert Harvey and Lenny Hayes.
Led by two-time All-Australian Jack Steele, the ever optimistic Saints' fanbase will be hoping for bigger things from their team in 2023.
Defenders
Lock and Load
Jack Sinclair ($626,200)
Phwoaw, where did that come from? After puttering along solidly for seven seasons without really ever catching anybody's eye, Sinclair went BANG! and had the breakout to end all breakouts. 113 ppg is a Lloydesque number for a defender, and the result is that Jack now comes with an eye-watering price tag to match his eye-watering hairdo. Also with that price tag comes a buyer beware – opposition coaches will have Sinclair firmly in the crosshairs for more defensive attention this year. But maybe it won't matter? Maybe Sinks is good enough to overcome the tag? And how many effective forward taggers are there in the league these days anyway? All those dollars come with associated risk and you may decide that "upgrade option" is a better label here – but then you've got to find all those dollars from somewhere later on. Hmmm……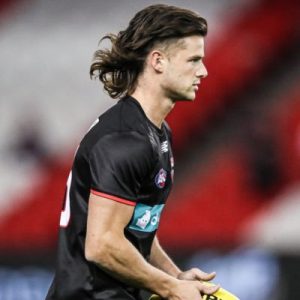 Money Maker
Liam Stocker ($216,400)
After being unwittingly drawn into that trade back in 2018, Stocker has had a largely checkered career speckled with injuries and mental health battles. The fact remains however that while it is debatable whether he deserved it, Stocker still has not been given an opportunity to show his best at the top level. Largely used as a defender in his limited appearances at the Blues, he now gets a fresh start at a new club. I honestly have no idea what his chances are are getting significant game time at the Saints this year, or what his role will be if he does. If nothing else, I'll be intrigued to see if and how Lyon employs Stocker's talents.
Nick Coffield ($208,800)
The dreaded ACL tear completely obliterated Coffield's 2022 season, but the former pick 8 returns in 2023 looking to bolster the St Kilda stocks with his composed and accurate game. Priced a little above what I would have expected after a long-term absence, I still think a fully fit Coffield is capable of posting mid-70s which makes him an eminently viable cash cow. Monitor his pre-season very, very closely.
Midfielders
Lock and Load
Jack Steele ($604,400)
The St Kilda Superman returns in 2023 for another year of hard ball gets and ferocious, relentless tackling. After magnificent seasons in 2020 and 2021 where he played every game and finished second in overall Supercoach points on each occasion, Steele experienced a slight regression last year to only manage a tick under 110 ppg. This was largely courtesy of shoulder surgery, an injury which occurred as the Saints dealt the Cats what would prove to be their last defeat for the season in round 9. So Jack comes with a slight discount on previous years, and the reality is that if the word on his pre-season is even moderately encouraging he is just about impossible to ignore. As the Saints' primary midfielder there is a tag flag here, but past performances suggest that doesn't really bother him too much from a Supercoach perspective because it just means he tackles more! Bloke is a class act and, considering bang for buck, must be near the top of your premo midfield candidates to start the year.
Feeling Lucky
Brad Crouch ($571,000)
After seven injury-plagued years at the Crows where he only occasionally demonstrated his prowess at getting the footy, the elder Crouch has put together a couple of very good years in his new home at Moorabbin. Similar to brother Matt, the knock on Brouch has never been whether he can get the pill, but more what he does with it. Low disposal efficiency and high uncontested numbers have previously translated to only fair Supercoach scoring. However, at 29 years of age, Crouch is coming off what was by far the most impressive season of his career, playing 21 games and going along at a tick under 104 ppg. He probably just falls shortly of being viable in Classic, as reflected by his ownership (just 72 teams at the time of writing!), but for all you draft goons out there he should be high on the wishlist for a valuable spot in your midfield.
Money Maker
Jack Bytel ($158,600)
This is based more on gossip and gut feel than any concrete appreciation for his chances this year, but it's the pre-season and what else am I supposed to use for these wild predictions? Bytel is one of those second-tier players who is much too good for the VFL but just can't seem to get a decent run at it in the big leagues. He spent most of last year laying waste to the opposition for the Sandy Zebras, averaging 25 possessions and 6 tackles and a boatload of Supercoach points. Whispers from early action at the Saints is that Jack (yes, another one!) has come back to the club in tip top shape and is leading all comers in the traditional endurance drills. At this price, do not ignore.
Rucks
Rowan Marshall ($506,500)
I know this is why you're here. You want to know if the Marshall is actually too good to be true? The last time he consistently played as the lone ruckman in 2019, Rowan averaged 110 which is an elite number for a ruck, particularly one priced just over half a million bucks. But then, because the St Kilda Football Club hates Supercoach (or possibly for team balance or something), Paddy Ryder came to the club and Marshall's scoring predictably took a hit. Now that Ryder has called time on his decorated career, with Marshall in his prime at 27 years of age, growing uncertainty about the previous incumbents on the Supercoach ruck line, and possible backup ruck Jack Hayes sadly going down with another long-term injury, surely surely this guy is just a lock-away, set-and-forget, don't-overthink-it-Chillo-you-fool option in 2023?
Tom Campbell ($302,500) (R/F) says hi. And that's all I have to say about that – I'll let you figure out the rest…
Forwards
Feeling Lucky
Jade Gresham ($481,800) (M/F)
Nah, me either. Fun to watch when he's on though. Will probably score mid to high 80s, if you're happy with that then be my guest. Did score four tons in his first five starts last year, but try not to get sucked in – streakiness is Jade's middle name.
Marcus Windhager ($266,200) (M/F)
Now you're talking. Second year blues is definitely a thing, don't let anyone tell you it's not, but here's one that I reckon can buck that trend. Windhager was taken in the third round of the 2021 draft out of the Saints' academy and managed 18 games in his rookie year, mainly used as a negating midfielder. While he collected some big scalps in that role he hardly set the world on fire from a Supercoach perspective, but I have a feeling that might change a little in 2023 as he assumes more responsibility in the Saints midfield. Highly regarded at the club at only 19 years of age, the DPP status is the big attraction here and he is worth some thought as a potential stepping stone to a premium forward target.
Money Maker
Mattaes Phillipou ($166,800) (M/F)
Cross your fingers that this kid – and I use the word 'kid' loosely – has his name read out at some stage early in March. At 192 cm and 90 kg, Phillipou absolutely terrorised the SANFL U18s last year and fits right into the modern prototype for the tall midfielder. His stature and strong hands enable him to push forward with great effect also, and it's most likely that's where he will start his senior career. The only question is when, and whenever that time comes, make sure his name appears somewhere in your Supercoach team! *edit: had a calf iced up after training earlier this week – monitor*
---
Leave a comment / Scroll to bottom