In this ten-part series we'll try to find you that elusive breakout contender, the underpriced and undervalued gem who could decide your Supercoach season's fate. Some basic criteria (which are a little flexible):
Player is entering their second, third or fourth season in the league,
Starting price somewhere between $350K and $500K, and
Averaged somewhere between 70 to 90 ppg the previous season.
Next up is a Blues midfielder with potential….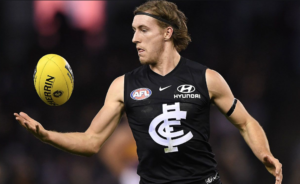 Will SETTERFIELD (CAR)
2021 Starting Price: $481 900 midfielder
Scoring History (most recent first): 89.7 (16 games), 60.7 (18), DNP, 44.5 (2)
Why he will BREAKOUT this year: Taken by the Giants at pick 5 in the highly-touted 2016 draft, Setterfield spent most of his rookie year battling an ongoing ankle injury. Worse was to follow as he ruptured an ACL in the 2018 preseason and was forced into a year of rehab. Mentally fatigued and homesick, Setterfield requested a trade at year's end and found himself in the (you guessed it!) navy blue. More importantly for us, due to his injury battles he was in cash cow territory as a $144K forward and one of the most selected players to start the year. He turned out a 60 ppg average which wasn't quite what his owners were hoping for, but he built on that with a superb following season that included six tons. In a Carlton team that is firmly on the up and with his injury woes well in the rearview mirror, this raw talent is primed to go even bigger in 2021.
Why he won't: Setterfield was clearly the fourth stringer in the Blues midfield last year, behind Walsh, a banged-up Cripps, and Ed Curnow. Jam the new recruit Zac Williams into that group, and you have to wonder just how much scope for improvement Setterfield is going to be able to get. Beyond that, it's hard to see Setterfield improving enough this year to become a bona fide premium in the 110+ range, so if it's a Blues mid you're after it might be better to spend a little bit of extra dough and grab Cripps or Walsh instead.
VERDICT: He's an absolute draft special this year, but I can't quite pull the trigger on Setterfield in the classic version. Still, expect him to improve again and push for a triple figure scoring average this year. It's just a shame he didn't get forward status!

 Loading ...
---
Leave a comment / Scroll to bottom