Small or Far Away, Father Dougal on Cows
Hi Everybody!
Well, its good to be back. Still a bad week, but not as bad.
Anyways, we're at the start of upgrade season.  There are three kinds of players we want to bring in, and I'm a-gonna talk about them.
There are two things that matter for players we bring in. One is cost per point and the other is total points. Cost per point is a big deal. More points for the same money is good. If you expect to struggle to finish off your team, then low cost per point players are the way to go, as you can get the most for what you have.
To be clear, that is cost per future point. Not the cost per points so far. Someone like Butters has a bad cost per point to date but looks to have a good cost per future point.
If you are doing well, you may want to go for high total points, even if those points cost more. Doesn't mean just get the highest scoring play no matter the cost, but getting the best value high scoring guy even if the cost/point is higher than someone with a lower average.
So, the best players are going to be in the top total points and with a lot cost/point.  Oliver soon, Petracca now or next week. Tom Green if you think he will keep it up.  These are the ones to go for first because you are not giving up anything to get them.
After that, well, which do you need? Andy Brayshaw or Neale for points v B. Smith or Sinclair for value.
(Just guessing on the value…)
Oh, and avoid Boak!
Defenders 
Noah Answerth: A 24, wow, dang. An average of 60 and likely to lose money over the next few rounds. Off to Moo-ron Mountain! Probably a good trade out.  At least he made a little cash. No real point to leaving all the value in him when we're starting upgrade season.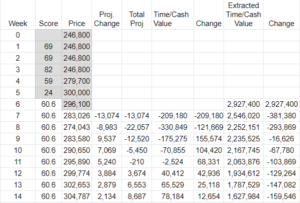 Heath Chapman: Backing up his two tons with a 44. Not likely to drop much with a BE of 56, might go up still. Not the worst trade out if you can use the cash. I'm planning to hold one more and see what he does. Another ton might make him worth keeping longer.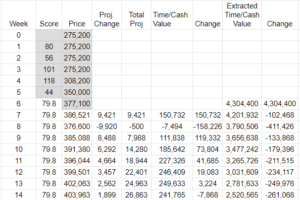 Sam De Koning: Seems to be a slow burn we hold until there is a need to trade him out.  Could score better. Would be nice….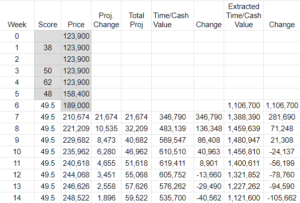 Josh Gibcus:  Did not play
Mitchell Hinge: Did not play
Patrick McCartin: Plugging along. Sort of old school just slowly growing.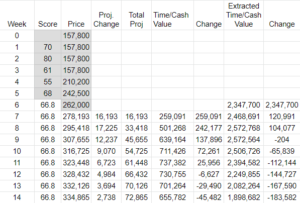 Nathan O'Driscoll: 
Last week: The fact he has s mall price rise should not enter into the  decision on buying him now. Costs $167,700 BE of -54. He's totally worth bringing in.
This week:  Sure looks to have been worth bringing in last week. Is going to make a lot of money fast barring something wacky happening. (No Jinx).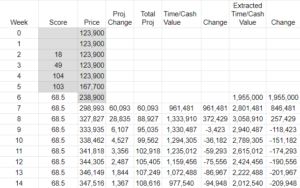 Midfielders
Jarrod Berry: Will probably make a little more, but not looking like he will make a lot more. Could go anytime.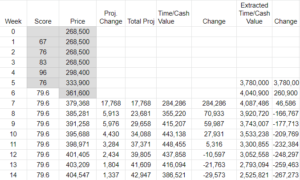 Jye Caldwell: Chugging away making more money. Not fast anymore, but steady. No rush to trade out.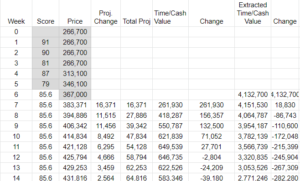 Nick Daicos: Has a lot of money to make and now can play in defense. Big hold.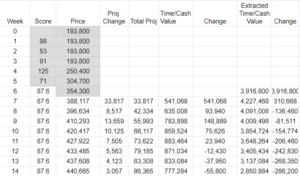 Thomson Dow: Seems like a hold if you own, while he grows and hopefully scores.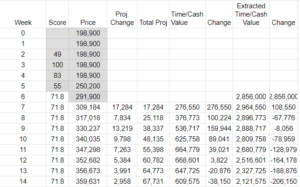 Jason Horne-Francis:  Well, that 39 was sure badly timed for cash generation. He'll go up by 50-90 more I bet but not sure how soon. Is actually a trade out. I owned him from fear and am now kicking myself for not going with my gut and skipping him. Could have used that cash. Ah well. May still end up worth it.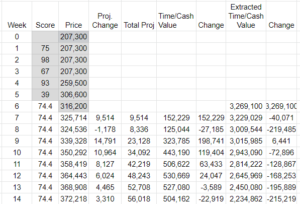 Brady Hough: Did not play
Dylan Stephens: Did not play
Josh Ward:  You know things are rough when a 65 is exciting for a rookie. Owners till hoping for a ton from nowhere.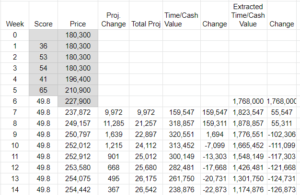 Rucks
Hugh Dixon:   A sweet, sweet $102k player who is scoring and making money, and seems to have a job.  Lots more money to make.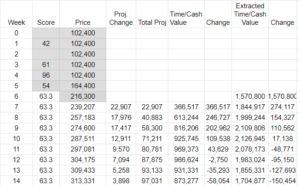 Jack Hayes:  A sweet, sweet $102k player who is scoring and making money, and seems to have a job, mostly for now thanks to other people being injured.  Lots more money to make.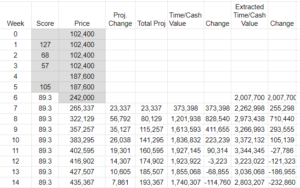 Forwards
Will Brodie:  Not sure he will be here a lot longer. He's doing well and scoring a lot like a keeper. Old enough to be one.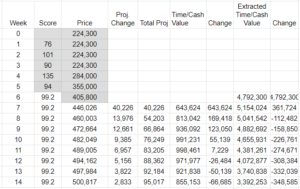 Charlie Curnow: Might be ready to cull at the beginning of R9, but could put up another ton and extend that.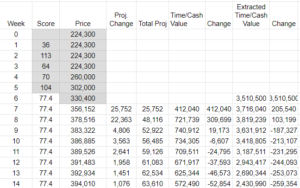 Jade Gresham: Cheap Gun. Also may need to go as a Gun and non-cow.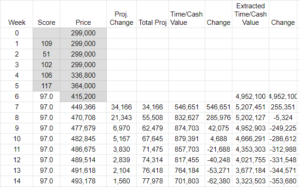 Connor MacDonald:  Sigh.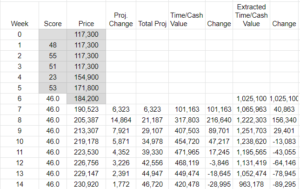 Finn Maginness:  Did not play
Nicholas Martin:  Lots more cash to make.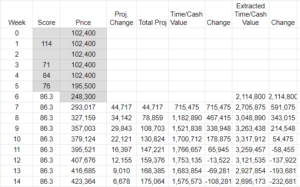 Jackson Mead:  Appears to be a Spud-boy. The 29 will hurt his odds of making anything anytime soon.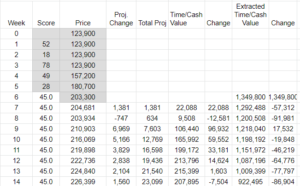 Patrick Naish: Seems to be going ok.  Not much more to say.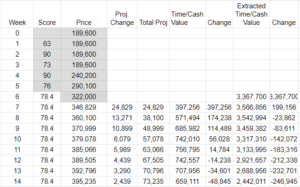 Josh Rachele: Scores up and down like he was a small forward or something. Hold until he puts up a big score and peaks. Or you need the cash, but he should make enough more to hold.
Hugo Ralphsmith: Got hurt and scored low because of that. Could put up a high score and shoot up, or just putter along. This week should tell us a lot.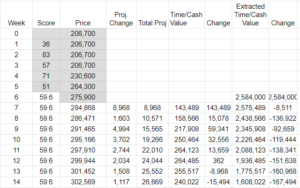 Please let me know if I missed someone or messed something up.
Dodgy Advice: 
Hold Rowell.  Yeah, he is sucking. Weird role. Big WTF. At some point I bet he will go for 150 again and he'll shoot up in price. If that happens anytime soon, whoo hoo! If it happens a ways down the road, less good. The main thing is would you have to play him on field or can you loop him? Hard to rust on the field at the moment. Might be he needs to go to fund am important move. But if he does not, well, we know he can go big.
Remember the Cow Talk guarantee: "All predictions wrong or triple your money back!"  (Offer not valid if money is actually involved.)
FD is time zonally challenged.  When Cow Talk goes live, He's probably asleep, which is what he calls passed out, so replies from him may take a while.
Thanks for reading!
---
Leave a comment / Scroll to bottom