Small or Far Away, Father Dougal on Cows
Hi Everybody!
So, since we are all trying to figure out who to bring in, I'm thinking this is a good time to talk about depreciation again, and how it makes it harder to evaluate player prices and performances.
Does that really matter? Can't we just use their price as shown, and our SC experience and sort of eyeball it? You know like we have for, like, ever?
Well, yes you totally could..
Wait, what?!?!
Look, this stuff is interesting to me, and I think useful, but I don't think its anything life changing.
So, instead of a being a pumpkin seed of an idea, it is more of a black pellet I never eat of an idea?
Um, yes. But I like it, so I am sharing.
So your Rick-rolling us? 
…No.
Anyways, It is easy to calculate the real value of a player in terms of starting price. We can use the base formula for price changing without any adjustments, and then compare that price to the current price.  For example, Andy Brayshaw. His current real numbers and his numbers with no depreciation.

His in game numbers have him as having lost $36,500 of value because his price has gone down by $36,500, it would be more accurate to say he has lost $15,000 of value.  That extra $21,500 was lost due to deprecation.
Remind me what deprecation is?
So, the total amount on money in the game is kept the same. So, when player prices go up more than they go down, like now while cows are growing, all the player prices are dropped by the same amount to make the total the same as it started.
In other words, prices drop extra because they just do. 
….Yes.
Couldn't you just say, his current average is 103 and his average at the start of the season was 101.3, so he is doing better than you paid for?
Yes, but while his average is better than paid for, his price is lower. That shows he is a bargain. You can tell that just from his price being lower, but to evaluate how much of a bargain, you get a clearer picture from looking at the non-deflated price. You can even use the starting magic number to get an accurate amount of discount. He is $15,000 cheaper, so that is 2.79 points of average cheaper than his start, and since he is 1.7 over, that's a total of 4.49 cheaper. Last round he was 8.84 points of average cheaper, and adding that 1.7 means a real 10.54 under.  Very hard to figure that using the prices in the game and a magic number that changes every round.
Yes. rather a pain your way, but at least it can be done, if anyone cares. 
How do you do the calculation again? 
I covered that in a pre-season post. Link below.
https://supercoachtalk.com/how-supercoach-pricing-works-2021/
Defenders 
Cows
Lachie Young: Seems to have topped out. His BE of 72 is reachable. As long as he has a job there is no reason to do anything with him, it all depends on situation. 
Jordan Butts: Nice 88! Should grow for two more rounds. Probably topped out after that.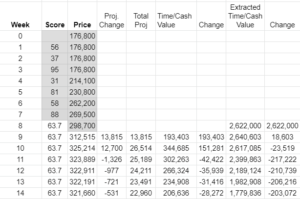 Nikolas Cox: He appears to have topped out, although that 49 will hurt some. Still, no urgency here.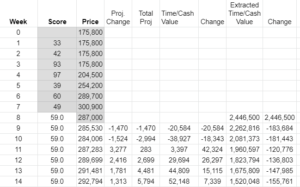 Jack Buckley: Oh, a 94, sweet! Two rounds of growth. Also, scoring 70 pretty reliably.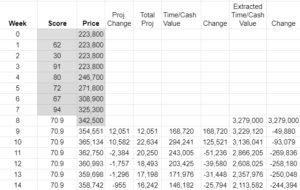 Heath Chapman: Going for shoulder reconstruction. Blah.  No point in holding for him to return.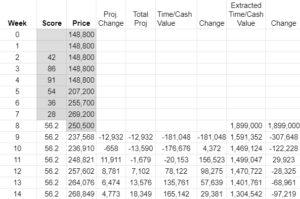 Jacob Koschitzke: His 66 will help him get full value from his ton. Looks like another big increase then he turns into Ridley. At least for owners of both. Another good score could make him safe to keep if you need to for some reason.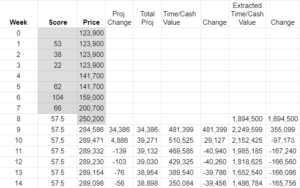 Cow-Like-Objects
Jordan Clark:  Nice 72, and if he keeps playing he will end up going up some again. IF you held maybe keep holding? He won't lose a lot next round, and he will get some back pretty fast, even with that low, injury affected 61.3 average in the calculation.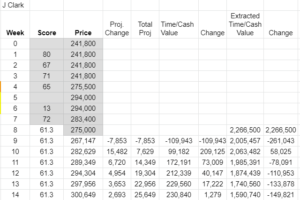 Isaac Cumming:  Joining Ziebell in the land of horses who are not cows or cow-like-objects next week. I wonder what AFL player horses get as cutie marks?  They can't all have footballs and goalposts and the obvious stuff. The whole cutie mark system is fine in a small town, but really breaks down when you scale it up.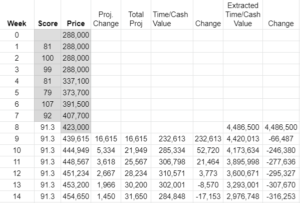 Changkuoth Jiath:  Aww, that 49 has him clearly in cow territory. Very good cow, but cow, so he stays. Will cost some short term cash, while will be made back before long. Feels like a hold until his bye, or still a keeper / very last upgrade.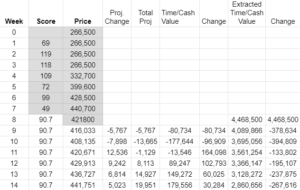 Midfielders
Cows
Errol Gulden:  Should go back up in price some after this round when that 38 leaves his three round average. (TRA)   Since he has not scored over 74 since R2, I expect the projections are high, although if whatever broke him gets fixed, he could ton up once more. He's more likely to score a 60-ish and go down $10K than an 82 and go down $2k.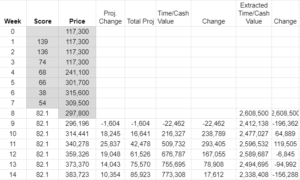 Sam Berry:  Even with blah scoring he should make some cash once the 31 is out of his TRA. His price is so low trading him out is sort of a waste. If you can hold and hope he puts up a big score, well, that does happen. Certainly can't go down a lot, he hasn't gone up enough to be able to go down a lot.
James Jordan: Big cash next week, good cash the week after and probably hold to his bye. Looks good on field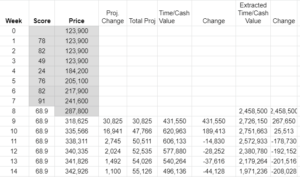 Tom Powell:  Definitely the best on field cow. Looks like hold to bye.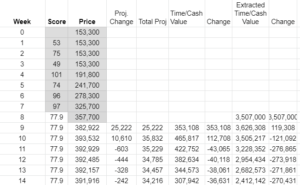 Lachie McNeil:  Did not play
Rucks
Cows
Flynn: Did Not Play
Forwards
Cows
Robertson:  Did fine if a few points off what would have been hoped. Should stay decent on field until trade time.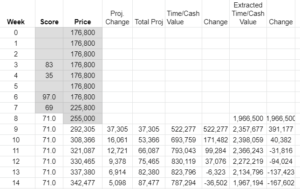 Warner: Worst case he hovers around where he is, and liekly he goes higher at some point. Has a job up forward, so great.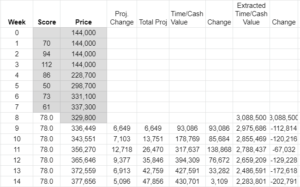 Campbell:   Did not play
Brockman:  Did not play
Scott:  Well, I can't say to see the McNeil comments again. A forward scoring 60s is not bad at all right now. Good chance of more cash over the next few weeks.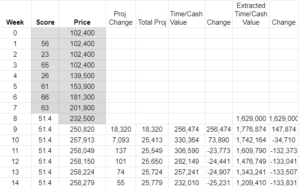 Rowe: Another blah score. Another guy who is at a low price and maybe worth holding until he loses his job or his tons up and finally brings in some cash. Of course he could keep scoring in the 30s and bleed cash,  I sure can't predict.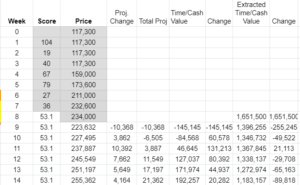 Bergman:  Well timed 75, should make cash after the next two times he plays. Not gonna say the next two weeks, 'case who knows if he will play?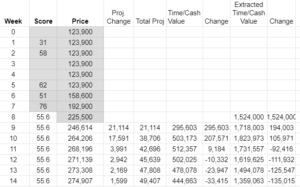 Cow-Like-Objects
Ziebell:  Still a horse
Impey:  That 74 will hurt his cash growth, but who wants to trade him out? It's not like there is anyone to trade him to that better!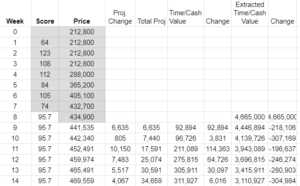 Atkins: He's got a job and is scoring and may be declared a horse before long. Impey as well, have to see.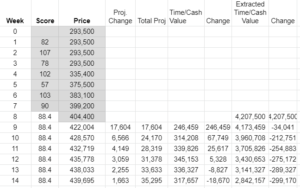 Fantasia:  Nothing like a 35 in the middle of upgrade season. His BE is only 55, which means he isn't really a dangerous hold, and he can put up a decent SC score if he scores five or more goals.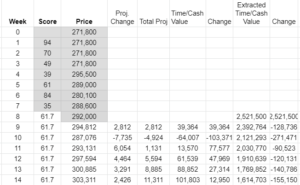 Daniher: Last Round: Very, very likely to be a sell next round. He'd pretty much have to ton up to be worth holding.  This Round: He has tonned up, and therefore is worth holding. Looks like two more rounds possible. Certainly one more. He has ended up doing the best case of what could be reasonably hoped for.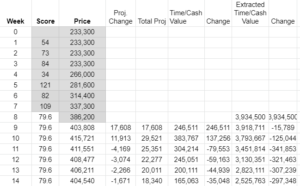 Stringer: Only one bad games from five. I can't suggest bringing him in at this point, but anyone who owns him can probably use him on field a while.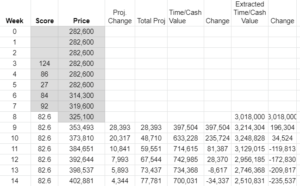 Please let me know if I missed someone or messed something up.
Dodgy Advice:  Wait for Heeney to bottom out in a round or three, and get him. Yes, early, but maybe you need to plan, so bringing it up early so ou can plan. Surely he'll start scoring again once he recovers from his injured hand.
He'd recover faster if he got a girlfriend.
That's no way to talk!
Yeah I was being narrow minded, I'm sorry. He's very pretty so maybe he'd rather get a boyfriend!
Shush, not what I meant! No such talk around the priest! Why are you thinking such things?
See anyone else in this cage?
Remember the Cow Talk guarantee: "All predictions wrong or triple your money back!"  (Offer not valid if money is actually involved.)
I am time zonally challenged.  When Cow Talk goes live, I'm probably asleep, so replies from me may take a while.
Thanks for reading!
---
Leave a comment / Scroll to bottom