First things first, where are all the rookies!?!? Value has now become the name of the game, with every rookie-priced player either getting suspended, injured, or dropped. Don't coaches understand there's more important things than their teams performance?
Luckily for us, there's a lot of value presenting itself in SC this season, mainly due to the fact so called "premium" midfielders started the season in 2nd gear. So let's get straight into Fallen Premiums, Round 8!
Defenders
Hayden Young (FRE, $464.2k, (-$44k), 91.4 AVG, 44 BE)
You'd probably be better off asking Freo Tragic about Hayden Young, but it seems the recent changes to Fremantle's game style has definitely helped Hayden Young. The question marks regarding role, and scoring sustainability are offset by the value he presents at his price. And yes, it's hard to get a read on Fremantle from what I've seen so far, but there's no doubt getting the ball in Young's hands, allowing him to utilise his elite kicking should be the goal for the Fremantle defenders. A great price-point for those priced out of Sinclair & Sicily, is Young someone you're considering?
James Sicily (HAW, $542.5k, (-$82.2k), 103.1 AVG, 77 BE)
Obviously not hitting the highs of 2022, yet the Hawks Captain is still finding himself with an average of 103 points, and a hefty discount to his starting price. The role, and responsibility has become slightly unfavourable for Sic, and his ball-use has been underwhelming in comparison to what we're used too, however, that leaves us with what Sicily at his worst looks like. And again, with many priced out of the likes of Stewart and Dawson, I think he's a great pick. I'll also quickly highlight the North game where he scored 112 points. Sicily had 28 touches (21 kicks), 8 contested, at 82% DE, 18 marks (3 contested), 9 intercepts. You'd be looking at those stats and thinking "112 is ridiculous". And it was, Champion Data weren't happy with the way Sicily started the game with his poor usage and slaughtered his scoring as a result. If he had tidied up those earlier possessions, no doubt it would have been a 140+ score. A great pick this week, truly a set & forget premium with minimal headaches, even when he's utilised as a fully accountable defender.
Backing it up…
Callum Wilkie, 497k, 172 BE
Nick Blakey, 518k, 167 BE
Jordan Dawson, 667k, 152 BE
Nick Daicos, 634k, 145 BE
Midfielders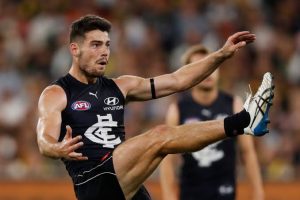 George Hewett (CAR, $486.8k, (-$126.5k), 87.7 AVG, 61 BE)
Game high CBA's, good TOG, and was the inside bull we were accustomed to in 2022, as the Blues slaughtered the Eagles on Saturday night. Match fitness has been the issue, and whatever lingering issues he's had coming into the season hampering his performance. It's hard to read to much into the game against West Coast, however it does seem Hewett has began to turn the corner, and at his price, he's gotta be someone we seriously consider in this twisted version of 2023 Supercoach where cash is scarce. The last bye is a bit of a concern for those like myself loaded with R15 bye players, but if you can swing it, and are in need of a mid premium for sub-500k, Hewett is your man.
Travis Boak (PTA, $461.4k, (-$118.8k), 73.3 AVG, 45 BE)
I'll have to mention Boaky after his performance on Friday night, along with the fact he did garner some attention as a potential SC trade-in. Firstly, I don't like the Boak pick, not at all. If he had FWD-DPP? There'd be a real discussion, but as it stands, his role is all over the place. Boaky has always declined during the back half of the season, and age isn't on his side. Much prefer other options at his price range.
Jack Steele (STK, $537.2k, (-$67.2k), 91.5 AVG, 126 BE)
The Man of Steele was back, forget his score, it was the tackling and in & under work I had my eye on. And there was everything to love from Steele Friday night. A modest price tag, 11 tackles, 28 touches, 15 contested, 75% DE resulting in 126 points. I'll be bringing him in next week, but for those that can manoeuvre it, there's no doubt he breaks his BE this week against North Melbourne.
Limbo land…
Touk Miller, 593k, 171 BE
Lachie Neale, 638k, 164 BE
Luke Davies-Uniacke, 560k, 158 BE
Clayton Oliver, 653k, 140 BE
Rory Laird, 634k, 136 BE
Rucks
Max Gawn (MEL, $501.8k, (-$120.3k), 79.5 AVG, 108 BE)
Officially bottomed out in price. 500k for Maximus in contrast to English for 670k is immense value. Those with Grundy looking to bank 75k, and get what you'd expect to be an uptick in points should look no further. Now, the ideal role for Gawn is the one we saw in Round 1. Behind the ball while Grundy is rucking, stints in the forward line, and then of course, handling his ruck duties. The three games we've seen of Gawndy together, here's how big Maxy's ruck split has looked: R1, 48% – R6, 48% – R7, 38%. The ruck split wasn't exactly favourable to Gawn this past weekend, but I expected nothing less. No need to exert Gawn in what was a belting. The good news is that it seems Gawn has a floor of around 80, and with cash-gen absolutely cooked, for those needing a ruck, I'd (controversially?) urge you to skip English, and grab Gawn.
Timberrr…
Tim English, 670k, 161 BE
Brodie Grundy, 575k, 158 BE
Jarrod Witts, 587k, 150 BE
Forwards
Jake Stringer (ESS, $391.8k, ($13.4k), 80 AVG, 12 BE)
While not necessarily "fallen" considering his starting price in 2023, he's "fallen" if you go back to 2021 and consider his price in correlation to his role. I could discuss a Heeney type who I've already covered, but I prefer the spice of talking about the Bombers man. So, in 2021 when he was a genuine forward premium with a massive ceiling, he had the exact same role he had this past weekend. Lead the Bombers in CBA's, and put on a classic Jake performance, scoring 4 goals, and grabbing 26 possessions. I know Gunboat Diplomacy is quite interested in this pick, and with value being the key with limited cash-gen, I also sign off on this pick. The key with the Stringer pick, falls solely on him continuing with his centre bounce attendance, otherwise you're left with a roller coaster of spike games and the odd sub-50 score. Brad Scott did mention post-game that they'll continue to work on the FWD/Mid split of The Package, with Merrett having a significant drop-off, it's hard to read what Brad Scott will continue with. Clearly it's a risk, a risk that could also propel you up the rankings, or at worst net you 40-50k and require a trade. Looking to chop a couple of dud rookies and can't stretch to a more expensive premium? Rolling the dice with Stringer could be the play.
Forward thinking…
Liam Baker, 482k, 146 BE
Dylan Moore, 489k, 140 BE
Jeremy Cameron, 580k, 137 BE
---
Leave a comment / Scroll to bottom