Another round in the bag, how's everyone's team shaping up heading into Round 9? This was originally a 300 word "please explain" request from Luke Davies-Uniacke, which I had to edit out for enjoyability reasons.
The value, and season defining trades are at our finger tips. Let's get straight into it!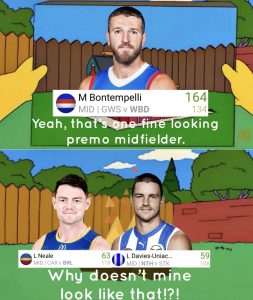 Defenders
Sam Docherty (CAR, $509.2k, (-$94.4k), 92.7 AVG, 71 BE, R15 bye)
Everyone's favourite D1 going into the season is back, and scoring how we initially envisioned. Much like my assessment of Sicily, 2023 Sam Docherty will not be doing a 115 AVG, but will be more than fine to be brought in as a defensive premo. Since returning from injury Doch has produced two tons, but has yet to produce one of those vintage scores. Having the last bye needs to be considered here as well, if you're like me, your R15 is more than likely cooked, and adding to it could be a disaster, unless you're only targeting League wins. I'd personally look at Lloyd for a little bit extra, but I can see the appeal of a heavily discounted Dochter.
Backing it up…
Nick Daicos, 607k, 190 BE
Jordan Ridley, 427k, 145 BE
Adam Saad, 531k, 127 BE
Midfielders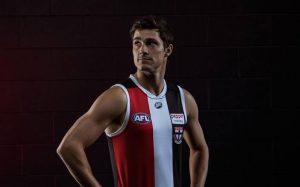 Clayton Oliver (MEL, $652k, (-$47.8k), 126 AVG, 99 BE, R14 bye)
We'll discuss big baller Oliver, before moving onto the three value options everyone has their eyes on. No doubt about it, Oliver will need to come into your team eventually, and what better time than now for a 50k discount? I will quickly cover his immediate fixture. Hawthorn, Port, Freo, Blues, Pies are all to come before heading into his bye. I can definitely see the Hawks structuring to pay close mind to Oliver, but ultimately I believe Nash pays closer attention to Petracca, and Oliver does his usual going 125+. Port the week after could see some attention from Willem Drew, but then Dees head straight into a fixture with Fremantle, in which Clarry could easily bust out a monstrous score. Non-owners, look to bring him in, even if it involves flicking Ashcroft. But not if it ruins your future upgrading plans.
Andy Brayshaw (FRE, $531.3k, (-$84.3k), 98.4 AVG, 54 BE, R12 bye)
The first of the value three. Of course my Hawks were the ones playing Brayshaw back into form, wouldn't have expected anything less. Brayshaw slated after the game against Brisbane that he's been dealing with a knee issue which he's finally overcome. And boy did his knee look more than good against the Hawks. Longmuir noted post-game that Andy's 2nd and 3rd efforts, along with his ground coverage was phenomenal, and boy was it. I personally watched the whole shellacking, and if you had told me post-game that Andy was cloned and there was 2 of him out there, I'd have believed you. Early season form might be off-putting, but it has to be clear that he wasn't fully match fit after watching him the last fortnight. Now the biggest issue I have with Andy Brayshaw, as also pointed out by Freo Tragic, Fremantle don't have a very appealing upcoming fixture. Swans at the SCG first clip, a stadium that doesn't benefit an outside-type player like Brayshaw, followed by the Cats and Dees before the bye. Is the fixture enough to put you off, or will you still be bringing the Fremantle jet into your team?
Jack Steele (STK, $524.1k, (-$80.3k), 92.2 AVG, 75 BE, R12 bye)
My initial reaction after watching a fair chunk of the North v Saints game was that all the mids in the game looked like *******, especially LDU who had what I can describe as the epitome of an "almost" game. Steele actually clocked the most points out of all the inside mids, and had 81% CBA's. The game was incredibly friendly to the defenders, not so much for contest players. Also worth noting, Steele was nowhere near the pill prior to HT, and did spend a fair few stints full-forward (of course). However, this shouldn't alarm you, it truly seems Ross Lyon treated this game as a glorified practice match. Brad Crouch had his lowest CBA's for the season, Seb Ross found himself at HB, overall, truly a bizarre SC game. And with the likes of Caminiti and Max King set to return, Steele has no place in that forward-line for extended stretches. Out of these three value choices, Jack Steele is my preferred trade-in, but like most, even with all the factors considered, the North game was slightly off-putting.
Callum Mills (SYD, $523.1k, (-$119.3k), 97.8 AVG, 116 BE, R12 bye)
Truly the pick of the bunch IF he had anyone but Horse as his coach. Unfortunately after a blistering first half of the season in 2022, Mills has become a "Mr Fix it" for the Swans. For those new to Supercoach, you may not know that when Mills isn't playing lockdown on Tom Hawkins, he's actually a magnificent midfielder. Clocked over 20 Brownlow votes as a result last season, who'd have thunk! Anyway, the last two weeks has seen Longmire adjust, and as a result, Chad Warner and Mills have both had an uptick in CBA's as a result. You might be looking at Mills' breakeven and thinking there's no urgency, and while you're right, he could easily drop a 130+ type score this week against Freo @SCG. Swans then have North next week followed by the Blues before heading into their bye. Obviously another point of call could be waiting until the bye before purchasing Mills, you may have to pay an extra 30-40k, but you'll have a much better read on his role.
Limbo land…
Touk Miller, 593k, 168 BE*
Luke Davies-Uniacke my bad, he may as well be a rookie
Matthew Kennedy, 377k, 152 BE
Rory Laird, 620k, 149 BE
Lachie Neale, 594k, 149 BE
Jack Macrae, 581k, 145 BE
Caleb Serong, 614k, 133 BE
Zach Merrett, 582k, 132 BE
Rucks
Max Gawn (MEL, $512.8k, (-$109.3k), 89.6 AVG, 80 AVG, R14 bye)

What can we say about this man that hasn't already been said? I will quickly note, Gawn is currently sitting at 38% Forward (the threshold for DPP is 35%). There's a serious chance he becomes FWD eligible. Those with English and Marshall, look to grab Maxy when/if that happens as soon as you can manoeuvre  it, those with Grundy, don't even think about English IMO, hop on Max this week and save 100k+.
Timberrr…
Tim English, 655k, 156 BE
Sean Darcy, 612k, 155 BE
Brodie Grundy, 532k, 152 BE
Forwards
Stephen Coniglio (GWS, $538.3k, (-$19.4k), 100.5 AVG, 118 BE, R15 Bye)
I was considering discussing another left-field forward as oppose to Cogs, but at just a tick over 30% ownership, the former GWS captain is still the target of a few coaches. Now again, check your byes before bringing premiums in, GWS are Round 15, and that round is spelling disaster for a lot of us. Next three games see GWS play Pies, Saints, Cats, none of which appeal. However, they go straight into Tigers, North, Freo before their bye. Could go the early bird and grab him now if you're short on funds, or target him around R12. Again, depends entirely on your bye structure.
Forward thinking…
Jeremy Cameron, 559k, 141 BE
Isaac Heeney, 482k, 130 BE
---
Leave a comment / Scroll to bottom