Welcome to another edition of Rare Gems, where we  try and uncover those low owned players ( under 5% ) that may help you get a jump on the competition.   My last edition included Tom Green who had another great few weeks  and is now owned by 13.9% of coaches. Some of these Rare Gems get popular fast, so let's see who we can uncover this week. Last time  I included BE's as I felt it maybe helpful , this week I have included the players Bye round as it seems there's a heap of defenders that share that R12 Bye.
(Name , Club , Price , 3 round ave, Ownership %, Bye Round) 
DEFENDERS:
Jack Sinclair ( STK, $526.500, 121.7, 2.3%, R12 )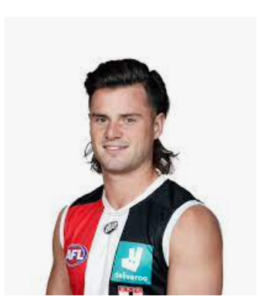 He looks confident
There's been a heap of chatter on the Trade Talk thread about Jack this week, so I wanted to drill down into his numbers and see if he's worth a punt. This year is Jacks 8th year of AFL and to be honest he has never done very much to get noticed. Spending most of his early career forward he's never really been that SC relevant. late in 2021 that all changed with a move to half back. This coincidently (or not), happened around the same time the Saints finally started putting some wins together. From Round 12 2021 Jack played 10 of 11 games and averaged 96. Solid but nothing spectacular. This year, playing a mix of inside Mid and HB,  Jack hasn't been under the 100, and has been getting better every week. The Saints seem to like his mix of speed and precision kicking either around or behind the ball. Last week he also proved  that he doesn't really need CBA's to score well either. He wasn't sighted in the middle, yet still put up his best score for the year. He is far from a proven entity and that R12 Bye maybe difficult for some. I do feel with The Saints current structure and form, Sinclair is as good a bet as any to continue to flourish  and finish in the top 6 -10 Defenders. There's one every year that pops up , could it be  Jacks turn in 2022 ?
Isaac Cumming ( GWS $522.900, 113.3, 0.6% R12 )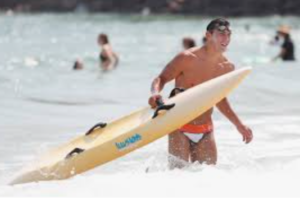 What can't this man do ?
Talk about flying under the radar. Last years breakout defender has just continued to get better and better. While everyone was jumping on an injury prone Whitfield to start the year (me included ) Cumming at almost exactly the same price was totally ignored. Why do we always get sucked into the big names ? This kid has one of the best kicks in the league, takes the majority of kick ins at GWS and  very rarely wastes a possession. Not only that but he's tough. He's rarely beaten one on one, and for his size is a very good intercept mark. The only downside seems to be his Round 12 Bye. With only 918 lucky owners he is a  Rare Gem indeed, I see him getting a heap more kudos sooner rather than later.
Just quickly.. Last time I mentioned Jeremy McGovern ( WC, $530.300, 112.3 2.7% R13 ) he is still killing it, and is one of the few  relevant defenders without the Round 12 Bye. With Nic Nat now out for a while, I can't see his supply drying up anytime soon. Anyone for some Mc Lovin' ?
MIDFIELDERS:
Callum Mills ( SYD, $586.100, 115.7, 1.0% , R13 )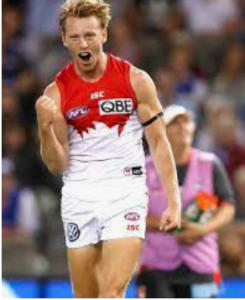 Another blonde Swan
Starting Mills over Lloyd in defence last year was one of the best moves I made in 2021. Unfortunately he was injured late and it really hurt me as I was out of trades. This story may prove to be useful this year when considering Mills. His talent and ceiling are hard to miss, but can his body hold up ? A yoyo scoring pattern and those injury concerns, makes it hard to recommend him at this stage. Then there's a  BE of 145 to consider,  more than achievable for Mills, but theres no rush to pick him up either. When he's up and running there's few players that gather stats and score as fast as Callum. One to watch list and consider down the track, unless you're flush with trades and want to take a punt early.  I will probably wait until after the Byes to consider him for my side.
Last time I mentioned Travis Boak ( PA $639.200 135.3 R12)  and Ben Keays ( $598.500, 124, 1.5%,  R13 ) Both are still in the top 6 scoring players for the year and although now rather pricey deserve another mention none the less.
RUCKS:
Peter Wright. ( Forward , ESS, $466.200 , 99.7 , 1.8% , R 12)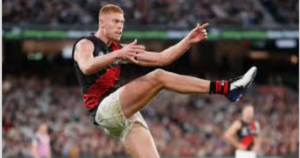 Giant ginger ninja.
Come on Freo, you're scraping the bottom of the barrel here, I hear you all saying.  Well you maybe Wright, ( sorry ) but his numbers this year are pretty impressive . Take out a  slow start (61) when the Bombers were honestly putrid, and he's actually been pretty good. When it comes to forward entries for  Essendon, all roads lead to Two Metre Peter. Also he  hasn't relied on Ruck time to gather his scores. ( he's only attended 6 CBA's in 4 weeks, none in the last fortnight.) So there's some upside if they decide to drop the second ruck. Even with his handy DPP I know you won't pick him, but he's the only Ruck that fits the criteria so gets the nod today.
FORWARDS:
Dylan Moore ( HAW, $455.300, 100.7, 0.5% R14 )
This Dylan Moore
Not this one..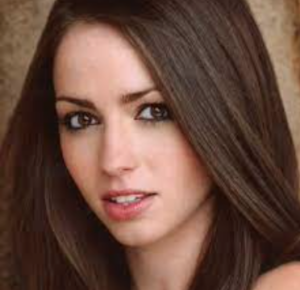 The phrase "small forwards are too inconsistent for Super Coach" is very common in our circles. Most of the time this generalisation is spot on.  Very occasionally someone like Toby Greene will buck this trend and score well enough to impress a few punters. This year a certain small forward named Butters was promised more midfield time and we all ( half of us anyway ) jumped on expecting big things. What if I told you we picked the wrong guy ? What if the right guy was one Dylan Moore ? If you had bothered to even consider him, ( I know I didn't, I'm not sure I even knew what he looked like ? )  Anyway.. Dylans role and his teams projected ladder position would of lead us to think Dylan would struggle to score consistency. We would of been wrong, even though the signs were there.  Here we have a small high half forward that is producing the numbers expected of a HB. Not only that, but he's actually started doing it last year, and no one really noticed. In his last 10 games Dylan has averaged 101.15. His lowest this year is 90 and his highest is 105. Now thats pretty consistent in my book. Rated an elite general forward by champion data in 2021 Moore is probably the most underrated player in the game at the moment. I think it's time he gets a little more respect. I can't realistically recommend trading Butters to Moore, although on numbers alone it maybe the right call. I do know his 730 owners are pretty happy they chose him in 2022.
Much to my surprise..another " last time" guy.. Daniel Rioli ( DEF, RICH, $419.800, 106.3, 5.2 %, R12 ) has been very consistent, so well done to anyone that took a punt on him .
Ok thats it for another instalment of Rare Gems. As always, let me know in the comments if there's any low owned players you are considering for you side.
Thanks for reading FT.
---
Leave a comment / Scroll to bottom