In a sign of the strength of this competition, twenty Tech League coaches scored above 2000 points for the round. This would have placed them all inside the top 5% overall for the week, and our number one ranked Techie, YeeterTECH@SCT is ranked inside the top five thousand overall. Fantastic effort Brad. Given the variation in scores, in part due to the tough bye round, 2000+ was also a fantastic effort so congrats to you all.
Top of the heap this week was Maxismen with a 2214, a score in the top half percent overall. Something to be proud of Max.
Second place getter was Wayne's Bomber Boys @ SCT with another brilliant score of 2207, followed by The aforementioned YeeterTECH with a super solid 2191 rounding out the top three.
YeeterTECH has a handy 430 point lead over Amir's SG Tech Ninjas @SCT going into the run home, with Maxismen jumping into third overall courtesy of his top score of the week.
We had a few changes (as per the Graphic) in the top ten with biggest fall from immediate grace going to Zac's Lathaz SCTTL, dropping to 14th from 6th. Other movers in the top ten shoot out were MBuzz (2nd to 4th), Chips Ahoy! (4th to 7th) while All Nuns @SCT and Tortured Tech@SCT moved into the to ten for the first time.
Poll questions for this week revolve around your ranking during the byes and the trades remaining for the run home. Please feel free to comment on the results and and let everyone know what is likely going forward.

 Loading ...

 Loading ...

 Loading ...

 Loading ...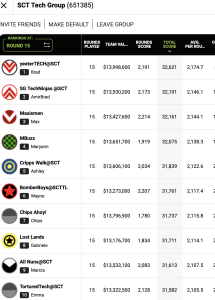 ---
Leave a comment / Scroll to bottom