Welcome to my first team reveal on this wonderful site. My team is not set but I feel that a good majority is, obviously it will all depend on rookie selections. In previous years I tend to avoid mid pricers unless they force my hand such as Ziebell last year. My preference is to run with about 13 genuine premos with a structure of 3-5-2-3 depending on rookies. Usually I start slow and then gradually work my way up in the rankings. For example my season ranks for last year were: Rd 1 I was 40,630, Rd 5 6,122, Rd 8 was my season best of 1,904, Rd 15 7,903 and finished with a final rank of 8,337. My best finish was in 2020 when I was 1,043. All of that aside here are my selections for 2022…
DEF

Crisp is a lock and 1 of my first picked, will get more mid time but even if he doesn't he will still score enough down back. Whitfield and Sicily are under priced. Whitfield should go 100 but could even push 110 and I like to watch him play. Sicily I expect to return to his 95+ and prevents great value. Now Hewett is a pick I wouldn't usually go for but I need that extra cash in other areas. I feel he will have a great role at Carlton even with Walsh back he can average 90 which will be serviceable at D6. Now the rookies, the news on Hinge recently isn't promising but if he's named Rd 1 I'll pick him. I'm not that sold on Gibcus and McCartin but they are our best options and De Koning should have done enough and at a genuine rookie price he's in.
MID

Not sure what to say about Steele apart from his strong finish to 2021. Averaged 137.6 from Rd 11, massive! I've started with Oliver the last 4 years and 2022 will be no exception, he doesn't miss games and has increased his ceiling and floor. Now Mitchell has been in my side all pre season but missing the AAMI game worries me slightly but for now he's in. My thoughts are that he will increase his scoring back over 120 and he hasn't missed a game since returning from his broken leg. Neale is great value. I started with him in 2020 and that was incredible. Now that won't happen again but he will bounce back after being injured last year, 115 incoming. Berry was originally Caldwell but I don't trust his role to be what we need so Berry is in. He won't be as good as he's been in pre season games but I think 80+ is very achievable. Horne-Francis and Daicos are locks, not much more to say on them while Stephens is into his 3rd year and only needs to average 60 to make enough cash. I think he does that but a few poor games could see him on the outer. Ward will be there Rd 1 but McEntee and MacDonald are hopefuls.
RUC

No mucking around here as I've starting with Gawn and Grundy for numerous years now. They'll be the top 2 scoring rucks yet again. Hayes will depend on Ryder's selection.
FWD

Dunkley is a must have. His start last season is fresh in mind and also his form this pre season. Thomas and Butters are my breakout contenders this year. More mid time is guaranteed but Thomas may lose some when Cunnington and Anderson return. I owned him at the end of last year and enjoyed the ride and I'm sure he'll go even better this year. Butters has a huge ceiling and barring injury will be a top 6 forward. Coniglio at that price with forward status is a lock! He's fit and will see enough mid time to be top 10 come years end. Rachele will play every game and should score well even without kicking goals. The other forwards aren't set yet although I think all of Durdin, Martin and Dixon will be there in Rd 1.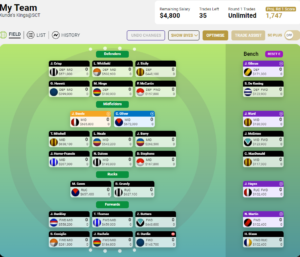 After all of that I'm left with $4,800. It's not perfect but I am mostly happy with it. I do have back up plans for Titch and some of the rookies but I'm hoping to not need them. Let me know what you think and what changes need to be made.
---
Leave a comment / Scroll to bottom