Hi, everyone. Welcome to panic time with less than a week to start of 2022 SuperCoach season!!
I have been running around like a headless chook, constantly changing my team, trying desperately to squeeze every last dollar to buy that needed player and experimentally dropping ultra proven performers to accommodate the heftily priced rookies or cowlike objects.
Every year I/we have that problem of trying to obtain the latest practice match star or training track hero?
So many different connotations and so much that can go wrong. Sure if you can snag that elusive new big thing? It will help set up your season but for every Ziebell there is a Paddy Dow.
I have virtually reverted back to the team that I posted here many weeks ago except for a few non starters. A few regrets that I won't be able to afford to have some must haves. Every year is filled with regrets. At least this year I can not curse at myself for not going with my initial gut instinct.
So here is my team for 2022. For what its worth with usual disclaimer as per injuries, team selections, yeah, yeah. We all know the drill.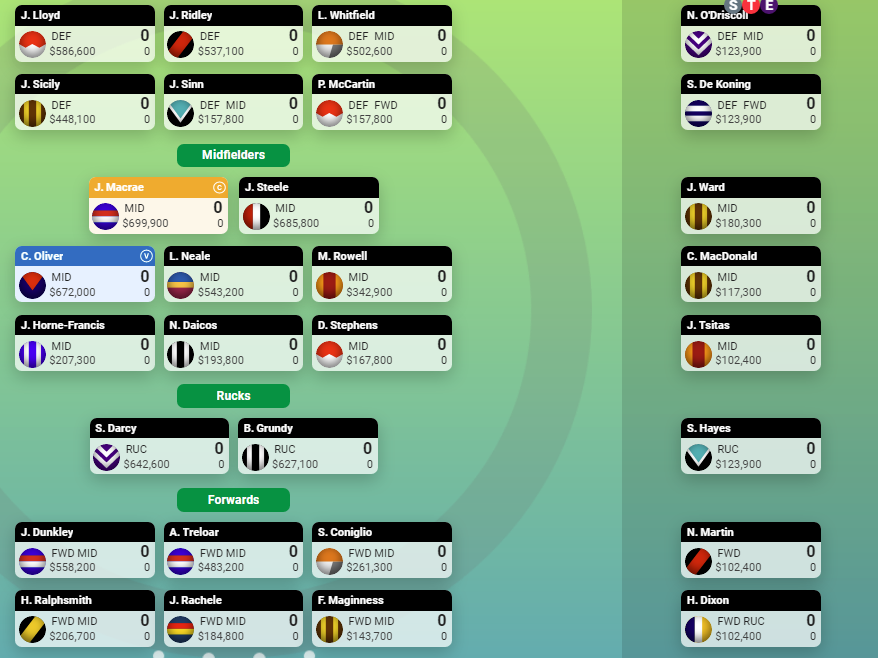 Defenders
Lloyd best defender in the competition picks himself. Ridley surprisingly was the one that I kept downsizing for cheaper options but decided to go by his previous proven  output rather than a perceived points explosion by a maybe. Whitfield. I know all the negatives but I also know how classy he is is and at his price, a resounding yes vote. Sicily was not on my agenda after being so long out of the game but his track work and practice games have inspired me to take the risk – a proven performer and more of a fallen premo. Sinn really stood out before limited opportunity in last practice game. Waiting for teams to drop. McCartin is a warm body and shows promise at Sydney. De Koning earned he spot on his latest practice game. Not sure of longevity but he is in a position to display his ability to hold it. O'Driscoll likely won't play Rd 1. In a holding pattern until teams announced.
Midfielders
Decided to just go with three of the best in Macrae, Steele and Oliver. Oliver could easily be Miller, but can not start them all. Neale form and price makes him certain pick. Next up is Rowell. I have been excited about his prospects since he starting shining at training, then his scintillating practice games highlighted that everyone. The costly rookies pick themselves. Daicos, Horne Francis, Stephens, Ward. MacDonald Likely to go well. Tsitas just a bench warmer for one of the WCE's new recruits.
Rucks
Darcy and Grundy. Two of the big three.
Forwards
Dunkley. The best forward. Treloar. Seems to have now settled in to the Dogs and finding his Collingwood form. Dodgy hammies? What dodgy hammies! The Ostrich response: la la la. Coniglio selected by 69% says it all. Ralphsmith: that bolt from the blue has impressed enough to land a spot. Rachele looks a lock for round 1. Maginness on shaky ground, Martin and Dixon likely to play.
I really, really want Butters but have to compromise too much in other lines. So c'est la vie. Regrets, did anyone mention regrets.
Good luck to all and may the Supercoach Gods be kind and take pity on us all this year. Have fun.
Cheers
CT.
---
Leave a comment / Scroll to bottom