I'll start by saying this is still probably not anywhere close to what I'll eventually run with come round 1, as the selection table, some random injury rumour and several spur of the moment picks will surely shape how my team will actually lineup.
So for the moment, here's how ADG is currently looking. At the moment, I've got a 2-4-2-2 lineup with probably a few too many midpricers for my liking, with just $500 in the back pocket.
Defenders & Midfielders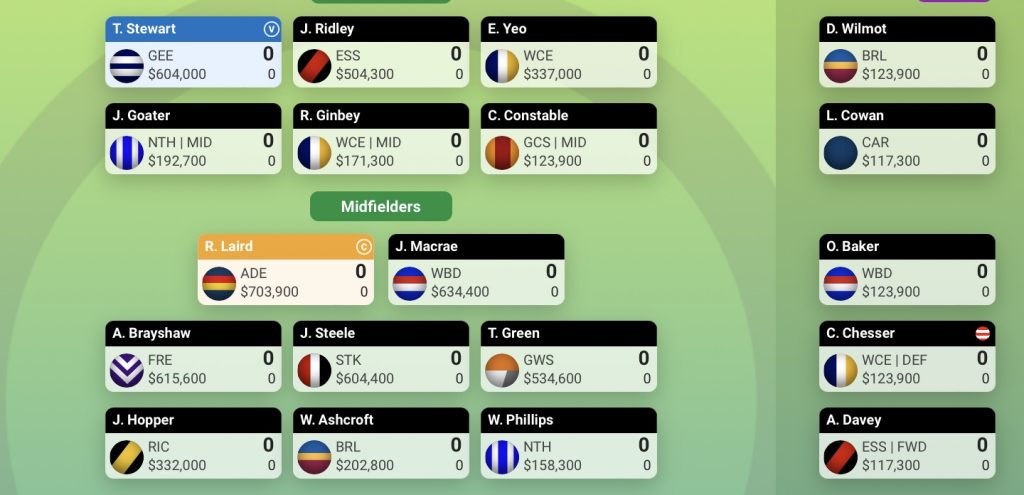 Stewart has been stuck at D1 for me since the closing round of 2022, and is one of the few that I can confirm will be in my final lineup. The same can't be said for D2, which is currently Ridley (due to one practice game that I've probably trusted too much) but has also been Docherty, Dale and Dawson. Yeo looks value plus it's a "go with the flow" sort of pick, the same with Constable and Ginbey. D4 was and might end up being Tom Cole, but it's Goater for the minute as I continuously question if having 3 Eagles, who will be smashed more often than not, is just wishing to have my 2023 season flushed away before it even begins. The bench is fairly similar to everyone else.
In the middle I really want to go with one of the top 3 priced players, and I'm leaning towards Laird due to his utter ridiculous consistency and the unlikelihood that he cops a tag. Macrae speaks for himself, hoping he can push back to 120+, while Brayshaw (good early draw minus round 1) and Steele (value imo) are at M3 and M4 but one may become Merrett before the season begins. Pretty standard from there on, Green is value, same with Hopper, while Ashcroft, Phillips and those on the bench are very similar to most teams.

I really liked Darcy's game on the weekend just gone, and even though Luke Jackson didnt play, I'm still backing Sean in for at least the next 2 days before I trigger trade again. Rowan Marshall is close to the easiest pick of the year, shocked he isn't in 75% of teams. R3 is purely for loophole/switch.
Dunkley and Taranto and F1 and F2, pretty standard operation there. Gulden was another pre-season trigger, the same with Flanders, but I like the value they both provide. McLean didn't set it on fire in the practice match but has money to make, while the injuries to key Geelong pillars surely gives Ratugolea enough time to make some cash early in the season and work nicely with R3. Sheezel on the bench probably starts on field.
Also running a few leagues for the friendly community to join if they so please! No criteria, just chuck yourself in to either of the leagues if you're after some friendly competition with others from the site!
605197 – Average @SCT 1
639300 – Average @SCT 2
Thats pretty much it for the moment, feel free to chuck in any thoughts or opinions in the comments and I'll make my way around to them!
---
Leave a comment / Scroll to bottom