I'm not sure about you guys and girls but those practice games certainly threw that Cat Bruhn amongst the pigeons. Some guys that have spent most of the preseason in my team like McKenna and McLean didn't quite make the grade. Then there were those players that were hardly in consideration that put their hands up and screamed pick me.I will go through the team line by line and try to justify my structure and reasons for selections. The bench and all rookies are obviously subject to Round 1 selection.
DashingDonkeys@SCT
Defence

Dawson was literally the first picked player when SC was released. I have played around with teams omitting him and it just feels wrong. I think you need at least one of the top guys and he's my favourite. Structure wise I have messed around with a very weak defence. Yeo at D2 also feels wrong and I guess that's where Ridley comes in.This position had been taken by Daicos, that was until the tag risk surfaced and I decided I would rather back in someone that been to the top before. Hopefully the Dons new game style gives Ridley the license to be at his best. The D4 spot has been a merry go round from the start. I'm certainly not expecting tons from Jones every week, but his JS and price make him a reasonably safe selection. Lock in Ginbey and the policeman at D5-6.
Midfield

Captain Laird has won the battle of the big boys for my M1 spot. I would love to start Clayton as well, but I just can't justify all those dollars on two players. Bont has obvious upside and has been locked in for me from day one. Brayshaw just pips a few of the other MIDs around that 600k mark. His durability and my Freo bias have given him the nod. Structure wise I have played around with him out for a Finn Callaghan while putting Cogs in the forward line and it just feels a bit too forward heavy so Waygu is back in for now. Green just needed to show a bit in the practice games, he did, and I'm more than happy with him at M4. Hopper and the three top line rookies fill out my midfield. I've also added  Hollands at M9 as the midfield bench spots look very thin.
Rucks

The ruck line has been a huge talking point all pre-season. Marshall is easily the  safest selection at his discounted price so he's a lock. The other ruck spot has been a constant merry go round from the potentially overpriced, yet durable Witts to risky mid pricers like Lycett, Cameron and even Luke Jackson at times. I've settled on Shrek Darcy, even with the Jackson factor I can see him improving on last year. He looks fit and hopefully we get to see that huge ceiling in a few of the opening rounds with Freo's soft early draw. I also just love watching the big guy, so he's my R1.
Forwards

Although we have a heap of value premiums to choose from in this line, I have actually had a really hard time nailing down the best mix that still leaves the rest of my team looking balanced. I've settled on the three premiums and Gulden as my breakout contender. His eye watering performance in that practice game should not be ignored. The Swans just needed to try something different after that shocking display on Grand Final day. I'm backing Gulden and his uber elite ball use to be the one that gets more MID time, and gives the Swans that edge they need to take the next step. The nearly 80k I save from downgrading Cogs is integral to making this team work. Bruhn and Sheezel are both risky picks but in order to start the four premium MIDs it's a risk I'm willing to take. There's a chance I ditch Bruhn for Flanders or even Fyfe if Bruhn is named anywhere but on ball Round 1. Sheezel reminds me of Rozee in his first year. He may take a while to get going but the cream always rises to the top, so I want to back him in as there is no doubt the talent is there.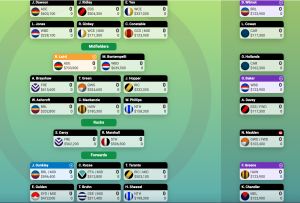 This team leaves a measly 7k ITB but I do have a few dollars invested in my M9 Ollie Hollands if I need to make adjustments. I can also put Flanders in for Bruhn if I need funds for playing bench rookies.
As a thank you to all those that take the time to read my posts. I would like to invite all those not already involved in one of my Tragics leagues to take me on in 2023. Below is a league code for coaches of all levels, first in best dressed.
Tragics@SCT #2
835645
Thank you all for reading and I wish you all the best of luck in 2023.
Cheers FT.
---
Leave a comment / Scroll to bottom