Normally draw up several team permutations on a bunch of spread sheets with price formulations so I can play endlessly with different combos. This year I have basically shelved that method as there are too many variations to keep track of, hence hanging onto a bank of $142k for team drops.
DEFENDERS:
Constants since version one are Dawson, Yeo, Bowes and Ginbey onfield, with Wilmot on the bench. Since the trials I added Sic for Young and Constable for Goater. Doch is still in the frame, and I think Bowes was managed but will play and provide some value. If not, he's an easy up to a Long, Hinge, Day type or down to Jones.
MIDFIELD:
Constants here have been Laird, Oliver, Hopper and Ashcroft. This part of the ground has been a source of constant speculation. Had Titch, Steele and Phillips but saw more upside in Bont and Green upgrades courtesy of some mid price downgrades forward, and throwing Callaghan to the wolves in a bit of risky business, probably more for a points grab than a massive price rise, although both would be good. Mackenzie looked better as the trial game went on in a sign that he will only grow in confidence and should be worth the coin.
RUCKS:
Marshall's been there from the start, but all of Grundy, Cameron, Lycett and O'Brien have rotated through in a truly transparent show of me not having a clue. Ladhams is a place holder based on CT's Sydney quote that Hickey is expected to miss not one, but a few. His 91 points from 3/4 in only 56% game time sounded attractive, and he did look good covering the ground and winning CPs. The bank and mid pricers can be combined to include a top ruck (Max or Witts) upgrade if I feel nervous at the last minute. Big Pete is certainly a POD at 0.5% ownership. Hmmm, maybe there's a reason for that.
FORWARDS:
Obvious constants there are Dunks and Taranto, and less obvious, Gulden, who I pencilled into both my classic and Tech teams. I was pretty chuffed at that decision when he was only 4% ownership. Moved Butters and Fyfe on, though Fyfe may still get a guernsey pending selections. Been swayed by Bruhn's last two and Flanders should still get a bit of the pill even with Touk back as he runs hard from contest to contest. However, the possibility of Rozee and a rook still exists
Has not changed since the weekend, but has a little flexibility to replace unnamed rookies or fringe 22 players depending on final teams, and because I'm a little undecided in a couple of areas. Let us know your thoughts, I'd be happy with the discourse.
Also, I have never hosted a challenge team on the site so I'm offering one for those who would like to take me on this year. Join SCT Circus Acts with league code 876740 and see where we end up. Thanks for reading.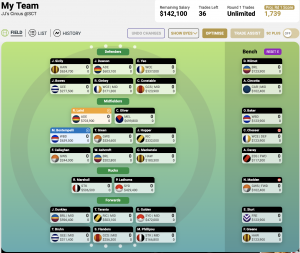 ---
Leave a comment / Scroll to bottom